In court, Catalan official defends right to "debate independence"
House speaker Carme Forcadell is being investigated for disobedience after allowing a vote on July 27

The speaker of the Catalan assembly, Carme Forcadell, on Friday defended the regional chamber's right to foster debates about independence. "If people on the streets can talk about independence, why should deputies not be able to?" she asked at the Catalonia Superior Court of Justice (TSJC).
Forcadell, a supporter of the independence drive in the northeastern region, is being investigated for disobedience after allowing the Catalan assembly to vote on the conclusions of a study about a new constituent process for Catalonia, despite a ban on such a move by Spain's Constitutional Court.
In a half-hour court appearance, Forcadell answered questions from her lawyer, but not from the judge or the prosecutors.
Forcadell is not the first Catalan official to face court action over the separatist drive
"I had a duty to protect the deputies' inviolability, just like you have the obligation to protect mine," she told the judge and the prosecutors.
Forcadell said that, in her opinion, the Constitutional Court had not expressly prohibited either the parliamentary debate or the vote that took place on July 27 regarding the possibility of a new legal framework for an independent Catalan state.
The speaker also insisted that the vote had not been planned, but was decided on that same day following a request by the moderate nationalists of Junts pel Sí and their more radical partner CUP.
She said that her position does not give her the power to prevent a debate requested by the deputies. Forcadell also denied that a legal report left on her desk that day represented a clear warning that the vote should not be held.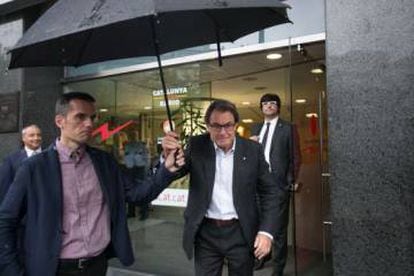 At a rowdy debate in the regional parliament on July 27, the pro-independence Junts pel Si (Together for Yes) coalition and the far-left Popular United Candidacy (CUP) garnered support for the creation of "a unilateral mechanism" to "activate a Constituent Assembly" that would draft a Catalan Constitution after the region "disconnects with the laws of the Spanish state by passing disconnection laws."
The vote builds on a landmark motion passed by the Catalan parliament to start breaking away from Spain.
Court action
Forcadell is not the first Catalan official to face court action over the separatist drive. Former regional premier Artur Mas and two top aides were charged with disobedience for organizing an informal referendum on independence on November 9, 2014.
The central government of the conservative Popular Party (PP) and Catalonia's nationalist authorities have been at odds for years over the independence drive, which Mas put into high gear at the height of the economic crisis.
The battle has moved to the courts, where Catalan officials at the local, provincial and regional level have faced action for issues such as flying the unofficial independence flag from town halls.
English version by Susana Urra.