Retiring at age 36: A civil servant's dream?
Municipal employee in Ciudad Juárez (Mexico) could collect more than $1,000 a month after just 15 years of service
It must be every government employee's dream: to retire at the age of 36 with a monthly check of more than $1,000. Lizbeth Alonso Carreón, a municipal worker in Ciudad Juárez, in northern Mexico, is close to making that dream come true.
After 15 years of service, Alonso has asked for early retirement as per 1998 legislation allowing such a move in exchange for paying out 55% of the worker's salary.
Alonso's request has already been greenlighted by the local labor councilors, but Mayor Javier González Mocken has yet to grant his final approval.
In future, Alonso could get a job in the private sector or even go back into public service
The controversy goes beyond her age. Alonso – who was working as director of public audiences – is a member of the Institutional Revolutionary Party (PRI) and recently made an unsuccessful bid for a seat at the Chihuahua state assembly.
Norma Sepúlveda, a councilor for National Action Party (PAN), opposes Alonso's request, and suspects that she ended her contract before the 15-year term was out in order to campaign.
"What caught my attention is the fact that she's been a candidate on several occasions, and has worked outside of public government," said Sepúlveda in an interview with EL PAÍS.
Early retirement is not news in Ciudad Juárez. The spike in violence in this border town has led police officers, in particular, to request it. In 2004, other workers began filing requests as well, especially when different parties began taking turns in government.
The drain led local authorities to pass new legislation in May, making it mandatory to work for at least 25 years before being able to retire with a pension. But Lizbeth Alonso started working for the city in 2000, and is covered by the earlier regulations.
If she is successful, she will receive $1,092 a month, or 55% of her salary. Her departure would coincide with the arrival on October 10 of Ciudad Juárez's first independent mayor, Armando Cabada.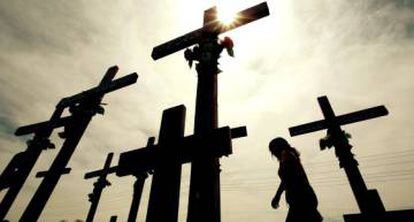 "I am not afraid of getting fired, it's my right [to request retirement] and more than 500 people younger than myself have already done it," Alonso told Diario de Juárez.
In future, Alonso could get a job in the private sector or even return to public service if she so wishes.
Mexico spends 1.4% of its GDP on pensions, below the regional average. Mexicans typically retire between 60 and 65 years of age, after working for 25 years or more. Most receive monthly checks of under $100.
"This is the situation across the country," notes Councilor Sepúlveda. "The fact that we work in politics should not give us an advantage over other members of society."
English version by Susana Urra.