POST-ELECTION AGREEMENTS
Podemos agrees to salary caps for its deputies in parliament
Lawmakers from the leftist grouping will give up many allowances afforded by Congress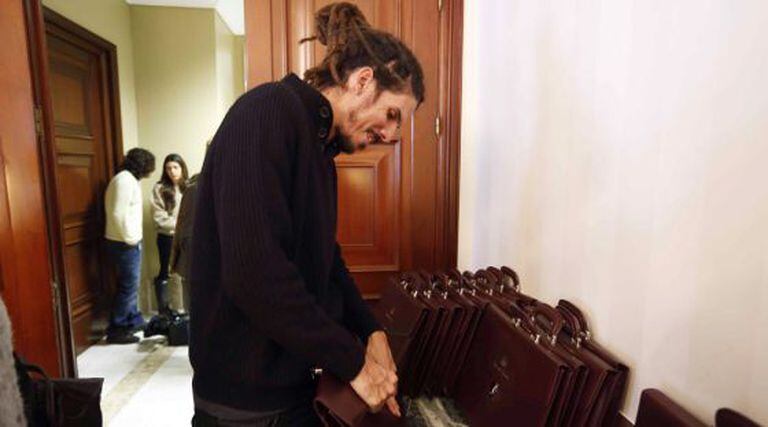 Anti-corruption, anti-austerity party Podemos agreed on Sunday to limit many of the benefits enjoyed by Spanish members of parliament when its new deputies take their seats for the first time in Congress later this month.
During a nine-hour meeting of the party's national directorate, known as the citizens council, members agreed that "all deputies in the group should give up privileges." These include the retirement benefits given to former members of Congress, a credit card with a €3,000 allowance to pay for taxis, and internet access for those who have to travel outside of their provinces.
Any extra money will be either turned over to the party's treasury or given as a donation
Podemos deputies have also agreed to put a cap on their salaries and per diems given for lodging and allowances. Any extra funds will be either turned over to the party's treasury or given as a donation.
Following the December 20 race, the leftist anti-austerity group became the third political force in Spain after winning 69 seats in Congress along with its regional affiliate parties running under different names in Catalonia, Valencia and Galicia. Podemos itself took a total of 42 seats. The new parliamentary bloc also includes independents and members of the Equo party.
The citizens' council has agreed that Podemos deputies will only be entitled to earn about €1,950 a month (or the amount equivalent to three minimum salaries) and collect a maximum of €850 for travel accommodation and allowances for those who live outside Madrid.
Podemos officials were scheduled to begin meeting on Monday with representatives of its "sister groups" in Catalonia, Valencia and Galicia, who are willing to form their own political force in Congress. These include Barcelona en Comú, Esquerra Unida i Alternativa, Iniciativa per Catalunya, Compromís, Anova and Esquerda Unida, among others.
English version by Martin Delfín.