Why much of rural Spain is up for sale
Around 1,500 entire villages are on the market, with some going for as little as €50,000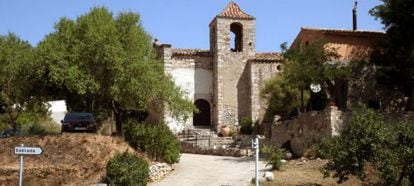 Olmeda de la Cuesta is a tiny community in La Alcarria, an isolated region of deep gorges and rolling farmland stretching between Madrid, Guadalajara and Cuenca, in central Spain. With just 35 residents on the electoral roll, and barely 10 during winter, it is literally dying on its feet. In a bid to attract newcomers, the local council is selling off land at bargain-basement prices. Next summer it intends to auction some six or seven plots. So far, the experience has proved positive. Last year, the mayor, José Luis Regacho, auctioned off 14 plots at €5 a square meter: that's 200 square meters of land for €1,000.
There are thousands of communities throughout Spain that face a similar life-and-death struggle
Attracted by those prices, buyers have come from outside the country. Some are looking to make their home in the community, among them a British sculptor who intends to build a house and a workshop there. A Venezuelan woman intends to move from Denmark, bringing the rest of her family. An Iranian who works as a chef in Madrid says he's going to construct a vacation home in Olmeda.
There are thousands of communities throughout Spain that face a similar life-and-death struggle – for example, A Xesta, in the hills of Pontevedra province, in the northwestern region of Galicia, has been offering rents of €100 a month.
There is demand for rural properties, especially from city dwellers looking for a weekend retreat. And if demand continues, more people will be inclined to sell, says Elvira Fafián, who runs a website called Aldeasabandonadas.com, which specializes in selling entire villages, as well as individual properties. "Many people with homes in villages are putting them up for sale now that they can see people are interested. Selling was not well looked upon until recently," she says. The site, which controls around 95 percent of the market, says that demand for rural properties is growing by around 35 percent a year and is "struggling" to keep up.
Starting prices for properties are between €15,000 and €20,000, although at this end of the price range, major work will be required, which can typically cost up to €40,000.
Starting prices for properties are between €15,000 and €20,000, although major work will be required
There is also growing interest in buying up entire villages, particularly when the price is the same as buying an apartment. Of the 3,500 abandoned villages in Spain, around 1,500 are up for sale. "Of these, between 110 and 120 have all the paperwork in order and are ready to be bought; the rest need the paperwork sorting out, and that will take a couple more months," says Fafián. Each year, a couple of villages are repopulated, particularly in Galicia and Asturias, the areas where demand is highest.
And that demand comes from Spaniards and foreigners. "According to our data, this year half of buyers will be Spanish, and the other half from abroad," says Fafián. Some communities are already English-speaking, she adds: "There are places where four or five villages are bought by a family, who then bring their friends and create a little community of their own."
Abandoned villages are particularly popular with American, German and French buyers, and tend to be bought on the basis of personal recommendations. Particularly important is the agricultural quality of the land. Up until the crisis kicked in, there was a lot of interest in buying land to build hotels or houses to let. "Around 65 percent of buyers are private, and the rest is business," says Fafián. The lack of subsidies and banks' reluctance to lend has hit the rural tourism sector hard.
How much does a Spanish village cost? Around 70 percent require major construction and restoration work. In Lugo province, in Galicia, villages with six houses, a spring and some 13,000 square meters of land can be found for as little as €62,000. It needs work, but the main property, which has 140 square meters of living space, could be easily done up.
Abandoned villages are particularly popular with American, German and French buyers
La Alameda, in Segovia, around 150 kilometers northwest of Madrid, is an abandoned village that is going for €380,000. Around 60 percent of the properties in the 1,800 square-meter community are in ruins. "You'd have to hook it up to the national grid, but it has sewage and water pipes, and permission has been given to build seven houses," says Rústicas Singulares, the agency selling La Alameda.
At the upper end of the scale, there are villages with a €15 million price tag, and that come with already restored houses. The most desirable villages are located in the interior, surrounded by woodland and fed by rivers or streams. Most buyers are looking to spend up to €240,000 maximum, and the region where they're going to find the most properties is Galicia, where around 35 villages are for sale. Catalonia, Castilla y León and Aragón also face depopulation, with many abandoned villages.
Most of these communities are owned by one or two families. In other cases, such as Cortegada, in Orense, Galicia, the local council is prepared to sell villages to investors prepared to pay €1 million and then build, say, a luxury hotel. Similarly, anybody looking to buy Porciedo, an ancient community in the Picos de Europa mountains of Cantabria, in northern Spain, would have to respect its unique architectural heritage.
This is a very attractive, unique, sale. But few of the people interested actually have the cash"
Property agents Mikeli, who specialize in luxury homes, have put Porciedo up for sale: 3,052 square meters, which have been zoned for construction, for €1.5 million. One prospective buyer wants to completely overhaul the village and build some 45 apartments to let. These would be built from the 10 semi-demolished buildings in the village, and would require subsidies from the EU and the regional government of Cantabria.
"This is a very attractive, unique, sale. But few of the people interested actually have the cash," says Antonio Avilés, Mikeli's CEO, adding: "We are expecting a counter offer by a Russian investment group and a Madrid-based businessman. If the deal comes off, we have a lot of people who would be interested in buying an apartment in Porciedo."