Wikipedia to receive 2015 Princess of Asturias cooperation prize
Online encyclopedia recognized for "making universal knowledge available to everyone"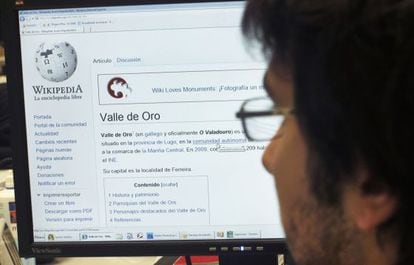 Online encyclopedia Wikipedia has been named the winner of this year's Princess of Asturias Prize for International Cooperation.
The jury of the prestigious annual Spanish awards highlighted how the website had "grown continuously" since its creation in 2001 to contain more than 37 million articles written in 288 languages by thousands of volunteers from all over the world.
In its Wednesday announcement, it compared the venture, which features among the world's top 10 websites, to "the encyclopedic spirit of the 18th century" as, in a similar way, its model of "international, democratic, open and participatory cooperation" had "managed to make universal knowledge available to everyone."
The site joins filmmaker Francis Ford Coppola and basketball star brothers Pau and Marc Gasol among the 2015 laureates
The site joins film director Francis Ford Coppola, basketball star brothers Pau and Marc Gasol and Cuban writer Leonardo Padura among the 2015 laureates for the Princess of Asturias Prizes, which are awarded each year to people and organizations around the world who make notable achievements in the sciences, humanities and public affairs.
Formerly known as the Prince of Asturias Awards, the 35-year-old prizes' name was changed after Crown Prince Felipe became the king of Spain in June of last year, passing the heir title on to his eldest daughter Leonor.
Wikipedia, which had been among the favorites to scoop the International Cooperation award last year, has grown to receive around 500 million unique visitors a month and has around 25 million registered users, 73,000 of whom are active editors.
Born on January 15, 2001, the project was the brainchild of American Jimmy Wales who teamed up with philosopher Larry Sanger to put it into action. The first site went live as a complement to Nupedia, a web-based encyclopedia written by experts that disappeared in 2003 in the wake of the runaway success of Wikipedia's open-access editing model.
Wikipedia has grown to receive around 500 million unique visitors a month and has around 25 million registered users
Twelve of its versions, including the Spanish one, contain over a million entries and it also offers articles in indigenous languages, invented tongues such as Esperanto and dead languages like Latin.
"We are going to help boost small languages," Wales said during an interview last month. "It will have an impact on the world. We are going to devote a lot of attention to supporting this."
The award comes with a cash prize of €50,000 and is given to those "whose work in areas such as public health, universal education, environmental protection and social and economic development, among others, constitutes an outstanding contribution at the international level."
Among this year's other aspirants to the award were Unesco, the Spanish Armed Forces and the European Space Agency.
Previous winners include education exchange organization the Fullbright Foundation, the International Red Cross and Red Crescent Movement, former US Vice President Al Gore, and the Bill and Melinda Gates Foundation.