the end of juan carlos' reign
Royal abdication law to be put to rare voice vote in Congress
Leftists force a roll call procedure over legislation that will enable the handover of the Spanish throne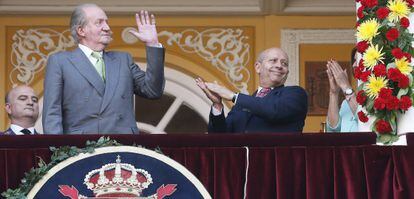 When congressmembers vote on the new abdication law next Wednesday, they will have to make themselves clearly heard.
The United Left (IU) group has invoked Congress regulations that allow certain issues to be put to a roll call vote, rather than the more usual electronic vote.
"The desired effect is for every member to take a stand either in favor of or against [the law] with a clear voice vote," said Ricardo Sixto, a IU deputy. "It will require a solemn, conscious and meditated vote by each deputy."
The fast-track legislation is necessary to ensure a smooth handover of the crown following King Juan Carlos' announcement on Monday that he is relinquishing the throne in favor of his son Felipe.
Despite the monarch's 39 years on the throne, no specific rules yet exist for such an event. This has forced the government to quickly produce a bill that will be put to Congress next week, where it is expected to pass with a wide majority thanks to support from the ruling Popular Party (PP) and the main opposition Socialists.
Despite the monarch's 39 years on the throne, no specific rules exist for a royal transition yet
But a few dissenting voices within the Socialist Party have emerged in recent days, prompting party leader Alfredo Pérez Rubalcaba to take action to ensure deputies will follow the party line and vote in favor of the law.
Meanwhile, IU and a few small regionalist parties are expected to vote against it, thus expressing their desire for a popular referendum to ask Spaniards whether they wish to maintain the monarchy or switch to a republican system of government. The CiU Catalan nationalists have said they would abstain from the vote after initially expressing support for the law.
On Monday evening, just hours after Juan Carlos' announcement, thousands of people demonstrated in many Spanish cities to demand a return to the republic (the last one ended in 1939, right before Francisco Franco's long period of dictatorship). Around 20,000 marchers took part in the Madrid protest, according to the police.
Article 86 of the Congressional Code establishes that under the roll call vote, a clerk will call each deputy by name, and he or she will reply with a "yes," "no" or "abstention."
This type of vote is used during investitures, censure motions and exceptional issues such as the Catalan charter of rights and obligations, which deputies voted on in 2006.