10 breathtaking Spanish beaches
Spotless sands, secluded coves and nudist hideouts feature in our pick of glorious coastal hotspots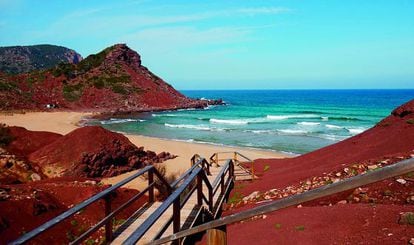 Cala Pilar
Ferreries (Menorca)
The red and ochre hues of the clay that nudists rub all over their bodies, the pine groves and the cove's remote location in the north of Menorca combine to make Cala Pilar a truly unique spot. Follow the ME-1 road between Ferreries and Ciudadela and take the turn at kilometer 34, where a sign points the way to Camí del Pilar. The road ends 1.8 kilometers from here, and a 40-minute walk will take you to the cove.
Pozo Izquierdo
Santa Lucía de Tirajana (Gran Canaria)
It proudly calls itself one of the world's leading spots for windsurfing. The pebble beach is shaken by persistent trade winds that blow between June and September at speeds of 40 knots, creating three-meter waves. From July 14 to 20, it is set to host a PWA World Cup event, while the International Windsurfing Center (www.pozo-ciw.com) is open to everyone.
El Torn
L'Hospitalet del Infant (Tarragona)
The overwhelming majority of bathers on this massive 1.4 kilometer-long beach are noticeably lacking any kind of attire. Beyond, sand dunes and pine groves decorate the mountainous landscape. The nudist association set up to defend the beach and what it stands for (www.naturismo.org/torn) celebrates its 25th anniversary this year.
Los Caños de Meca
Barbate (Cádiz)
Beyond the cape of Trafalgar and Las Dunas bar, you come across the unpromisingly named la Marisucia (literally, Mary Dirty). In fact "Mariecológica" would be a better term, since the beach's original name comes from the carpeting of seaweed that many people associate with filth. Karen Abrahams, the owner of cozy little rental homes located near here (www.casaskaren.com), recommends walking around the lighthouse to really enjoy the sunset.
El Peñón
Sopelana (Bizkaia)
Three terrace bars spread out over 600 square meters constitute a permanent invitation to tuck away plates of calamari and nachos under the protection of their glass panels. These afford views of the rocky outcrop known as El Peñón and the Penatxuri reef off Atxabiribil beach.
Paseo de Poniente
Benidorm (Alicante)
This long and winding promenade on the southern half of Benidorm beach takes strollers on a 1.3 kilometer-long walk along its sensuous curves. A second boardwalk can be found underneath, at beach level, although it has fallen into partial disrepair.
Porto de Bares
Mañón (A Coruña)
In the north of the north, this shell-shaped beach is accessible via a seductive port that was once Phoenician. A strip of land bearing archeological remains slices one side of it. There is also a bountiful supply of gastronomic delights, from longueirones (razor-shaped mollusks) in the A Muller Mariña restaurant to rice and lobster in La Marina.
Caló des Mort
Formentera (Balearics)
The filtering work performed by the beds of posidonia seagrass accounts for the crystal-clear waters around the coast of Formentera. A good place to check this claim is Caló des Mort, a pretty little pier-turned-nudist area. To get here you have to walk around the base of La Mola starting from Els Arenals.
Torimbia
Llanes (Asturias)
This is the queen of Spain's northern beaches. It is also a protected landscape and an open-air museum where the hillsides teem with gorse and fern. Access is through Niembro, while a bite at San Pelayo is also recommended (www.restaurantesanpelayo.com).
Liencres
Piélagos (Cantabria)
Because of its large size and natural park status, Liencres is the most impressive dune chain on the entire Cantabrian coast, covering 33.5 hectares. The dunes are located on the mouth of the River Pas, on the Mogro estuary, and the path leading to them crosses thick pine groves.