CRIMINAL INVESTIGATION
Parents of dead Galician girl will stand trial for murder
Judge finds sufficient reason to raise charge from homicide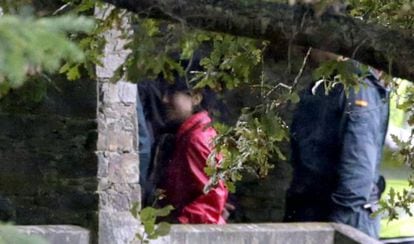 The parents of 12-year-old Asunta Basterra — the girl who was found dead outside a country home — will face murder charges at a jury trial in the coming weeks, a Santiago judge ruled on Friday.
Rosario Porto and Alfonso Basterra, who are both being held in custody, had been facing homicide charges but Judge José Antonio Vázquez Taín cautioned them after they were arrested on September 27 so that he could raise the charge to murder after he had seen the results of analysis conducted on the girl's body and clothes.
The difference between homicide and murder centers on whether the judge believes there was a premeditated motive. Judge Vázquez Taín agreed to the prosecutors' request to keep the case evidence under seal for at least another month — a petition that the defense attorneys opposed during the court hearing on Friday.
After the hearing, the judge and the parties, including the defendants, went to Rosario Porto's home in Teo, outside of Santiago, to conduct another search and obtain certain items. Civil Guard officers believe that Asunta was killed in the property.
The adopted girl was found dead on September 21. Preliminary evidence suggested that she had died of asphyxiation, but a forensic lab report last week showed that she may have died of a fatal overdose of lorazepam, a strong sedative used regularly by her mother. Her parents regularly gave her large amounts of tranquilizers, according to the accounts of people who knew the child personally.