Real strikes up a symphony
Barça still out in front but Madrid seduces fans with five-goal performance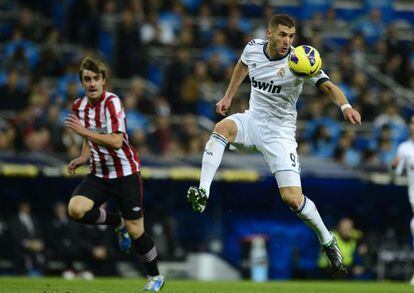 Barcelona may still be confident of trotting away with this season's Liga crown having stolen an eight-point advantage over its great rival at the outset, but Real Madrid is showing the style and attacking verve that its fans habitually demand. With the visiting Athletic Bilbao short on confidence and missing several key players through injury on Saturday night, coach José Mourinho selected a more offensive line-up than the Portuguese disciplinarian could ever have dreamed of before moving to Spain's swankiest club.
The result was a complete mismatch, with Karim Benzema achieving the considerable feat of being Real's standout player among a plethora of creative stars. It was Benzema's extraordinary control and balance that led to the first of five goals — to the delight of a satted Bernabéu crowd — Athletic defender Jon Aurtenetxe unfortunate in poking the ball over his own keeper.
With the anecdotal exception of Ibai Gómez's strike just before half time, when the home defense got little assistance from its forward-bound midfielders, nothing interrupted the extravagant ease with which Madrid was able to carve its rival's back line to pieces seemingly at will.
Xabi Alonso, for many one of the finest passers in the game, was playing as last man in Real's midfield, a role Mourinho has traditionally reserved for coarser players. In front of the reliable Basque, Luka Modric and Mesut Özil enjoyed each other's refined ball-playing company while on the wings Real had twin rapiers in Cristiano Ronaldo and the hyperactive José Callejón. Benzema, nominally the center forward, popped up everywhere as what at times seemed like a front five swirled menacingly around Athletic's area.
Five goals was almost an understatement.
Sergio Ramos was, if anything, guilty of overstatement in his proud celebration after scoring Madrid's second after Özil's deliciously floated free kick required the simplest of headers. Benzema, who seemed to be moving at twice the speed of his markers, turned and struck the third with a sweet left-footed shot. In the second half, Özil was gifted a goal by slick Ronaldo and Benzema build-up play and substitute Sami Khedira closed the 5-1 scoreline with a decent finish after more edge-of-the-box wizardry.
Marcelo Bielsa's Athletic has problems, but it remains four points above the drop zone and this was hardly a match on which to judge its survival prospects. In deeper bother is Deportivo, which is stuck at third bottom after a 0-2 defeat against Levante on Sunday.
Espanyol went bottom after a controversial late penalty gave Valencia a 2-1 win and Osasuna picked up a point for shutting out Málaga 0-0 in Pamplona.
The leader Barcelona beat Zaragoza 3-1, with two strikes from Gerd Müller-chasing Leo Messi.