Natalie Portman: 'Human beings need to be told stories'
The actress produces and co-stars in 'May December,' a film by Todd Haynes based on a teacher who had a relationship with a student more than 20 years her junior
In 1996, the relationship between Mary Kay Letourneau, a 34-year-old Seattle school teacher who was married with four children, and her 12-year-old student, Vili Fualaau, of Samoan descent, made headlines around the world. The scandal broke out when Letourneau became pregnant, and it was discovered that the two were in a sexual relationship. Letourneau's husband divorced her and took their four children to Alaska. This triggered a chain of events: Vili Fualaau's parents sued her and a trial was held. The sentence was light — only three months in prison — but it would be harsher if Letourneau saw her student again. After giving birth to a girl, she finished serving her sentence and was let out of jail. But one early morning in February 1998, police discovered her with the student in a car. A month later, she announced that she was pregnant again. She was sentenced to seven and a half years in prison, and had her second daughter with Fualaau behind bars. She did not leave prison until 2004.
Letourneau fought to have that the order preventing her from seeing Fualaau lifted, and the following year, the two secretly married. In 2018, a documentary confirmed that they were divorcing, but hadn't separated yet: Letourneau was diagnosed with cancer and Fualaau stayed by her side until her death, at the age of 58, in July 2020. The drama was fodder for the tabloids and trash television. Now, the story has made it way into the movies thanks to May December, a Todd Haynes film in competition at the 76th Cannes Film Festival. The film stars Julianne Moore as Gracie Atherton-Yoo, the character inspired by Letourneau, and Natalie Portman, who plays Elizabeth Berry, an Oscar-winning actress who wants to learn about Gracie in preparation for a movie about her life. When Berry meets Gracie, she is working part-time at a pet shop in Savannah.
For Natalie Portman, May December is a very special movie: it is the first film made by her production company, MountainA, and it was she who, script in hand, searched for the right director — "I immediately thought of Todd for his ability to portray the lives of suburbs," she said at the press conference for the movie. Todd, in turn, brought Julianne Moore to play a woman romantically involved with a boy (in this version, he has Korean parents) 23 years her junior. "Todd was my first choice, a dream, and when he convinced Julianne he took my dream one step further," added Portman, smiling.
Portman — who made her film debut playing a girl with a complex relationship with a murderer in León: The Professional in 1994 — argues that May December focuses on the romantic relationship just as much as it examines the relationship between the actress and the character she is going to play. "My role is an excuse for us to consider whether art can be amoral. How many movies are made about serial killers, how many killings do we see on the screen without making a value judgment?" she asked.
This reflection is made through the morally questionable character played by Portman; with a mix of dark comedy, riotous scenes and a touch of soap opera, May December turns the notorious story on its head. "I've been an actress for most of my life, so I've been researching this role for all those years," joked Portman. "What's fascinating about the character is that she doesn't mind acting all the time, how far she's willing to go for her job, and the different layers of acting she brings into play, even when she's alone." This is seen through the use of mirrors, which are used to fame scenes in a way that bring to mind both Ingmar Berman's Persona and Pedro Almodóvar's melodramas. "I've never done this in my private life, and after making this film [breaks down laughing] I will never allow a film to be made about me." But if she did, who would play her? "Likely someone who has not been born yet."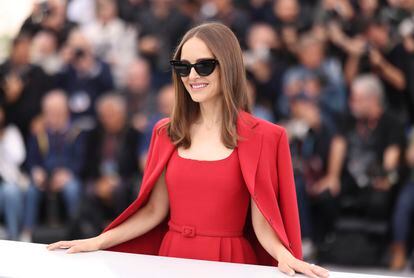 For Portman, the image of actors as parasites who prey on other people's emotions to breathe life into their work is "a hackneyed cliché." "Creating other lives in theater or cinema is for me an act of love and compassion, and, of course, a joy," she said.
During the pandemic, Portman was concerned about her professional future: "I have been doing this for so many years that I have seen the industry change radically. I didn't lose hope that I would act again after the lockdown ended. As we are human beings, we need to be told stories."
In May December, Portman's character gives a talk at a theater class attended by Gracie's youngest child. During the talk, she confesses that sex scenes are as annoying as they are fascinating, and that sometimes she can get carried away by the chemistry with her co-stars. "It's a moment that already stood out in the script," said Portman. "We all have genuine feelings for other human beings, and it happens both in acting and in real life. You have to know how to manage it, and not confuse our work with our emotions. In my case, I have never felt comfortable with the sex scenes."
Another interesting challenge of the script, says Portman, was to show a woman committing a crime that men usually commit against women. "That psychological leap is striking," she explained. "And it takes place because we have never seen all the possible versions of women on screen. For me, that would be achieving equality. We can be villains, athletes, silly, smart, complex... The more variety, the better." As part of her work as a feminist, Portman is one of the founders of a professional women's soccer team in Los Angeles. "For some time now, I've liked doing riskier things, like this movie. I've been acting for decades, and now that I've moved over to production, I've discovered other challenges... and other difficulties. This time everything has flowed, and I hope it continues that way for a while."
Sign up for our weekly newsletter to get more English-language news coverage from EL PAÍS USA Edition