Christina Applegate attends 'probably last' award show after multiple sclerosis diagnosis
The star of 'Dead to Me' has acknowledged in an interview that it is time to change the course of her career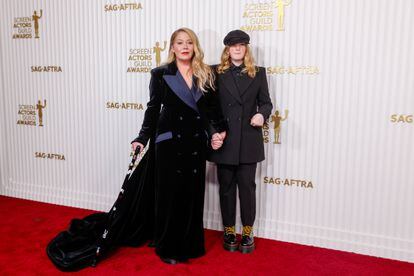 Leaning on her 12-year-old daughter Sadie Grace LeNoble on one side and a cane on the other, Christina Applegate stepped on the red carpet at Fairmont Century Plaza in California on Sunday to attend the 29th Screen Actors Guild Awards, which honor the best film and television performances of the previous year.
Applegate was nominated for Best Actress in a Comedy for the Netflix series Dead to Me, but the award ultimately went to a convalescent Jean Smart, who recently had heart surgery, for her role in Hacks.
The 51-year-old actress, who revealed in the summer of 2021 that she had been diagnosed with multiple sclerosis, walked the red carpet with aplomb, clad in a dark velvet gown inspired by the silhouette of a floor-length suit. and with a message written on the cane: "FU MS."
"It's my last awards show as an actor probably, so it's kind of a big deal," she said in an interview with the Los Angeles Times in early February. "Right now, I couldn't imagine getting up at 5 am and spending 12 to 14 hours on a set; I don't have that in me at this moment." However, the actress also talked about her next steps: producing, developing new projects and "doing a ton of voice-overs to make some cash to make sure that my daughter's fed and we're homed."
In the middle of filming the final season of the series Dead to Me, in 2021, Applegate began to experience pain in her legs and tremors. Soon after, he was diagnosed with multiple sclerosis. "It's been a strange journey. But I have been so supported by people that I know who also have this condition. It's been a tough road. But as we all know, the road keeps going. Unless some asshole blocks it," the 2003 Emmy winner as a guest actress on the series Friends wrote on Twitter about her diagnosis.
After taking a break to assimilate the news and start the treatment, the actress insisted on returning to finish filming. Applegate, who rose to fame as a teenager playing Kelly Bundy, the daughter on the sitcom Married with Children, had to explain her new situation to her co-workers and talk to the team at about what she could or couldn't do: "I was a wreck every day, but most of that wreck would take place in my trailer by myself. But there were times I'd break down on set and be like, 'I can't, we have to take a break, I need a half-hour,' and everyone was so loving that it was OK," she told the L.A. Times.
On November 14, 2022, the actress reappeared in public for the first time since her diagnosis, and she did so to discover her star on the Hollywood Walk of Fame. The actress was distinguished for her strength and versatility in theater, film and television, and for a career in which "she has proven to be one of the most influential female leads in Hollywood," saidthe producer of the Walk of Fame organization, Ana Martínez.
Sign up for our weekly newsletter to get more English-language news coverage from EL PAÍS USA Edition