The death row inmate who wants to die holding his minister's hand
The US Supreme Court is reviewing the case of John Henry Ramirez, an inmate on death row, who wants his spiritual mentor to be able to say a prayer and touch him when he is executed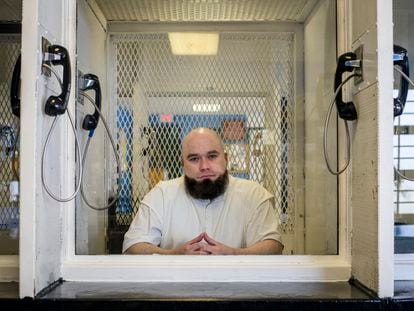 John Henry Ramirez was scheduled to die on September 8 at 6pm, at the Texas State Penitentiary at Huntsville, by means of lethal injection, a cocktail habitually made of barbiturates and potassium solution that is injected into the veins of the condemned prisoner and, if all goes according to plan, proves fatal within a matter of minutes. But on that day in September something out of the ordinary occurred: the United States Supreme Court decided to grant an 11th-hour stay of execution, based on a request that is also highly unusual and which Texas State law does not permit. Ramirez had asked that a minister be present in the chamber when the sentence was carried out, to pray out loud and place his hands on him. The news that his execution had been suspended was delivered to Ramirez three hours after the allotted hour, at 9pm. The case of Ramirez vs Collier, one that is based on religious freedom and affects the state that carries out the largest number of executions in the US, was debated by the Supreme Court in Washington on Tuesday.
Ramirez, 37, was sentenced to death for killing a man in 2004 in Corpus Christi, a city in Texas three hours from Huntsville. He was 20 when he was driving with two friends, under the influence of drugs and alcohol, and came across a store worker, Pablo Castro, who was taking out the trash, and attempted to rob him. Ramirez was arrested in 2007, tried and convicted a year later and has since then been on death row at the Allan B. Polunsky Unit in West Livingston. He did not find religion after being sentenced – he was already a believer – but he sought refuge in his faith. Baptist minister Dana Moore entered the picture four years ago, when he began to visit Ramirez regularly. Today, Moore is Ramirez's greatest ally in a battle against a Goliath who tends not to lose.
Ramirez's lawyer, Seth Kretzer, points out that Texas is attempting to deny the right to something that has been permitted throughout the ages. "It was granted to the Nazis at the Nuremberg trials, in medieval England and even in Texas itself it was completely normal for decades," he says.
Having a priest with you at the moment of your death but not allowing him to touch or pray is like buying a car only to be handed it in parts; it doesn't work

Baptist minister Dana Moore
Texas permitted the presence of spiritual advisors up until two years ago. The state imposed a ban in 2019 when the Supreme Court halted the execution of another condemned man, Patrick Murphy, on the grounds that his religious freedom was being violated after he was denied the support of his Buddhist priest, when a Christian or Muslim clergyman would have been permitted. At that time, Texas permitted the presence of spiritual advisers but only ones that already formed part of a prison system that only employed Christian and Muslim preachers, thereby discriminating against other religions. As a result, Texas decided simply to ban the presence of all religious representatives.
Last April, Texas reversed its decision and lifted the ban on spiritual advisers inside the execution chamber, but under the condition that no physical contact between them and prisoners took place and that any prayer was conducted in silence. Usually, during an execution, only the condemned inmate, the prison guard who reads the execution order and the doctor who certifies death are permitted to speak. The state, represented by, among others, Executive Director of the Texas Department of Criminal Justice Bryan Collier (hence the case name Ramirez vs Collier) rejects any other interaction on grounds of safety and respect for the deceased.
In its written argumentation, the state maintains that contact between a person who is not an employee of the prison system and an inmate during a lethal injection poses "an unacceptable risk to the security, integrity and solemnity of the execution. Even an imperceptible interference with the intravenous apparatus could cause Mr Ramirez pain, and distress for the family of the victim." With regard to praying, Texas argues that "speaking aloud during the lethal injection can affect the ability of the pharmacological team to control the situation and respond to any unforeseen event."
Ramirez's lawyer gives short shrift to these concerns. "The minister doesn't have to touch the arm where they are going to place the injection, he can touch any other part of the body, such as a foot, where it is difficult to get in the way of anything. I also don't see that his prayers are going to interrupt anything," Kretzer says. For his part, Moore argues that he touches his parishioners when they are about to die and he prays aloud for them, and denying him the right to do so is to prevent him from practicing his faith. "Having a priest with you at the moment of your death but not allowing him to touch or pray is like buying a car only to be handed it in parts; it doesn't work, it doesn't serve any purpose," Moore adds.
Supreme Court
These are the arguments that were placed on the table on Tuesday during the hearing at the Supreme Court. The highest legal authority in the US does not frequently grant stays of execution. Last January, the Supreme Court approved the execution of Lisa Montgomery, despite her being certified as mentally ill and her lawyers having successfully appealed for stays in lower courts. Montgomery, the first woman to be executed in the US in seven decades, was convicted in 2008 of strangling a pregnant woman to death and removing her baby – who survived – from her womb. During an unprecedented series of executions during the winter, Cory Johnson was also sent to the chamber despite his lawyers arguing that he possessed an IQ of 69, below the minimum threshold laid out by the Supreme Court itself to apply the death sentence. Alfred Bourgeois, who tortured and killed his daughter in 2002, also had his sentence carried out. His lawyers argued without success that he was suffering from severe dementia, which prevented him from understanding the reason for his execution.
Twenty-three US states have abolished the death penalty. On March 24 of this year, Virginia became the first southern state to end capital punishment. New Hampshire did so in 2019, followed by Colorado in 2020. However, the death penalty still enjoys broad support among Americans. The most recent poll on the issue, conducted by the Pew Research Center in June, showed that 60% of US citizens are in favor of capital punishment.
John Henry Ramirez does not claim to be innocent. On July 19, 2004, he stabbed Pablo Castro 29 times for $1.25 and fled. Justice caught up with him but this is not a capital case, nor one that is technically about the death penalty. It is a case that seeks to decide whether or not Ramirez's religious freedom is being respected by prohibiting Moore from touching him or praying aloud. Over 17 years after he committed the crime, Ramirez only asks to be allowed to leave this world near the person that has been by his side over the last few years, and who he has got to know only through a plexiglass screen.