Police arrest the former president of FC Barcelona, Josep Maria Bartomeu
Officers also searched the soccer club's offices, and have detained another three figures alleged to be involved in a scheme to smear players and rivals on social media known as 'Barçagate'
The former president of the FC Barcelona soccer club, Josep Maria Bartomeu, was arrested on Monday as part of the ongoing investigation into a scandal know as "Barçagate," involving the alleged smearing of players and opponents of the entrepreneur on social media.
The Catalan regional police force, the Mossos d'Esquadra, also detained three people close to him during Monday's operation: Óscar Grau, the chief executive officer of the club; Román Gómez Pontí, the head of its legal services; and Jaume Masferrer, the presidential consultant. The police are also searching the offices at Barcelona's Camp Nou stadium in accordance with an order from the court that is investigating the former club chiefs for improper management.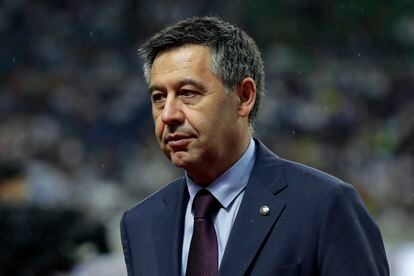 The operation comes at a key time for the future of the club, which next Sunday will be holding elections for its presidency. Since Bartomeu left the role in October, an administrator has been in charge of its management.
Barçagate dates back to February 2020, when the Cadena SER radio network discovered that the soccer club had hired an external company, I3 Ventures, ostensibly to improve the public image of its then-president, Josep Maria Bartomeu. I3 Ventures was associated with a series of accounts on social networks that were distributing messages smearing the club's players, as well as opponents of the team's directors and people within its orbit. The invoices that were paid to the company were split up into smaller amounts, allegedly to avoid them being controlled by the club's administration.
The revelations contributed to the end of Bartomeu's presidency. The poor relationship with the star of the team, Leo Messi – who tried to leave the club in the summer – and the worrying financial situation of the club led to a vote of no confidence being called against Bartomeu. The initiative never came to fruition, however, after the then-president quit after public opinion turned against him.
In a report, the Mossos found evidence of corruption in the contracts signed by Barcelona FC. The club is alleged to have overpaid I3 Ventures by up to six times the market rate. What's more, they ignored internal controls by breaking up €1 million into invoices of €200,000 each. In that report, the police also allege that the firing of Bartomeu's consultant, Jaume Masferrer, as well as one of the men arrested on Monday, was "simulated."
English version by Simon Hunter.