Hundreds of migrants head toward Morocco to return home after breaching Spanish border by sea
After swimming to Ceuta, many youngsters have decided to end their journey, but the situation in the North African exclave is still far from normal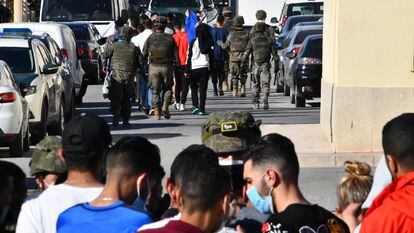 Hundreds of youngsters who arrived in the Spanish North African city of Ceuta this week have decided to return home. Many of the migrants left Morocco on Monday and Tuesday with a little more than their cellphone and a few dirhams in their pocket. Some swam to the exclave city while others crossed the jetties separating Ceuta from Morocco on foot. Once in Spanish territory, they spent hours wandering the streets. Now, after sleeping outside for one or two nights – some without eating – hundreds of the youngsters have made their way to the border at Tarajal to return home. In the line to leave, organized by the military to ensure an orderly departure, the same phrases are heard: "There is nothing in Morocco," "I came here to make a living, but there's nothing here either," "I tried to reach the mainland, but I didn't make it."
Ceuta is seeing the reverse of what happened on Monday and Tuesday when between 8,000 and 9,000 migrants crossed into the city, according to estimates from security forces. According to the Spanish government, 5,600 people have since been sent back to Morocco. Spain's Interior Ministry said thousands of these expulsions were "refusals at the border," a euphemism for irregular expulsions or express deportations. But since Tuesday, hundreds have decided to return home voluntarily. "There is no greater discussion for those who still want to enter [Ceuta] than to see so many people returning," said a source from Spain's security forces.
Samira Ajbar, 17, crossed into Ceuta with dozens of other youngsters from her neighborhood on Sunday night. She made the journey on foot, wearing sandals and a skirt. It was not an idea she had given much thought to – all of her friends were leaving so she decided to join them. "There is nothing in Morocco, we are destroyed," she says as she waits at the border to return home. Ajbar had thought that as a minor she could stay in a shelter, but after wandering the streets for several days she gave up hope. "It's all full," she says. "They tried to trick us by saying we could go to a CETI [temporary holding center], but they didn't let us in." Instead, she and her friends slept outdoors near the port. Now she is preparing to return to Fnideq, a town of around 7,000 people that is also known as Castillejos.
The soldiers at the border have been organizing the departures practically nonstop since Tuesday night. Those wishing to leave are placed in a group of 20 and each group is let out one at a time. At least 60 people, mostly youngsters, but also entire families, left just between 9.30am and 10am on Wednesday. The soldiers are from Ceuta and speak Darija, a vernacular form of Arabic spoken in Morocco, with the youngsters who calmly approach the border with their bags of clothes and food. Waiting in line to leave Ceuta are also women with suitcases who were trapped in the city when Morocco decided to close its border in March 2020 due to the coronavirus pandemic. This decision cut off the thousands of cross-border workers, many of them porter women, who used to enter the city every day. Now that the border is temporarily being opened to allow the new arrivals to leave, women who were caught in Ceuta are using this as an opportunity to return home.
Before the pandemic, 32-year-old Mohamed Tuitouijr tried to reach the Spanish mainland three times – once in a small boat and twice as a stowaway in a ferry. His goal was to reunite with his father who lives in Madrid, but each time he failed. When he heard that Moroccan authorities were taking a lax approach to border control, he decided to try again. "I have been out of work since the pandemic began. In Morocco, we are poorly treated," he says. He swam to Ceuta on Monday in the hopes of getting on a ship headed to the mainland. "I went to the port, but they threw me out. I've been sleeping on the street since Monday." His neighbors helped him with food and clothes as he did not have enough money even for a bottle of water.
I have been out of work since the pandemic began. In Morocco, we are poorly treated

Mohamed Tuitouijr, 32, who swam to Ceuta on Monday
But while hundreds of people have returned to Morocco, the situation in Ceuta has not returned to normal. There are still thousands of migrants in the city. Some are staying in homes, others in warehouses that have been fitted out with beds to deal with the emergency. But many more have nowhere to go. Dozens of migrants have been sleeping outdoors in parks and showering in the fountains. But despite the alarm and concern among Ceuta residents over the breach of Spanish territory, there have been no serious security problems or altercations, according to government sources.
The Spanish government has said it has no plans to deport the around 1,500 migrant minors who crossed into Ceuta on Monday and Tuesday. But some of these youngsters also want to return home. "The most urgent issue to address is the question of the boys and girls who have come alone," said Ione Belarra, the minister for social rights, on Wednesday. "They are children of seven and eight years of age. Many of them didn't understand what crossing the border meant. Many want to return home."
Belarra has called for an emergency meeting with regional authorities to come up with a solution for the unaccompanied migrants who have arrived in Ceuta. Several regions, including Galicia and the Basque Country, have offered to take in the youngsters.
English version by Melissa Kitson.