Government grants Spanish nationality to British pianist and activist James Rhodes
Deputy Prime Minister Pablo Iglesias wrote via Twitter that the decision was thanks to the Madrid resident's "artistic merits" and "commitment to fighting child abuse"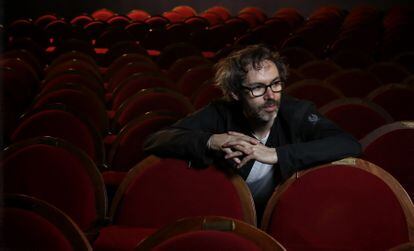 The Spanish government agreed on Tuesday to grant Spanish nationality to the British pianist and activist James Rhodes. The news was announced via Twitter by Pablo Iglesias, one of Spain's deputy prime ministers, after the move was approved during a meeting of the Cabinet. Iglesias highlighted the musician's "artistic merits" and "commitment to fighting abuse of and violence against children." He added that the Briton, who lives in Madrid, is a "symbol of the new Spain."
Hoy hemos acordado conceder, por Carta de Naturaleza, la nacionalidad española a @JRhodesPianist Sus méritos artísticos y, sobre todo, su compromiso frente al maltrato y la violencia contra los niños, hacen de él un símbolo de la nueva España. Felicidades compatriota ✊ pic.twitter.com/nFLDI7Oy6C

— Pablo Iglesias 🔻 (@PabloIglesias) December 29, 2020
Rhodes, who was born in London in 1975, came to fame after the publication of his book Instrumental: A Memoir of Madness, Medication and Music, in which he narrates the sexual abuse he suffered as a child at the hands of a teacher and the effect that this traumatic experience had. In 2017, he moved to the Spanish capital and since then he has regularly described his love for Spain and its culture via social media. In May 2018 he published an open letter in which he stated that in Spain, "everything is better." What's more, Rhodes has campaigned in the country for the rights of children, leading to the approval of legislation that came to be known as the "Rhodes Law" thanks to his involvement in its creation.
The pianist has been granted Spanish nationality via a Carta de Naturaleza, a process that avoids the usual process for citizenship and that is awarded by the government via a Royal Decree. It is usually awarded to people who have a certain public relevance in exceptional circumstances.
The pianist reacted with jubilation to Iglesias's tweet on Wednesday. "I'm Spanish, I'm Spanish!" he wrote on Twitter, adding: "¡Viva España [...]!" He also shared a video in which he expressed his gratitude for being given Spanish nationality, adding that since he arrived in Spain he has wanted to be Spanish "from the very bottom" of his heart.
"The only thing I can say is that I will make an effort every day to give back to this wonderful country what it has given to me," he said. "Being Spanish has been my dream for years and from the bottom of my heart I promise that I will try to do everything I can to thank every single one of you," he continued, visibly emotional.
Spanish Prime Minister Pedro Sánchez of the Socialist Party (PSOE) also congratulated Rhodes via Twitter and thanked him for his "commitment" to the country. The spokesperson in Congress for the PSOE's coalition partner Unidas Podemos, Pablo Echenique, also wrote that he was "very happy" with the government's decision to grant Rhodes nationality, but called on the executive to go further. "I hope that the PSOE will accept our proposal to also grant [nationality] to the heroes of Covid-19 and to regularize those people who have lived through the epidemic with us," he wrote in a tweet.
Muy contento de que el Gobierno haya concedido la nacionalidad española a @JRhodesPianist. 😊

Ojalá el PSOE acepte nuestra propuesta de concedérsela también a los héroes de la COVID-19 y regularizar a las personas que han vivido con nosotros la epidemia. https://t.co/aMtGXmXa52

— Pablo Echenique (@PabloEchenique) December 29, 2020
English version by Simon Hunter.