Spain sets a grim new record with 832 coronavirus deaths in 24 hours
Fatalities reach 5,704 but the real figure could be higher as untested victims are not being counted, study finds
The death toll from the coronavirus in Spain had reached 5,704 by Saturday afternoon, while the official number of infections surged to 72,248, according to official figures provided by the government. The country has set a grim new record with 832 fatalities in 24 hours, up from 769 the previous day. Officials said that 12,285 patients have recovered, representing 17% of all infections.
"We are reaching the peak that we have been so worried about. In some parts of the country they may even be moving past it, but we need to be cautious," said Fernando Simón, the head of Spain's health emergency coordination center, noting that the real battle now is in the overburdened intensive care units at hospitals.
While Spain already has the second highest death toll in the world after Italy, a new report by the Carlos III public health institute that EL PAÍS has seen suggests that the real number of coronavirus deaths could be much higher.
Despite significant restrictions on the movement of people in place since March 14, cases continue to climb as hospitals struggle to cope with an influx of patients while demand grows for more ventilators for critical cases and protective gear for workers.
A second morgue in Madrid
The regional government of Madrid is planning to set up a second makeshift morgue, which could start receiving coffins on Monday. The facility is located inside a failed development project called the City of Justice that was launched in 2005 to bring together all of Madrid's judicial institutions. The morgue will be set up inside the only building that was ever erected, and which was meant to house the Forensic Anatomical Institute.
The Spanish capital is already using a local ice rink, the Palacio de Hielo, as a temporary deposit for victims of the coronavirus. Madrid, the epicenter of the pandemic, reported 19,243 cases and 2,412 deaths on Friday.
Underreporting of deaths
A document by the Carlos III public health institute which EL PAÍS has seen took recent civil registry death records and compared them with the average number of deaths in Spain's regions since 2008, finding significant surges in deaths in Madrid, Castilla-La Mancha and Castilla y León during this month of March. Yet many of those deaths, even when coronavirus symptoms were present, did not get added to the national tally because no formal test was ever conducted on the victims.
Regional governments only notify the Health Ministry about a coronavirus death if the patient was previously tested and the test came back positive, said two health officials at two regional governments. "This leaves out many people who died in residences or in their own homes, and who were never tested," said one of these sources.
This means that the figures offered daily by Simón, the health emergency coordination chief, are only providing a partial picture of the true extent of the pandemic.
"We already knew that the real number of infections is much higher than what is being detected. Now we are discovering that the number of deaths is also much higher," said Daniel López Acuña, a former official at the World Health Organization (WHO) who currently teaches at the Andalusia School of Public Health.
Protective gear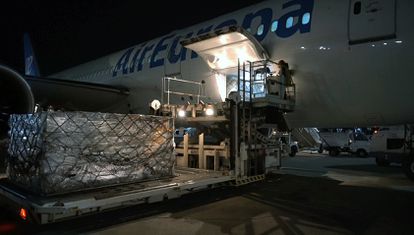 Transportation Minister José Luis Ábalos announced on Saturday morning that a plane carrying 1.2 million face masks for healthcare workers landed at Madrid's Adolfo Suárez-Barajas airport last night.
Also on Saturday, a military aircraft took off from an airbase in Zaragoza on its way to Shanghai, China where it is due to pick up a shipment of medical equipment to fight the coronavirus, a source in the Air Force confirmed. The plane, which can carry a load of up to 37 tons, is scheduled to be back in Spain on Monday.
The airline Iberia has launched an air link with China to transport much-needed medical equipment on Airbus A350 aircraft. There are three flights scheduled to land in Madrid on March 30, March 31 and April 1 with 90 tons of material from Shanghai. After that, there will be three flights a week to bring back further protective gear.
Spain has returned the 58,000 coronavirus tests that it received from a Chinese manufacturer after hospital labs reported that they were unreliable in detecting positive cases. The government and Bioeasy have agreed that the company will send a different type of rapid diagnostic antigen test based on a fluorescence method. The new shipment is expected to arrive next week, said the Health Ministry. A lack of testing is hampering efforts to assess the true spread of the epidemic in Spain.
Field hospital in Catalonia
The Catalan government will next week set up a field hospital at the Barcelona exhibition center, Fira de Barcelona, with 300 beds and 615 healthcare workers, said the health department chief, Alba Vergés. The number of beds could be expanded to 2,000, she said. Catalonia is one of the hardest hit regions of Spain, with 14,263 infections and 1,070 deaths reported on Friday.
The Catalan government's department of childhood and youth affairs (DGAIA) on Friday requested assistance from the army's Military Emergency Unit (UME) to disinfect a center for unaccompanied youths in Badalona, in Barcelona province, after several coronavirus cases were detected there.
The move comes after several days of ambivalent statements by Catalan officials regarding the presence of the Spanish army on their territory, where the UME has been disinfecting airports and seaports. A spokesperson for the Catalan department of labor and social affairs said that "all resources" will be mobilized to protect the most vulnerable citizens.
In line with this effort, over 160 seniors wtith coronavirus symptoms currently living in 16 care homes in Barcelona are being taken to hotels, said the Catalan government. Senior homes have become hotspots of coronavirus transmission across Spain, exposing the plight of their residents.
English version by Susana Urra.