Spain hit by torrential rain
The heavy rains are the result of a slow-moving storm system, known officially as an upper-level isolated depression, or DANA
Spain has issued new warnings for torrential rains that are expected to continue until Monday. The regions of Madrid, Toledo and Cadiz are under a red alert, which the highest of the three-tiered system. This warning is issued in the event of heavy rainfall, when 60 millimeters of rain is forecast to fall per hour.
Three regions are on orange alert — Andalusia, Castilla y León, Catalonia and Valencia — while Castilla-La Mancha, Aragón, the Balearic Islands, Murcia, Basque Country, La Rioja and the exclave city of Ceuta are on yellow, the lowest of the three.
Spain's Civil Protection service asked the population of Alcanar, a town home to 9,600 people, to remain at home. It recommended residents seek shelter in the upper floors of their residences due to the heavy rainfall.
The mayor of Madrid, José Luis Martínez Almeida, also called on residents to stay at home on Sunday due to the torrential rain. Between 2 p.m. and 5 p.m. local time, Madrid emergency services responded to 322 calls for help.
The local government of Madrid has closed the popular park El Retiro, as well as municipal facilities and some tunnels. Almeida explained that emergency services will be reinforced to attend to people living without shelter.
Spain's soccer league LaLiga has suspended the match between Atlético de Madrid and Seville, which was scheduled to be played this evening in Madrid.
The mayor of Toledo, Carlos Velázquez, warned has asked residents to exercise "maximum caution," and where possible stay home more downpours are expected.
Spain's railway service Renfe reported that it has suspended trains between Catalonia and Valencia. There is no alternative bus service at the moment. Renfe has announced the travelers will be able to change tickets booked for Sunday free of cost.
The torrential rains also blocked the AP-7 highway between Tarragona and Castellón for more than two hours.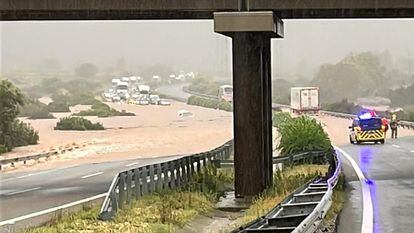 The provinces hardest-hit by the torrential rain are Cádiz, Tarragona and Castellón.
The heavy rains are the result of a slow-moving storm system, known officially as an upper-level isolated depression (DANA). The storm hit Spain on Saturday, killing two people who were canyoning in the mountains of Huesca.
Sign up for our weekly newsletter to get more English-language news coverage from EL PAÍS USA Edition