Spain struggles to contain outdoor drinking parties amid concerns over coronavirus spread
The alarm comes as experts call for the immunosuppressed to receive a third dose of a Covid-19 vaccine
Vitoria / Barcelona / Seville -
Spain's local authorities are struggling to contain outdoor drinking parties, known as botellones, which have multiplied due to the relaxation of coronavirus restrictions such as the nighttime curfew, as well as school vacations and warm summer weather. The large crowds of people drinking in the street were already a problem before the coronavirus pandemic, but are now overwhelming local leaders, especially in popular tourist destinations.
Local police forces do not have the numbers to control the problem. In recent months, officers have not only been verbally challenged by the youngsters at these parties, but have also been attacked with rocks and bottles.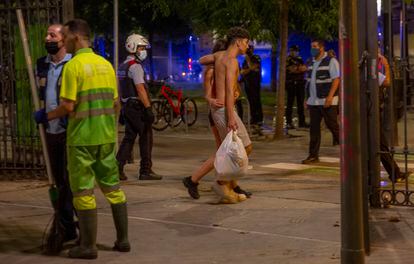 In the northeastern region of Catalonia, the situation has become so out of control that regional health chief Josep Maria Argimon did not rule out a potential sixth wave of coronavirus infections. According to the Catalan health department, 66% of the region is fully vaccinated, although coverage in the 16-34 population continues to be the lowest of all age groups at just over 50%.
Last week, the Catalan High Court rejected the regional government's plans for a curfew in 43 municipalities, limiting the coronavirus measure to the 19 areas where it is currently in place. With this setback for the region's authorities, the four provincial capitals in Catalonia – Barcelona, Girona, Lleida and Tarragona – escaped a new closure of their nightlife venues.
Spain's Basque Country is also struggling to curb outdoor street parties. The regional government has set the fine for drinking alcohol on the street at €600, but every weekend there continue to be hundreds of parties in parks, beaches, public squares and parking lots. Last week, more than 14 people were arrested in the Basque city of San Sebastián, where youths threw bottles at officers trying to break up a street party and injured four of them.
"It's like putting up a door in a field, it makes no difference to them," said a municipal police officer from Vitoria. "When we show up, they run away and sometimes throw everything they have in their hands at you. It's a danger for us and for some of them as well, as they are drunk and start running around like headless chickens."
In the southern region of Andalusia, youngsters at street parties have also become violent. "As well as the lack of resources and staff, this year we are finding ourselves up against youths who challenge you and throw objects when you go to break up a botellón… We hadn't seen this level of aggression before," said Juan Luis Amaro, the deputy secretary of the Spanish Municipal Police Union in Andalusia.
In the city of Seville, the fine for outdoor drinking has gone from €100 to €300, but the price hike has done little to stop street parties.
"The weekend is chaos, hundreds of people in the street, without maintaining a safe distance, sharing drinks, bars that don't adhere to the limits on capacity. And this is not just on the weekend, it extends from Wednesday to Sunday," said Luis Val, the president of the police union in Seville.
Concerns over immunosuppressed
The rise of outdoor drinking parties comes amid growing concern over the risks facing the immunosuppressed, who have been hardest hit by Spain's fifth coronavirus wave. In the last two months, this collective has accounted for the highest number of Covid-19 deaths. Although most of this group are vaccinated, due to their weak immune system they are still at risk of developing a serious case of the disease.
According to José Luis Alfonso, head of preventive medicine at Valencia's General Hospital, the most vulnerable people are those whose defenses have been weakened due to cancer, an organ transplant and auto-immune diseases, among other issues – a collective that accounts for nearly 8% of the population.
José Juan Rodríguez, a 57-year-old professor at Barcelona's Autonomous University (UAB) who received a liver transplant in 2017, falls into this category. "You know that your immune system doesn't protect you well and you start learning about people like you who have contracted the virus, been admitted into intensive care and died," he said. "You try to expose yourself as little as possible, always wearing a face mask and maintaining distances… but the feeling of fear doesn't leave you."
The alarm over the immunosuppressed has led some hospitals to call for this collective to receive a third dose of a Covid-19 vaccine. "They are the most vulnerable and those who, if we do nothing, will pay the consequences of a virus that will surely end up becoming endemic," said Robert Güerri, the head of infectious diseases at Mar Hospital in Barcelona.
Last week, the Inter-Territorial Council of the National Health System (CISNS), which brings together the central Health Ministry and the regions, discussed the possibility of administering a third dose to some collectives, such as seniors and the immunosuppressed. Spain is waiting for the European Medicines Agency (EMA) to grant permission, but it is taking a lot longer than expected.
With reporting by Oriol Güell.
English version by Melissa Kitson.