Madrid's nightlife rages on despite pandemic: 'These parties give me life'
EL PAÍS goes inside the events held in private homes and bars in violation of the restrictions in place to slow the spread of the coronavirus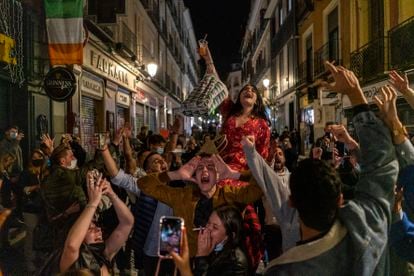 "The party continues at home, like it does every weekend." It's Friday night in Madrid's famous Puerta del Sol square. Three young people are carrying bags filled with bottles of rum. They walk quickly. It's 11pm, the time when Madrid's curfew begins and bars and restaurants close. But there's no sign of people rushing home. Instead, they gather outside the closing bars, eager for the night to continue. Plastic cups and cigarette butts litter the street, and there is lots of singing and hugging. And very few face masks. It's just another weekend in Madrid, and youngsters are partying like there is no pandemic.
Shortly before these scenes on Friday, the regional premier of Madrid, Isabel Díaz Ayuso of the conservative Popular Party (PP), shared a video on Twitter of the owners of well-known bars and restaurants of the capital saying "Madrid is freedom" and "We are more alive than ever." In Madrid – the region with the least strict coronavirus restrictions in Spain – the incidence rate has been steadily rising since last week, and the 14-day cumulative number of cases per 100,000 inhabitants now stands at 241.12. When the permitted social activity ends, the clandestine parties begin. Once the curfew starts, the most pressing question is: "Where to now?"
Roberto organizes weekly parties in his home in the upmarket Salamanca neighborhood in the center of Madrid. The 30-year-old has thousands of euros inside a safebox, so he can cover the cost of any potential fines for breaking the coronavirus restrictions. In fact, he's thinking of charging people entrance fees to his parties. "Some Saturdays lots of foreigners show up, friends of friends. It could be a business," he says. Around 30 youngsters are gathered in his luxury penthouse. None of them are wearing face masks and almost all are smoking. Music is blaring, people are yelling and dancing, and colorful fairy lights decorate the walls. "Shhhhhh," is heard every time the doorbell rings.
The mood swings between euphoria and fear that the police are coming. When someone buzzes, the guests stop speaking and Roberto looks through the peephole to make sure the coast is clear. "The neighbors could report us and that could cause problems," he says. But mostly it's his friends who are coming from the apartment next door, where there is also a party. They even have a special password to get in: "Avocado."
In the middle of the coronavirus pandemic, the city of Madrid has become an oasis for parties. Just in the first 11 weeks of 2021, municipal police have broken up 3,761 parties in homes and bars for violating restrictions, according to Madrid's security and emergency department. But according to authorities, this is just the tip of the iceberg.
In Valencia, 214 sanctions were issued for noise complaints in homes between March 2 and 20, when the region's world-famous Fallas fiestas traditionally take place. In Barcelona, the city's local police force, the Guardia Urbana, says that breaking up private parties happens very rarely. In November, a special police unit was created in Barcelona to target the rising number of gatherings in the street. Since then, 1,709 reports have been made for violations of municipal orders, most relating to outdoor drinking sessions, known in Spain as botellones. The difference between these cities and Madrid is that in the Madrid region bars and restaurants are allowed to stay open until 11pm, when the curfew begins, while in Barcelona and Valencia, food and drink establishments have to close between 5pm and 6pm, and the curfew starts at 10pm. In other words, thanks to Madrid's loose restrictions, every night – and especially on the weekend – the streets of the city become a refuge for foreigners and residents wanting to party.
In Roberto's apartment, where the doors and windows are closed to muffle the noise, Martina is celebrating her 23rd birthday: "I know it's bad to be doing this, but I can't stand being at home any longer." Martina is "desperate" to find work. "These parties give me life," she says as she dances in the living room. Her friend Iván, also 23, serves her a drink as he talks about the grim outlook for youngsters in Spain. "Half of my group of friends is out of work and depressed, so we get together in houses to forget a little bit about our problems," he says.
Juan, a 22-year-old finance student, lives on the floor below, but the loud music, noise and constant flow of people don't worry him. The building is a paradise for parties in times of the pandemic – nearly all the apartments are offices that are empty over the weekend. Juan is not afraid of catching the coronavirus and is there at every Saturday party. "I work 16 hours a day, so of course I'm going to party," he says while he lights up his umpteenth cigarette and pours another gin and tonic, which he shares with everyone. "I have a negative PCR test from Wednesday," he jokes.
"I'm only good for parties," says Lorenzo, a 28-year-old at the party who lost his warehouse job a month ago. "I'm not a [coronavirus] denier, I had the virus in March… but now I have decided not to live in fear," he says. "I'm more afraid that society doesn't realize that they are taking our freedom away." Another reveler, Marta, 26, agrees with this argument. "I have had to put up with insults from people who are manipulated by the official discourse, they don't understand that we are losing the best years of our youth." Irene, 25, however, says she is "aware" that parties like Roberto's are "illegal and bad," but she argues she hasn't seen her parents in more than a year.
Jon comes to the party with his laptop. Before the pandemic, he made a living as a DJ. He has played in clubs in Mexico, Colombia and Germany. Now he plays in illegal parties in Madrid, at least until the health crisis ends. Outside in the street, there is complete silence, only broken when someone arrives and accidentally rings the bell on the building in front. A man in pajamas yells out from his window. "Get out of here as fast as you can, the police are coming," he screams. "Every weekend the same thing."
Parties in country houses and 'closed' bars
Valentina, a 25-year-old from Panama, is studying for her master's at the EAE business school in Madrid and goes out to party every weekend. This Friday she decides to go to the Chueca neighborhood with her friends and a club promoter invites the group to a free drink. It's an excuse to bring them to a seemingly closed bar. But the security guard pulls up the metal roller-door and the space is packed: people are dancing and speakers throb at full volume. "You can't go out. If you want to smoke, you have to do it inside," says a waiter. "The place has no ventilation, but the dancing is really good," says Valentina. When they want to go, she and her friends call an Uber. A security checks that no one's around before letting them out.
In Malasaña, another neighborhood in the center of the capital, the owner of a small bar is letting patrons know where they can go after curfew. "Go to Ballesta street and in the black door press number one. They are going to ask you for a password. Tell them, it was recommended to you by a bar owner from the neighborhood." At the spot, techno music and raucous noises can be heard from the street. But the only people outside are a group of prostitutes who work in the area. "There are lots of places that open until late, but today it's a little dead," one of them says.
Meanwhile, the police are searching the streets for illegal parties. The people who deliver alcohol know exactly where they are. Indeed, they are often the ones who bring the guests there. Like every weekend, Luis, an Uber driver, picks up young people coming and going from parties. "Around here I picked up a girl who left an apartment with 60 people," he says. According to Luis, the revelry is not just contained to the center of Madrid. "In areas where there are country houses, you have as many parties as you want, all night long," he says. "I picked up some guys who had started in the early hours of Friday and left a bar Sunday morning," he explains. "I think they use Uber drivers to confess."
With reporting by Lucía Tolosa, Elisa Tasca y Diego Estebanez.
English version by Melissa Kitson.