Easter travel in Spain: the rules for Spanish and foreign tourists
Trips across regional borders remain forbidden in a bid to prevent coronavirus contagions, but it is possible to enter the country by land, sea or air from most other EU member states
With Easter right around the corner and Spaniards increasingly weary of months-long coronavirus restrictions on mobility, the central government has come under fire for its decision to keep national borders open to European tourists.
"A paradox," "contradictory," "senseless" and "lacking coherence" are some of the terms heard in recent days to describe a dual policy that is keeping Spaniards confined to their regions of residence while citizens of other EU countries are allowed to enter the country by land, sea and air for vacation purposes.
According to the tourism minister, most of the people who will enter Spain during the Easter break will be Spaniards returning home
Several leading members of the executive have made public statements defending the open-border policy, including Health Minister Carolina Darias and Foreign Minister Arancha González Laya. And on Wednesday, even Prime Minister Pedro Sánchez, of the Socialist Party (PSOE), felt the need to justify the executive's position.
"Spain has followed the recommendations of the European Union, for instance keeping borders open for intra-EU trips. The important thing is to carry out controls to prevent imported infections, and that's what we are doing," he said in Congress.
Checks are being conducted at airports and seaports, but not at land borders. Tourism Minister Reyes Maroto has stated that most of the people who will enter Spain during the Easter break, representing around 56% of all trips, will be Spaniards returning home.
The reason for the apparent contradiction between the rules for nationals and those applying to foreign visitors lies in the fact that Spanish regions are in charge of deciding and implementing their own coronavirus restrictions, and they have decided to keep their own borders sealed to inbound and outbound land travel, with exceptions made for essential trips involving work or health reasons. But regional governments have no control over national borders, as this falls to the central executive. "The regions can seal off their territory to prevent arrivals from other regions, but they cannot stop a European citizen from entering. Only the executive can do that, by announcing the closure of its borders," said a legal source.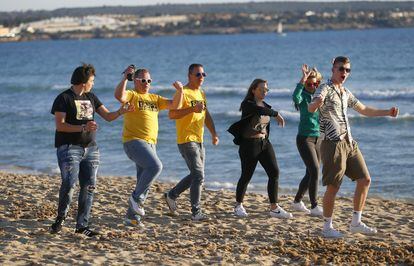 Nevertheless, the opposition is talking about discrimination against residents of Spain, particularly after the EU Commission on Monday asked Spain for "coherence" with regard to its domestic and international coronavirus travel restrictions within the 27-country bloc.
The following is a list of commonly asked questions about travel to Spain during the Easter holidays.
Can tourists come to Spain from other parts of Europe?
Yes, although conditions apply. Travelers from Germany and France, two major sources of tourism to Spain, may go to popular destinations such as Mallorca or Benidorm, whereas a resident of Madrid or Cádiz may not. "The Schengen space is open because it is controlled by the EU. In any case, very little traffic in tourism is expected in the coming weeks," said sources in the Tourism Ministry.
One of the conditions for entry is showing a negative PCR test taken 72 hours before arrival. But this only applies to sea and air arrivals, as there are no controls at land borders. Many visitors from neighboring France have been driving into Spain in recent months. Data from the Frontur tourism survey shows that in January, 72,513 French nationals came to Spain for leisure purposes, and that three out of every four came in via land borders.
"We are recommending against travel, both to Spaniards and to countries that send us travelers. We are telling them not to come, and so are the German and French governments," said Tourism Minister Maroto. But airlines and travel agencies have already noticed a spike in demand for destinations such as the Balearic Islands, and the number of available flights and hotel rooms has been bumped up for the coming weeks.
Once they are in Spain, these international travelers will be bound by the same rules that apply to Spanish nationals: they may not cross regional borders to reach a different destination.
Can non-EU citizens travel to Spain?
In this case, there are greater mobility restrictions as these third-country citizens are not part of the Schengen space. There are restrictions on non-essential travel, and even greater limits on arrivals from countries where new coronavirus variants have been detected, such as Brazil and South Africa. There was a similar ban on travel from the United Kingdom in place, but this week the Spanish government announced that this ban is being lifted.
Although citizens of these third countries can only enter Spain for work or other essential reasons, the rule does not apply to European citizens returning from these areas.
Can UK residents come to Spain for tourism purposes?
For now, British tourists will not be able to come to their favorite Spanish destinations, but that is not because of any Spanish policy: the government has just announced it is lifting its travel ban on sea and air arrivals from the UK. Instead, the British government has announced fines of £5,000 (around €6,000) for travelers who go abroad for vacationing purposes, starting on Monday.
Can Spaniards spend Easter in a different region than the one they live in?
A group of regional and central health officials known as the Inter-Territorial Council of the National Health System has decided that there will be no cross-regional travel for leisure purposes over the Easter break. Even the Madrid region, where authorities seemed less inclined to adopt this measure, has finally agreed to do so. "The executive has concluded that mobility between regions pushes infections up, and during Easter there would have been a lot of movement," said a government source. According to the automobile association RACE, around 14% of Spanish drivers had plans to travel to a different region over Easter, if allowed to do so.
Can Spaniards go abroad during Easter?
Residents of Spain, just like those of most European countries, may travel abroad if the destination allows it. "People who come to Spain have to follow the same rules we do, such as not crossing into a different region. And the same will apply to Spaniards going abroad, who will have to adapt to the rules that apply at their destination," said a government source. Even so, there are a few exceptions to the free travel rule: tourism trips are currently not allowed between Spain and Portugal.
English version by Susana Urra.