Spain to welcome German visitors over Easter break despite restrictions on national tourism
While the regions are under a perimetral lockdown in a bid to curve coronavirus contagions, the country remains open to European travelers, many of whom have already booked vacations in the Balearic Islands
Madrid, Palma, Berlin, Paris, Las Palmas -
Spain is struggling to balance two conflicting goals as it prepares for the upcoming Easter break. On the one hand, it wants to restrict national travel in order to improve the coronavirus situation by summer – a moment that will be key to reviving the productive fabric of the country. In a bid to lower contagions, all Spanish regions will be under a perimetral lockdown during the Easter holidays, meaning no one can enter or leave without a justified reason, such as for work. But while there are restrictions on domestic tourism, the Spanish government has placed no such rules on visitors from Europe. This decision, combined with the fact that Germany has removed some Spanish regions – including the Balearic Islands – from its list of coronavirus risk areas, has turned Spain into a popular destination for Easter week. In other words, Spain is open to German tourists, but not Spanish ones.
Ilse and Klaus are among the many Germans who have chosen to spend the Easter holidays in Spain's Balearic Islands. They started their trip early and arrived in Mallorca at the beginning of the week. They will spend a few days in a beachfront tourist apartment in Palma beach. "We have come because we found a good accommodation deal, much cheaper than other occasions," said Ilse.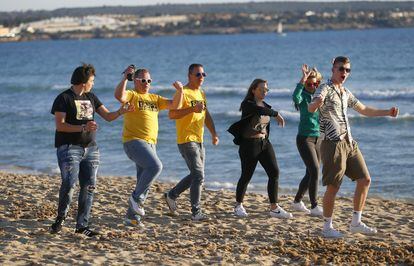 With Easter approaching, Germans are torn between wanting to have a drink on a sunny sidewalk café – bars and restaurants in Germany have been closed for four-and-a-half months – and heeding the warnings of health authorities who recommend against all non-essential travel. Many of them have opted for the former, even though experts continue to warn that this will lead to a rise in coronavirus cases as data shows the country entering a third wave of the pandemic.
But many Germans appear determined to spend their holidays in the Balearic Islands, which has led to a spike in demand. In response, large travel groups have increased capacity at hotels and the number of flights to the archipelago. "We have had a boom in bookings for the Easter holidays," said Thomas Daubenbüchel, the spokesperson of the travel company Alltours. On March 13 – one day after Germany removed the Balearic Islands and several other regions off its risk list, meaning visitors do not need to go into quarantine upon their return – Alltours organized 20 chartered flights from Düsseldorf. Two days later, the flights were sold out.
We don't want to waste all our efforts on five days and lose the summer season. That would be disastrous

José Luis Zoreda, vice-president of tourism lobby Exceltur
The British-German travel giant TUI experienced similar demand when it began offering flights and accommodation in the Balearic Islands on Sunday. "The first available dates are all taken," said a TUI spokesperson, who added that the company is preparing to open up more hotels in Alcúdia in Mallorca. In the next few weeks, TUI expects to offer more than 300 return flights to the Balearic Islands. And it is not the only airline that has jumped at the opportunity. Ryanair has added 200 flights between Germany and Spain over the Easter break and Eurowings, the low-cost carrier of Lufthansa, has scheduled another 300 connections.
But while German visitors will be able to enjoy a holiday in Mallorca, not a single Spanish tourist has the same privilege. This paradox began a few months ago and has continued due to the diplomatic problems involved with closing Spain's border. "We can't close our country off from the EU. The control measures in place in airports are working," said Health Minister Carolina Darios in an interview with EL PAÍS last week.
Visitors to Spain, for example, must provide a negative PCR test if arriving by boat or plane – the measure does not apply to land crossings. But Spaniards are upset that this same PCR test does not allow a resident from the mainland to travel to the Balearic Islands to visit family or just for a vacation. Nor can residents from the archipelago travel to the mainland, unless for a justified reason. At the same time, Spaniards see tourists from across Europe freely wandering the streets, even if they come from a place with a much higher coronavirus incidence rate.
Tourism sector remains cautious
Spain's tourism sector also has its reservations about the Easter vacation. "We don't want to waste all our efforts on five days and lose the summer season. That would be disastrous," said José Luis Zoreda, the vice-president of the tourism lobby Exceltur. What's more, Zoreda does not believe the rise in bookings from Germany will have a big impact on the sector. "It's risen from nearly zero, but it won't be significant, nor will it save Easter," he says. Indeed, many hotel owners are not planning to reopen for the upcoming holidays, at least not on a large scale. "We will see something this Easter, but I am more hopeful about the months of May and June," said Gabriel Escarrer, the managing director of Meliá Hotels International, last week.
Visitors from France are also unlikely to save the Easter break, which traditionally marks the beginning of the countdown to Spain's tourism high season. On Friday, a third of France was placed under a month-long limited lockdown, which may be extended. While it is a less-strict lockdown than the previous two, it means that residents in several regions, including Paris, are banned from traveling to a different part of the country. They can, however, travel outside of France, for example to Spain.
Despite this, it is unlikely that many French tourists will travel to Spain in this period. Traditionally, fewer trips are made over Easter than other holiday periods, as only Easter Monday is a public holiday in France. That said, airlines such as Transavia, the low-cost carrier of Air France, are planning to open new routes to Spain, but only after the end of April.
Canary Islands holding out for British tourists in May
In the Canary Islands, the winter high season was lost to coronavirus restrictions, and the sector has ruled out hopes for a rebound over Easter. The archipelago remains on Germany's list of high-risk areas, while residents from the United Kingdom – one of the largest source countries of tourism to the region – are under travel restrictions until May 17. What's more, due to the perimetral lockdowns, the Canary Islands the trickle of Spanish tourists has also stopped.