Spain will only use the AstraZeneca Covid-19 vaccine for people aged 18 to 55
The decision means that Spain will follow one of the most conservative approaches with this medication. The doses that are due to arrive will be used for healthcare personnel for now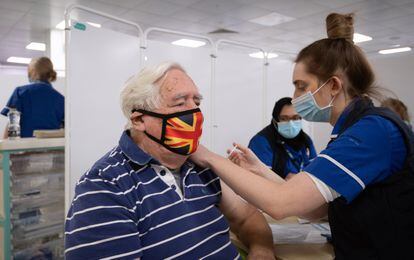 The AstraZeneca Covid-19 vaccine will only be used in people aged between 18 and 55 in Spain. That was the decision taken on Friday by the National Health System's Public Health Commission, which is made up of experts from the Health Ministry and the country's regions. According to a statement released by the ministry, three meetings of the commission were required before this decision was taken.
As a result, changes will need to be made to the country's vaccination campaign, which is currently still in phase 1 – residents of senior homes, healthcare workers and all adults with need for daily assistance even if they are not in residential care are being inoculated.
The decision to lower the limit to 55 leaves out 15 million Spaniards who are above that age
The next phase was due to focus on the over-80s, but given the restrictions on the use of the AstraZeneca vaccine, new, younger priority groups will have to be added. This will be debated this week. The first AstraZeneca vaccines that arrive, however, will go to healthcare workers who are not on the front line – some regions are already vaccinating this group in phase 1.
The decision to only use the AstraZeneca vaccine among the under-55s comes in the wake of other European countries doing the same. Germany, for example, will use it in under-65s, while Italy and Belgium will set the maximum age at 55. This means Spain will be taking the more conservative option. The reason for doing so is the lack of over-65s in the clinical trials for the vaccine, meaning that its effectiveness in this age group is yet to be proven. Despite this, the United Kingdom is using the vaccine for seniors, given that a positive immune response has been detected in the over-65s.
Five regions voted against the decision in the commission: Catalonia, Andalusia, Madrid, Aragón and Castilla y León. They did so mostly for logistical reasons: the more restrictive the age limit, the smaller the margin for combining the available vaccines with the groups in the current phases, and the more difficult it will be to progress with the immunization campaign.
The committee had already announced earlier last week that it would not be using the AstraZeneca vaccine on the over-80s, but the decision to lower the limit to 55 leaves out 15 million Spaniards who are above that age. They will all be given the Moderna and the Pfizer vaccines, 1.9 million doses of which have already been administered according to the Health Ministry.
English version by Simon Hunter.