Spain planning to raise €724 million with new plastic-packaging tax
The Cabinet approves draft legislation that also bans single-use items and encourages the circular economy
The Spanish Cabinet on Tuesday approved a draft law that introduces a new tax on plastic waste, among other environmental measures. The indirect levy will tax the manufacture, import or acquisition of non-reusable plastic packaging from other European Union countries for use in the Spanish market, according to the Spanish Ministry for Ecological Transition.
The ministry said that the proposed tax is similar to what other countries such as the United Kingdom and Italy are planning to introduce. It would require payment of €0.45 for every kilogram of plastic packaging, and is expected to bring in annual revenue of close to €724 million, based on 2017 figures.
Ecological Transition Minister Teresa Ribera warned Tuesday about "the absolutely disproportionate, irrational and irresponsible" use of plastic packaging. Spain's initiative falls within the EU's strategy of waste reduction.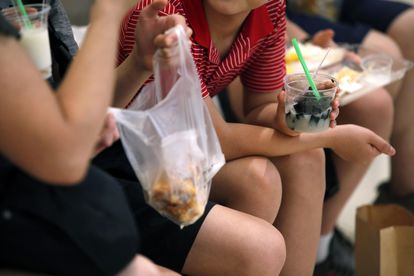 The European Commission and international organizations such as the Organisation for Economic Cooperation and Development (OECD) and the International Monetary Fund (IMF) have been urging Spain for years to increase its green taxes and introduce greater penalties for the most contaminating activities.
On Tuesday, the ministry said that based on 2017 figures, revenue from green taxes represented 1.83% of Spain's gross domestic product (GDP), compared with the EU average of 2.40%. "Spain has the fifth-lowest ratio of environmental revenue-to-GDP of the entire EU," said the ministry in a release.
The Spanish government first started a public consultation on green taxes in late February, when it discussed the possibility of introducing a tax on single-use plastic packaging. In the end, this levy has been included in a broader draft law on waste and soil contamination.
Following its Cabinet approval, the draft will now begin to make its way through parliament. The Ministry for Ecological Transition is hoping that it will go into effect during the first half of 2021.
Single-use plastics
The draft legislation seeks to transpose and implement EU directives on plastic waste that contributes to ocean pollution. It includes bans on single-use items such as straws, balloon sticks and plastic cutlery, effective on July 3 of next year.
The Spanish government also wants to prohibit the use of microplastics in cosmetics and detergents, a longstanding demand of non-profit groups.
Restaurants and bars will have to offer customers tap water free of charge, regardless of whether they continue to sell bottled water.
The draft law is part of a broader Circular Economy Strategy approved on Tuesday that seeks to reduce waste generation by 15% in 2030 from 2010 levels. Currently, Spain only recycles 37.8% of its waste.
Due to the Covid-19 pandemic, plastic manufacturers and a few other industries have asked the European Commission to halt or delay its calendar for curbing plastic-waste generation. But Commission sources said last week that there were no plans to do so. "There is no going back, and member states have the obligation to observe the norm and the deadlines," said a source in Brussels.
The Spanish ministry said that the coronavirus crisis will not alter its plans, either. Last week, Ribera's department issued guidelines to avoid the use of non-reusable face masks and gloves.
Circular economy
The ministry has described the circular economy strategy as a tool for recovery from the economic crisis caused by the Covid-19 pandemic, saying its implementation could create 70,000 jobs throughout this decade.
The draft law also establishes that 77% of plastic bottles that are placed on the market will have to be collected separately by 2025, and this figure will have to reach 90% by 2029. Provisions are made for the introduction of deposit and return systems, mirroring reverse vending machines already in operation in other European countries, where customers get a few cents back for every returned bottle. The ministry has yet to decide whether to introduce this system; a final decision is expected in the first half of 2021.
Textiles and food
The draft law stipulates that from 2021 onwards, unsold non-perishable items such as textiles, toys or electrical appliances may not be destroyed. Starting in 2025, there will also be a system in place for collecting used clothing. Food waste is also addressed, and criteria established to facilitate the conversion of certain types of food into subproducts such as animal feed.
As for so-called planned obsolescence, a production technique that purposely limits the useful life of products to encourage greater sales volume, the draft legislation says there will be policies to encourage "the design, production and use of products that use resources efficiently, that are long-lasting, and that can be repaired, reutilized and upgraded."
Municipal waste
Spain recycles a little over 46% of its urban waste, and the draft law sets targets to improve this figure. By 2025, 55% of municipal waste must be recycled or reused. This percentage should rise to 60% in 2030, and to 65% in 2035. Separate collection systems will be key in order to meet these goals. By 2022, every municipality with a population of more than 5,000 residents will be obliged to have biowaste bins – the brown-colored type that are already used in some parts of Spain. Smaller villages will have until 2024 to introduce these bins.
Takeaway food containers
In 2023, plastic and single-use food containers will no longer be free, and their price must be reflected on the sales ticket. These products must be gradually phased out and replaced with reusable ones.
Sanctions
The new legislation sets out sanctions of between €50,001 and €2 million for violators who dump waste outdoors or who bring dangerous waste into the country.
English version by Susana Urra.