Daily Covid-19 death tally in Spain down to 59
The news comes as parts of the country move to a new phase of the coronavirus deescalation plan
There were 59 coronavirus-related deaths in the last 28 hours in Spain, said the Health Ministry in an afternoon briefing, down from 87 on Sunday. This is the second day in a row with fewer than 100 overnight fatalities.
The total official death tally is 27,709 while infections number 231,606 as certified by PCR lab tests.
Central authorities are now giving regional governments an additional four hours to send in their daily reports, and figures are being released in the afternoon instead of around noon.
Deescalation plan
Parts of Spain moved on Monday to a new stage of the government's coronavirus deescalation plan. While the Madrid region, Barcelona and a large part of Castilla y León remain in Phase 0, some of the restrictions on businesses, libraries and museums were eased. The Madrid regional government will send new reports to the Health Ministry on Monday to request to transition to Phase 1.
Meanwhile, the Balearic island of Formentera, and the Canary Islands of La Graciosa, La Gomera and El Hierro moved to Phase 2, which allows social meetings of up to 15 people and bars and restaurants to open their indoor dining areas.
Joaquín Gómez, the owner of the restaurant La Tefeña in El Hierro, told EL PAÍS that while he had received "lots of calls" from locals, he may only open in the morning "if things don't go well." The restaurant owner explained that one of the challenges was finding a substitute to individual menu cards, which are banned because they could spread the coronavirus. Hotel owners on the islands have been more weary about reopening, given the lack of international tourists.
The rest of Spain is either already in Phase 1, or moved to this stage on Monday. The areas that moved to Phase 1 are: the parts of the Valencia region that remained in Phase 0 last week, the remaining provinces in Castilla-La Mancha (Albacete, Ciudad Real and Toledo), and the remaining provinces in Andalusia (Granada and Málaga).
Regional elections
The premier of the Basque Country, Iñigo Urkullu of the Basque Nationalist Party (PNV), has announced that regional elections will be held on July 12.
The premier of Galicia, Alberto Núñez Feijóo of the Popular Party (PP), is also scheduled to meet with his aides and announce the date for regional elections, which is expected to be on July 12 as well.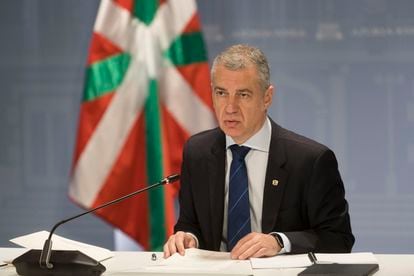 Both regions had been planning to hold elections on April 5, but they were postponed because of the coronavirus crisis.
"Holding elections in this context feels as inopportune to me as to anyone else," noted Feijóo. "But Galicia needs a legitimate premier and a fully functional parliament."
Guaranteed minimum income
Spain's plans for a new guaranteed minimum income system will be approved in the last Cabinet meeting in May, according to Social Security Minister José Luis Escrivá. In an interview with the national radio station RNE on Monday, the minister said that around 100,000 vulnerable households will be able to benefit from the scheme.
Ongoing street protests
Hundreds of people on Sunday blocked the central Paseo de La Habana avenue in Madrid to protest against the government of Socialist (PSOE) Prime Minister Pedro Sánchez. Many of the protesters wore masks and gloves, but the size of the crowd made it impossible for social distancing measures to be respected. Police vans unsuccessfully tried to disperse the protesters. Although some officers got out of the vehicle, they did not at any point charge against the crowd or try to make them move along.
The protest was organized on social media by the ultraconservative Catholic organization Hazte Oír (Make Yourself Heard), which is known for its campaigns against abortion and LGBTQ rights. The organization called around 30 protests in Madrid, as well as a dozen in the provincial capitals across Spain, and one in Marbella in the southern province of Málaga.
Another demonstration in Madrid's Plaza de Quito square also drew large crowds. This square is located in the El Viso neighborhood, which is the wealthiest in Spain, with €42,818 income per capita, according to the National Statistics Institute (INE).
There were also demonstrations in Núñez de Balboa street, in Madrid's upscale Salamanca district, which has been protesting for seven days in a row.
Spanish airports
The Spanish government has raised the number of airports available as entry points into the country from five to 13. Starting Monday, travelers will also be able to enter Spain via the airports in Seville, Menorca, Ibiza, Lanzarote-César Manrique, Fuerteventura, Tenerife Sur, Alicante-Elche and Valencia. This is in addition to the previously announced five airports: Josep Tarradellas Barcelona-El Prat, Gran Canaria, Adolfo Suárez Madrid-Barajas, Málaga-Costa del Sol and Palma de Mallorca. The order, published last weekend in the Official State Gazette (BOE), comes as parts of Spain enter a new stage of the coronavirus deescalation plan.
Testing in Catalonia
The Catalan regional government announced on Monday that it would carry out one million serological tests in a bid to better understand the level of coronavirus immunity in the region, especially among health professionals, other essential workers, as well as positive cases diagnosed without the more reliable PCR test.
The preliminary results of an antibody study of nearly 70,000 people across Spain found that just 5% had contracted the coronavirus.
With reporting by Noor Mahtani, Sonia Vizoso, Pedro Gorospe and Miguel González.
English version by Melissa Kitson.