Notorious Franco-era cop 'Billy the Kid' dies from coronavirus
Antonio González Pacheco, a police officer accused of torturing hundreds of victims under the Spanish dictatorship, passed away at the age of 73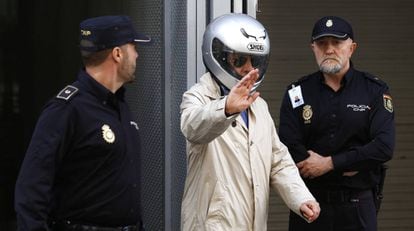 Antonio González Pacheco, a notorious former Spanish police officer known as "Billy the Kid," died on Thursday morning from coronavirus at the San Francisco de Asís clinic in Madrid, according to police sources. In recent times, the 73-year-old has come to be known as one of the leading torturers of the Franco dictatorship.
González Pacheco was a member of the National Police force for 11 years (he left in 1982), and in that time, he was accused by hundreds of victims of torture and became the source of dozens of grisly legends.
He entered the force in 1971 as a deputy inspector and was placed in the Social Investigation Brigade, better known as the Social-Political Brigade. This body was tasked with investigating and repressing anti-Franco groups, who were largely communists.
According to his colleagues, González Pacheco quickly became famous among the force for his "sagacity, extraordinary memory, and later, for his aggressive attitude and habit of spinning a pistol on his finger, Far West-style." This earned him the nickname of "Billy the Kid." Fellow officers in the Social-Political Brigade addressed him as "Billy the Kid" in the presence of inmates; members of the brigade never called each other by their real names. Over time, this name became well known in the anti-Franco movement, as González Pacheco took part in multiple arrests, especially in Madrid.
He was a compulsive torturer. He enjoyed doing it

Victim Chato Galante
He became one of the most feared men in the cells of the General Security headquarters in the capital's Puerta del Sol square, which was used as a detention and torture center.
Neither the National Police's General Directorate nor the Interior Ministry wanted on Thursday to confirm the death of González Pacheco, responding instead: "He is not one of us, he is a retired police officer." The sinister history surrounding "Billy the Kid" and the scandals that erupted every time he made contact with former colleagues in the police force have meant that departments that he once answered to lately wanted nothing to do with him.
González Pacheco was admitted into hospital with coronavirus 10 days ago, according to sources close to him. "He tried to avoid it at all costs because he didn't want even more of a media circus," these sources explained.
The former officer had lately fled from the media gaze, even wearing a motorcycle helmet to avoid being photographed. He came under greater scrutiny in recent years, after the anti-austerity party Unidas Podemos started campaigning for him to be stripped of his medals for service.
According to the National Police, González Pacheco had been enjoying a 15% pension raise thanks to a medal that was bestowed upon him on June 13, 1977. The interior minister at the time, Rodolfo Martín Villa, presented the award "on the basis of merit" and for "services of extraordinary character."
In 2018, Interior Minister Fernando Grande-Marlaska announced that his department had prepared a regulatory text to strip González Pachecho of his medals and would soon decide how to apply the regulation.
Arrest warrant
In 2013 a judge from Argentina, María Servini de Cubría, issued an international arrest warrant for González Pacheco for 13 counts of torture, in an investigation into crimes committed by former officials during the Franco dictatorship. The case was brought to Buenos Aires by relatives of Franco's victims after they ran into a legal dead end back in Spain. But in 2014, the Spanish High Court, the Audiencia Nacional, rejected the order, arguing the crimes had passed the statute of limitations.
In the past few years, more victims have added new accusations of torture to the Argentine complaint. "He stank of alcohol. He was 28 years old, just two years older than me. And he enjoyed torturing. You could tell because in the middle of the fury, as he was kicking and punching you, there was a sign of pleasure, of satisfaction," Felisa Echegoyen told EL PAÍS.
Chato Galante remembers another incident: "One time, I was handcuffed to the radiator in an office .... He arrived, kicked me and said, 'You have had the honor of being kicked by Billy the Kid.' He was very dangerous because he was not very bright and had absolute impunity. He would perform karate moves in front of you, kick you and say, 'you are a big punching bag.' He was a compulsive torturer. He enjoyed doing it. He would say, 'I'm going to destroy you'."
English version by Melissa Kitson.