Social life under Spain's deescalation plan: When can I expect to visit family and friends?
Here is an overview of what the relaxation of the coronavirus confinement measures means for outings to cinemas, restaurants and bars, as well as summer vacations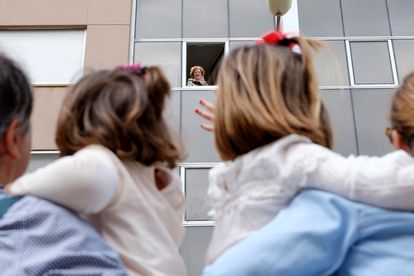 On May 11, Spain can expect a return to some semblance of a normal social life. At least, this will be the case for the provinces and islands that move on to Phase 1 of the deescalation plan announced by the government on Tuesday.
The four-phase program envisions a gradual and asymmetric loosening of the strict lockdown that was introduced on March 14 as coronavirus cases began to soar. If contagion numbers continue to taper off, the deescalation could be completed by late June.
But the staggered plan has raised numerous questions about what citizens may or may not do during each phase, and most particularly what kind of social interaction will be allowed.
Spain is currently in Phase 0 of the "Plan for the Transition Toward a New Normality," which Prime Minister Pedro Sánchez unveiled on Tuesday. The government has already started to ease the country's strict confinement by allowing children to go on supervised outings. This weekend, adults will be also be able to go out for daily walks and exercise. And on Monday, small businesses may reopen as long as they cater to customers under individual appointment.
But what about meeting friends, visiting relatives or going to the gym? EL PAÍS has put together a list of frequently asked questions regarding the deescalation program in the weeks and months ahead.
Which parts of Spain will move on to Phase 1?
From now on, deescalation measures will not necessarily take effect across the entire territory at the same time. The plan takes the province as its basic territorial unit, and provinces (or islands, where applicable) will move forward depending on their own coronavirus transmission rates and their healthcare system's preparedness to cope with cases.
Although no official list of candidates to move on to Phase 1 has been released, the head of the government's health emergency coordination center, Fernando Simón, has noted that transmission is very low in regions such as Andalusia, Asturias, the Balearic Islands, the Valencia region, Murcia and the Canary Islands, as well as in the North African exclave cities of Ceuta and Melilla. At the other end of the spectrum, Madrid, Castilla-La Mancha, Castilla y León, La Rioja and Catalonia still have high contagion levels. Government officials have warned that not every province within Spain's regions should expect to move on to Phase 1 on May 11. But four islands (La Graciosa, El Hierro and La Gomera in the Canaries and Formentera in the Balearics) will enter Phase 1 as early as May 4.
Can I see my friends and relatives during Phase 1?
Yes, but only the ones who are not considered at-risk and who live in the same province, and always in "reduced groups," according to the government's plan. The idea is to protect vulnerable groups such as the elderly and people with underlying health problems. But it is unclear what the cut-off age is, or which health issues might be cause for a young person to avoid social interaction. During this phase people can meet at restaurants' sidewalk patios, which may only open at 30% of their normal capacity. The prime minister originally said that visiting other people's homes would only be allowed during Phase 2, but government sources later changed that to Phase 1. No information has been provided yet about how many people may gather inside a home.
When can older people have social interaction?
The government program says that social interaction will only be allowed among non-vulnerable groups until the end of Phase 3. This suggests that people can only visit their older relatives after the end of the deescalation. But sources in the executive said that visits to senior residences will be permitted during Phase 3 under certain conditions, which have yet to be explained. Nothing is explained about gathering with seniors on the street, at an outdoor bar or restaurant, or inside a private home. As a matter of fact, there is no clear definition of who is a senior citizen for the purposes of deescalation.
Can I move freely within my province during Phase 1?
There is nothing in the wording of the plan to prevent it. Yet the government has prohibited travel to second homes until Phase 2, even if the home is located within the same province as one's primary residence. Confusion regarding this point has yet to be cleared up.
When can I travel to a different province?
If it is for work purposes, it is already allowed, as it has been throughout the lockdown save for the two-week period of hibernation when only essential services remained open. During Phase 1, people will also be allowed to travel for a close relative's funeral.
How will the government keep tabs on all this?
Sánchez has appealed to citizens' sense of responsibility. If monitoring whether people respect the guidelines for outdoor walks and exercise will be hard enough, controlling gatherings inside private homes will be nearly impossible. Neither central nor regional authorities have explained whether they are planning to roll out any kind of special surveillance measures.
How long will each phase last?
Each phase will undergo review by the Health Ministry every two weeks, which is the incubation period for the virus. The ministry will decide which phase each territory is on, and whether it moves forward or not. The plan notes that the deescalation "is not a mathematical or automatic process" and that "there is no certainty about when a territory will be able to move from one phase to another."
In a best-case scenario where indicators remain good every two weeks in a given province, Phase 1 would begin on May 11, Phase 2 on May 25 and Phase 3 on June 8. This last phase would end on June 21 – again, barring any delays caused by spikes in transmission or lack of preparedness.
When can I go to the movies?
Movie theaters, auditoriums and other spaces with assigned seating will reopen on May 25 at the earliest, during Phase 2, and only at 30% of seating capacity. During Phase 3 (June 8 at the earliest), ticket sales will be increased to 50% of capacity.
When can several people travel in the same car?
Starting in Phase 1 (May 11 at the earliest), people who live in the same home may also share a car.
When can I go to my second home?
If it is located in the same province as your primary residence, during Phase 2. If the home is located elsewhere, not until the end of the deescalation program.
Will I have to wear a face mask on the street?
The plan notes that "when the distribution of face masks is guaranteed, their use will be highly recommended on public transportation" and "in all kinds of activities outside the home."
When can children go see their grandparents?
Each phase of the plan increases the possibilities for social interaction, from reduced groups of not-at-risk people in Phase 1 to general gatherings in Phase 3. No age has been set, but the risk of death from Covid-19 increases substantially from the age of 70.
When can I go to the hairdresser?
Hair salons will open this coming Monday, but only through appointment. The plan says that "when this professional service requires contact with the client, the use of protective gear such as face mask and gloves will be mandatory."
What about restaurants?
Starting on Monday, it will be possible to order takeout food and collect the order at the restaurant. When your area enters Phase 1, sidewalk terraces will open at 30% capacity, and this figure will rise to 50% during Phase 2. At this time, patrons may also eat and drink indoors at the bar counter, as long as they keep a distance of 1.5 meters between them.
Can I take my child to school at any point?
Schools will only be open for children under six whose parents can prove that they need to physically go to work, starting in Phase 2. Students in their last year of secondary studies, their second year of post-secondary education (Bachillerato), second year of vocational training and last year of special education may attend classes on a volunteer basis, as long as safety conditions are met to prevent transmission.
Can I spend the weekend at a hotel?
Until the country goes back to "the new normal," you may book a hotel room in your province during Phase 1, but all common areas will be closed. During Phase 2, these areas will open at 30% capacity.
Can I go on summer vacation?
Barring any delays, travel within Spanish territory will be permitted in late June. During Phase 3, going to the beach will be allowed.
What about nightclubs?
Clubs and bars that keep nighttime opening hours will not reopen before Phase 3, and then only at 30% capacity.
When can I go to the gym?
During Phase 2, indoor sports facilities may reopen for activities that do not entail physical contact with others, or where the risk of contagion is low. During Phase 3, gyms can open at 30% capacity, although locker rooms will remain closed.
When can I go shopping?
During Phase 1, retail stores that are not located inside shopping malls will reopen. Outdoor markets will also make a comeback, although attendance will be kept at a minimum. Shopping centers will reopen during Phase 2, although all common and recreational areas within will remain closed. These restrictions will be lifted during Phase 3.
Can I go to a funeral?
This point is unclear and will have to await further instructions from the government. The plan says that a limited number of relatives may attend during Phase 1, then "a less limited number" during Phase 2, and "a larger group of people" during Phase 3. But no specific numbers have been provided. Starting during Phase 1, people will also be allowed to travel to a different province for a close relative's funeral.
When can I hold my wedding?
As with funerals, no specific figures have been provided yet. The plan talks about "a limited number of guests" during Phase 2 and "a larger number of guests" during Phase 3.
When can I go back to driving school?
When Phase 2 goes into effect.
What if my nearest hospital is in a different province?
You may go. The same exceptions to the travel ban are in place as existed since the introduction of the state of alarm.
English version by Susana Urra.