IMMIGRATION
"We are illegal people with legal clothing"
Papalae Abdoulaye never imagined he would leave Senegal to live in Spain. Today he is a member of a street vendors' union and co-creator of the fashion brand Top Manta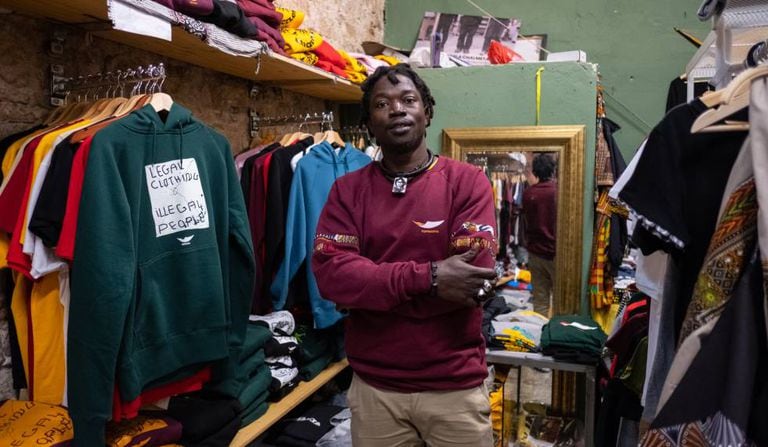 It has been more than a decade since Papalae Abdoulaye first came to Spain. He did so on board a fishing boat where he worked alongside 40 other people, embarking on a nine-day journey from the south of Dakar (Senegal) to Tenerife, the largest of the Canary Islands. It had never crossed his mind to live in Europe, and he did not know how they would welcome him. He certainly did not know that he would one day be the co-creator of a controversial line of clothing known across the country: Top Manta.
"They told us that migrants were needed to work in the fields and do what the Spaniards don't want to do. But the first thing that happened is that they shut us in a migrant holding center [CIE] so that we would know that we were nobody and that we didn't have the power to do anything."
A month later, the Spanish government moved them to the peninsula and handed them over to the Red Cross, which relocated them. Abdoulaye was first taken to Galicia and then to Barcelona, where he met with a distant relative. Without permission to work, nor a good grasp of the language, finding a job was impossible, no matter how many phrases he learned to show that he was willing to work. Finally, he felt that he had to choose the path of many other migrants.
"One day my friend took me to see where the other migrants were selling their goods. I saw how the police were persecuting and detaining the other brothers. It's sad but it is what it is," he says. "Our own customs prevent us from begging or stealing, for us it would be very degrading. So our way out is to buy sunglasses, clothes or shoes and try to sell them on the street. If you don't, you don't earn anything."
With no other options, Abdoulaye started to sell on the street despite the continuous raids, during which the police would confiscate all of his products. In 2015, the persecution of street vendors intensified and there was an incident in which an migrant died, allegedly by falling off a third-floor balcony while running from the police. A group of street vendors then decided to unite and create the Sindicato Popular de Vendedores Ambulantes de Barcelona, or the Popular Union of Traveling Vendors of Barcelona.
"It was a time when there was a feeling of rage that made everyone go out and demonstrate, so we decided to organize so we could respond to these events, after seeing that we didn't have any protection. People started to understand that we were selling in the street because we didn't have any other option, and we began to receive some support."
Once they were organized, vendors started to put plans into motion in a bid to enter the labor system and stop living with the constant anxiety of being detained. "Colleagues began to put forward many proposals and we finally agreed to work on something that represented what we were doing. So we took the phrase that they were using to stigmatize us, Top Manta [from the Spanish word manta meaning blanket, which many vendors use to place their items on], and created our own brand."
Thanks to an online fundraising campaign, the Top Manta brand has a store on D'En Roig street in the Raval neighborhood of Barcelona, which draws people from all over the world. Its clothing fuses African style and European streetwear, and in addition to colorful prints, the sweatshirts and t-shirts bear phrases that are not just for decoration: they also refer to the conditions that are faced by thousands of migrants in Spain every day. Abdoulaye explained that he was inspired by their everyday situations. Thus, he stamped his clothes with phrases such as: "Illegal people, legal clothes," and: "Fake system, true clothes."
"This is not a brand like any other. Our logo represents the blanket that we took to the streets to sell on, but also the boat that carried many of us." Because of this, Top Manta is much more than a clothing brand. It has become a voice for a community that has always been silenced and stigmatized, and a tool for them to reclaim their rights.
The union has continued fighting to consolidate and is now working on new ideas. Now they are creating a cooperative to expand projects and provide employment for "other brothers," as they call each other.
Papalae, Lamine, Mouhamet, Modou, Mansour and Aziz, as well as other members of the union, agree that what motivates them to continue fighting is the desire to dignify the lives of their brothers who are living in Spain with no options. "We are fighting so they can have the same rights as other foreigners."
English version by Nell Snow.
Adheres to