Edith Bruck, writer and Holocaust survivor: 'Revenge, reprisals are useless'
The 92-year-old writer, deported to Auschwitz at 13, says, 'I am stunned by Hamas' bewildering cold-blooded strategy. The only time I have seen anything similar has been during the Nazi era'
Hungarian Jew, Edith Bruck, 92, from the village of Tiszabercel, recalls the horror, humiliation and hatred she experienced in the Nazi concentration and extermination camps at the age of 13 as though it were yesterday. But she also recalls the strength of forgiveness as she describes how she hid five Hungarian fascists from the authorities after the Allied liberation, and shared bread and chocolate with a group of starving Nazis.
A prolific writer and poet, Bruck is one of the last voices from the Holocaust. She has spent more than half a century using words to depict one of the 20th century's darkest hours and to prevent the memory of it from fading. However, she says she has no words to describe what Israel and Gaza are going through now in the wake of the brutal October 7 attacks on civilians in southern Israel by Hamas, or the helplessness, bewilderment and pain she feels. "There are no words that can express all the pain that we have lived through, that we are living through and that we will live through," she says. "Our words seem empty. I am so outraged that words are suffocating."
She is an imposing, determined woman who exudes a mixture of tenderness and firmness, and uses words to stir our consciences. She is not one to keep quiet and has rarely done so in her 92 years. Receiving EL PAÍS at her home in Rome, she is bedbound following a bad fall. But she still considers that talking is an exercise in responsibility. "Our lives are not only ours, they belong to history as reflected in my books," she says referring to all those like her who have been witnesses to and victims of one of history's most shameful episodes and who have known the senselessness of extreme violence, of hatred so intense it has ended in extermination. "What a word!" exclaims Bruck, pronouncing every syllable with a vigor that contrasts with her frail frame. Nowadays, she is a strong woman in a debilitated body.
"We have survived to bear witness," she says. "Since the Americans freed me from the concentration camp, I have not been silent for a single day. I have written and spoken a lot to young people in schools and universities. I do it to make things slightly better, to act, even if it is minimal, with the absolutely useless presumption that you can change 10, 20 or 30 people. The Pope told me: 'Edith, every drop of good in this black sea counts.' I have tried to make a puddle. Talking is not useless, you have to do it."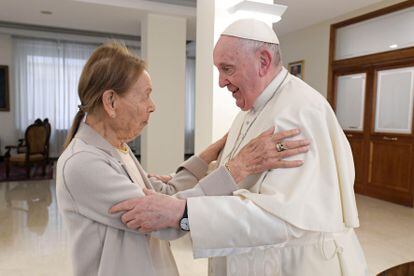 For more than 60 years, Edith Bruck poured her story into several dozen books and collections of poems, including Who Loves You Like This and The Lost Bread, winner of the prestigious Strega prize in 2021. She arrived in Naples in 1954 and met her husband, the poet and film director Nelo Risi, on a trip to Rome. She fell in love and stayed. Bruck chose to write in Italian not Hungarian in order to put some emotional distance between herself and her pain, because every word in her native language automatically evoked memories, sensations, smells, impressions and tastes that were too hard to bear.
Born in 1931 into a poor Jewish family in Hungary, Edith Bruck was arrested at dawn along with her parents and five siblings by Hungarian officials in 1944, the day after the Jewish Passover commemorating the liberation of the Hebrew people from Egyptian slavery. She then spent time in some of the most terrifying Nazi concentration and extermination camps, including Auschwitz, Dachau and Bergen-Belsen, where nearly 1.5 million people, including 1 million Jews, were murdered. Regarding her own family, only she and her sister made it out of the camps alive.
The news coming out of Gaza and Israel since October 7 has stirred up some of the old nightmares. While she is clear that nothing is comparable to the Holocaust, she recognizes a familiar "barbarity" in the current images. "One remembers what one has lived through when faced with such things, but a horror like the Holocaust, which aimed to murder everyone indiscriminately and put every part of people possible to some use — their hair, their fat to make soap, their skin — that has never been repeated," she says.
She recalls terrible episodes from her past that she should never have witnessed: "In Auschwitz, I saw German soldiers playing soccer with the decapitated head of a child," she says. "It was the most horrific sight I have ever seen and it disturbed me for the entire year I was imprisoned. I have seen small children frozen on the ground, in the open, probably with the aim of thawing them later for scientific experiments. These are images you can never forget. I am living what we are seeing [in Israel and Gaza] differently, as I do the war in Ukraine."
Edith adds, "I am Jewish, I defend Israel and I am greatly pained by the massacre committed by Hamas in the kibbutz, with all those children, innocent young people, murdered women. It is an appalling, barbaric thing. I am stunned by the bewildering cold-blooded strategy of Hamas who were preparing the attack for years in the cruelest way imaginable. The only time I have seen anything similar has been during the Nazi era."
At the same time, she fears the consequences of Israel's brutal response and believes that revenge and violence are of little use. "It overwhelms me to think about what will happen in the future, whether more countries will enter the conflict — Lebanon, Syria, Iran. Blood for blood. The impact will be very serious and will last for a long time. When will the war end, how many dead will there be? It's as if the world is imploding. It is not possible. Revenge, reprisals. They don't do any good. They only make the situation worse."
Edith Bruck knows what she is talking about, having experienced unspeakable horror firsthand. Despite what she went through, she has never felt any desire for revenge, and feels no hatred or resentment. "Hate doesn't solve anything," she says emphatically. "After the liberation [of the camps by the Allies], my sister and I hid five Hungarian fascists at home to save them from going to prison. They could have been the same ones that arrested us and took us to the concentration camps. I didn't care. We said, 'Let's start to establish peace, anyway, by doing something good.'"
On another occasion, while they were in a US transit camp, waiting to be moved back home or to Israel, she saw a group of Germans outside, some of them military, begging for food. "Whoever they were could have killed our father or mother, but we shared bread and chocolate, what little we had, with them. 'Let's not start with hate,' I said to myself. I was only 14, but very eager to open a path to peace, so why hate anyone? Having seen horror and extreme hatred, I wanted to show how a human being should behave. If they put me in front of the person who killed my mother, I would do nothing, not out of faith or fatalism, but because I am not a judge."
Edith never pointed the finger at anyone, not even the kapo — concentration camp prisoners selected to supervise other prisoners, who tricked her on one occasion into thinking they were taking her to see her mother. "Look, she's over there," they said, pointing to the column of smoke rising from the gas chamber. "If she was a bit fat, they'll make soap out of her." Edith says, "I couldn't sleep if I denounced someone and put them in jail for years. How can you denounce someone who was deported years before you and was totally dehumanized?"
Returning to the war between Israel and Hamas, the lack of forgiveness on both sides troubles Edith. "Hatred has intensified," she says. "In 80 years at least eight generations have grown up, cultivating hatred, which has become poison. I have little faith that it can be resolved. It is very difficult to bring about a rapprochement, to engage in dialogue. Both Arabs and Jewish Israelis have had all the time in the world to definitively sign a coexistence and peace agreement, even a minimal one, but they have put it off and put it off over the years. There is no way out of that conflict. The hatred is deep-rooted."
She deplores the ethnic and religious clashes that fuel the most extreme rancor. "I have heard it said that they want to exterminate all Jews, as if all Jews are Israelis and think alike," she says. "It is very difficult to eradicate this thinking. The hatred of Israel extends to all Jews. When Israel won the war against Egypt [the 1973 Yom Kippur War], there were those who congratulated me, but what had I got to do with it? I was not at war. It is necessary to bring the two sides closer together, to create a minimum of coexistence. I feel bad that there is no peace, no possible way out. I feel impotent because I can do nothing. The world is becoming a place of savages, I don't understand it. It's shameful and makes no sense."
On Edith's bedside table, painkillers lie alongside photos recalling a life as long as it has been intense. After the concentration camps, she lived for two years in Israel, arriving at the end of 1948 a few months after the birth of the new Jewish State. She came to the Promised Land fleeing persecution, but did not find the peace she had hoped for, though she still has family there. She says that no matter how hard she tried, coexistence with the Arabs was impossible and she was not convinced by the Israeli compulsory military service, so she decided to leave, trying out several countries before settling in Italy.
Although she fears what will happen when the voices of the last Holocaust survivors die out, she is confident that the power of their testimonies will keep the memory of the Shoah, of the war, of the atrocities, alive. "I hope it has helped," she says. "Some people think, 'Why should I talk? What does it change?' Woe betide us if we think like that. We should never think like that. We should speak about what we have lived through, do the little we can. To withdraw is the easy thing, indifference is complicity, it's the worst thing of all."
She has met Pope Francis on at least five occasions and the pontiff, who often quotes Bruck's writing in his speeches, has also gone to visit her at her home. "I have a very good relationship with him," she says. "We are very close. We love each other very much, even though it may seem strange because of our very different backgrounds and because we belong to different religions. I get emotional every time I see him."
From her home in Rome, where she has lived for more than 60 years, many of them with Nelo Risi, who passed away in 2015 due to Alzheimer's, she reflects on the risk of remaining indifferent in times of war, of an 'If it doesn't touch me, what do I care?' attitude. "You are touched by everything that happens in the world, no matter where," she says. "It is reflected in your life, in your mood, in the economy of your country. Everything affects you. The world is connected, and you can no longer say that you didn't know what was happening."
Sign up for our weekly newsletter to get more English-language news coverage from EL PAÍS USA Edition