Report finds 'worrying' rise in suicide rates in northwestern Syria
Years of war and forced displacement have affected the mental health of the residents of this impoverished region, with women and girls most at risk

In northwest Syria, where 4.6 million people remain trapped almost 12 years after the beginning of the conflict, reported suicide cases more than tripled from eight to 26 between the first and second quarters of 2022, with a total of 83 cases recorded between early 2021 and mid-2022, according to the report Reaching the final straw by the non-profit group World Vision.
The report found that the number of recorded suicide attempts more than doubled between the last six months of 2021 and the first six months of 2022, rising from 106 to 213, with women representing almost half (49%) of reported cases, followed by men (34%), girls (12%) and boys (5%). "Worryingly, girls under 18 made up the largest group (40%) of total recorded deaths by suicide between early 2021 and mid-2022," reads the study.
"The figures on the mental health crisis in northwestern Syria are shocking, especially regarding women and girls, yet it is not surprising," says Evita Jourdi, one of the authors of the study, in a conversation with this newspaper. She also warned that the real numbers are no doubt higher than what the records show due to the social stigma surrounding suicide.
Around 80% of the 4.6 million people trapped in the area are women and children who live in overcrowded conditions in the Syrian province of Idlib, the last stronghold of the opposition. Most have had to flee their homes and almost two million are in camps for displaced persons where hunger is rampant. With the financial situation deteriorating, so is people's mental health. World Vision and its partners, including the No Lost Generation (NLG) initiative, spoke to more than 100 adults and youths about their situation. "More than 90% of those surveyed said that deaths by suicide had increased in the last year, and more than half admitted that teenagers, and particularly girls, were at risk," says Jourdi.
We must address the social and economic needs underlying this mental health crisis, and we cannot do so if funding continues to decline

Evita Jourdi, co-author of the report 'Reaching the Final Straw'
Three quarters of those surveyed stated that poverty and the inability to meet their basic needs were one of the main causes of suicidal ideation among young people, but in the case of girls and women, these problems are compounded by their exposure to high rates of sexual and gender-based violence. "They are not only victims of the dangers of war and limited mobility due to insecurity, but are also exposed to various forms of sexual and gender-based violence, such as sexual harassment, domestic violence or child marriage," adds Jourdi. "Even before the war, Syrian girls as young as 13 were being forced to marry. In fact, almost 15% of Syrian women were married before they turned 18."
Girls Not Brides, a global network of civil society groups from over 100 countries, warns that conflict and displacement made the situation even worse, as parents in desperate need were forced to make ever more desperate decisions - as they lost their homes and livelihoods, child marriage became a a common practice.
In Arab culture, suicide is often a taboo subject. "In the northwestern Syrian community, if someone is thinking of taking their own life, or does so, those around them will try to hide it. And this attitude is even stronger for women and girls, since in their tradition, they are the ones who uphold family honor," explains Jourdi. "Despite this, there are still more women and girls attempting or going ahead with suicide than men and boys, which means that there is a big problem."
Psychological support
Before the bombing raids that turned her life upside down, Amira (an assumed name to protect her identity) lived happily with her entire family. The eight-year-old tells the story herself in a testimony collected by World Vision. One day, her village was bombed and her house collapsed. She survived, but her parents and brother were killed in the attack. Amira and her grandparents headed for northern Syria in the hope of finding a safe place to stay. "All I could feel was sadness and despair. I had lost everything. My city, my house, my family, my friends and my flowers," she recalls. The child, who was a bright and very sociable student, began to have problems at school and became withdrawn.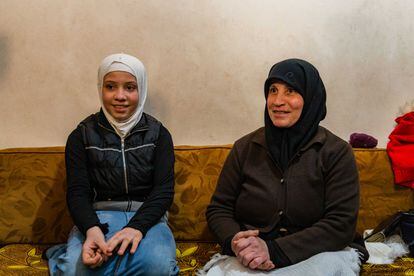 In the displacement camp where they live, her grandmother heard about a center that offered psychological assistance and registered Amira. During one of the drawing classes where the children were asked to draw what made them feel happy, she painted her family and lamented: "I will never be happy without them." But little by little, after several sessions, she began to come out of her shell and became more expressive. She learned to use art to express her feelings instead of repressing them, and realized that being with other people could bring joy to her life. In her friends she found comfort and security.
"Now I feel like I have friends who love me and support me," Amira shares in the story collected by World Vision. Her grandmother is also pleased with her improvement: "I am very grateful that psychological support services are available for the children. They have experienced so much sadness…." However, this is not the reality for everyone. The NGO's study reveals that despite growing mental health needs and the fact that two-thirds of those surveyed believed that children were very likely to have suicidal thoughts, 44% of people do not know of any mental health services for children.
"Financial resources for the Syrian crisis are dwindling as the world turns its attention to other crises, but the humanitarian needs in northwestern Syria are greater than ever. We have seen firsthand the toll that conflict and uncertainty about the future wreak on children and their families, and this data should be a wake-up call for all of us to do more," said Eleanor Monbiot, World Vision Regional Manager for the Middle East and Eastern Europe, at the report presentation. According to the United Nations Office for the Coordination of Humanitarian Affairs, an appeal in 2022 for around $4 billion in funds for Syria to respond to the crisis there only managed to raise 47.4% of the target.
Within Syria's multiple needs, mental health has become a priority. Jourdi stresses that investment is required over a long period of time because psychological treatments are prolonged. "We must address the social and economic needs that underlie this mental health crisis, and we cannot do it if funding continues to decline."
Sign up for our weekly newsletter to get more English-language news coverage from EL PAÍS USA Edition