Selling a child for food: 'Several suitors showed up and I tried to choose the youngest'
In Afghanistan, the number of child marriages and sales of babies is growing with the spread of the pandemic and poverty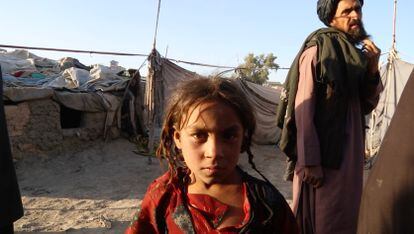 At only eight years old, Afasana is thoughtful. She gazes downward and smiles a slight, forced smile. It rained yesterday, and she uses the mud to style her hair, imagining braids. She knows that in 20 days she will marry a stranger. Her father made the arrangements and chose the highest bidder, who will win his daughter's hand for around €2,300. He told her the story of her suitor as if telling a tale about a princess.
Her answers are usually monosyllabic. Are you happy with your future husband, happy with your future life? "At least I will be able to eat twice a day," she says. Her father, Yasee, doesn't look up either. He looks embarrassed. He wears a traditional shemagh scarf as a turban to mitigate the effects of the scorching sun. "Of course I didn't want to do this, but after the Taliban arrived I lost my job as a sweeper. We had to move from Kabul to this remote village in Kandahar province, where an uncle of mine lived with his family. In theory, he was going to get me a job in the poppy fields to process the opium, but the regime has decreed that this is the last harvest, and they don't need many day laborers. Without money, we had no other option," he says.
"Several suitors came forward, and I tried to choose the youngest. He is about 25 years old, seems to come from a good family and says he will allow the girl to go to school. We are all sad. Afasana cries at night. Everything will be fine, inshallah," he adds.
Afghanistan's economy was already in crisis when the Taliban guerrillas seized power in mid-August 2021 amidst the chaotic withdrawal of US troops. The situation was a perfect storm. The international community decided to freeze aid funds, which accounted for more than 75% of the national budget. The consequences have been devastating in a country ravaged by 20 years of conflict, drought, harsh winters and hunger. And on Wednesday, June 22, an earthquake shook the east of the country, on the border with Pakistan, killing over 1,000 people.
The United Nations has warned that the population of Afghanistan is experiencing an "unparalleled" malnutrition crisis. The number of people suffering from acute hunger has increased from 14 million in July 2021 to 23 million in March this year. More than 3.5 million children need nutritional treatment.
The lost girls
Gruesome stories repeat themselves in this rural village in the mountains of Kandahar, the heart of Taliban culture. Three-year-old Afshin plays with Afasana. She too has been sold, but she doesn't know it yet. She pouts and purses her lips. Her reddish cheeks swell. Dust covers her eyes. It is the period of Ramadan, when the Koran imposes a fast, and people look forward to sundown, when they will eat and drink. Her father, Rangui, is uneasy. "I escaped from Kunar [province] plagued by debt. But they found me and now they are threatening to kill me if I don't pay the $5,000 [€4,700] that I accumulated between expenses and gambling, my weakness. A henchman of my creditor came to the settlement and chose one of my daughters as payment," he explains.
Yorian, the village chief, walks down a dark alley to another house. There, a 14-day-old newborn cries. "Her destiny is already decided," he says. "Sometimes there are offers even before the child is born." He shows off some of the minors for sale. They surround him, and the patriarch pats their heads. "Almost all families are willing to reach an agreement. The bidders consider it charity because it will give them a better life. Prices are between $500 and $2,500 [€300 and €2,300]," he says.
Arranging marriages with underage girls is a common practice in various regions of Afghanistan. The groom's family pays the money to close the deal, and the little girl usually stays with her parents until she is at least 15 years old. UNICEF estimates that 28% of Afghan women between the ages of 15 and 49 are married before they turn 18. Under the previous government, the minimum legal age allowed for marriage was 16 years. As Save the Children pointed out in 2016, however, girls were already being forced to marry at ages as young as 10 years old. Transactions are carried out by hand, and marriages, officiated by a cleric, are conducted in a matter of hours, without papers. The community thereby accepts the relationship.
Even before the return of the Taliban, UNICEF had registered 183 child marriages and 10 cases of sale of children during 2018 and 2019 in the provinces of Herat and Baghdis, Henrietta Fore, executive director of the organization, declared in November 2021. The boys and girls were between six months and 17 years old.
To reach the neighboring province of Helmand, another one of the most impoverished regions in Afghanistan, one must cross deserts, poppy plantations and roads that wind through mountains. Along the way there are multiple villages where people live in extreme poverty.
The Qurban family lives in an adobe house. Rasua goes out to light the fire to heat a cauldron with aush goshti, tomato broth. He strokes his beard, and Afzal, his four-year-old daughter, shows up. She dips a piece of bread in the pot and, savoring it, sits down next to her father. He begins the story: "There were too many debts. It was impossible to pay. My boss came one day and chose the most beautiful girl. He will come soon. It's only a matter of time."