FREEDOM OF SPEECH IN SPAIN
Spain's prosecutor general suggests softer sentences for online hate crimes
Current legislation covering racist, homophobic or anti-Semitic messages posted online forces judges to hand out a minimum of 30 months' jail time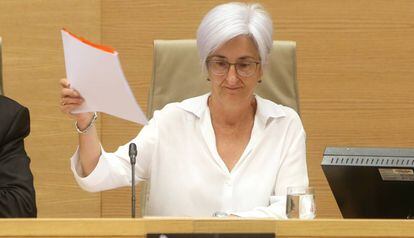 Spain's prosecutor general is proposing a change to the country's criminal code so that hate crimes committed via social networks are no longer only punishable by jail sentences. In recent years there have been a number of high-profile court cases where people have been handed prison terms for having posted racist, homophobic or anti-Semitic messages on social networks such as Twitter, prompting a widespread debate about the limits of freedom of speech under Spanish law.
The criminal code lays out jail terms of up to four years for anyone who publicly incites hatred for reasons of gender, race, religion or other circumstances
The proposal from prosecutor general María José Segarra would see prison sentences for such cases reduced, as well as the inclusion of alternative measures imposed by a judge in situations where, "due to the context, lack of repetition or personal characteristics or circumstances of the author," such harsh punishment is not appropriate.
The article in question of the criminal code lays out jail terms of up to four years for anyone who publicly incites hatred for reasons of gender, race, religion or other circumstances. In cases where the offense has been committed via social media or on the internet, the minimum sentence is 30 months. Sentences of two years and under are almost always suspended in Spain in the case of first-time offenders.
The prosecutor general believes that the current legislation is too "severe" and disproportionate. "Experience shows that many of these cases are committed by people who do not belong to criminal groups or organizations, but rather post messages on social networks that are deeply offensive or humiliating for certain collectives of people for xenophobic, religious, homophobic or other reasons, and may have acted impulsively or recklessly," the proposal reads.
The law currently impedes bargains where the defendants can plead guilty and thus avoid trial
The prosecutor general adds that many of the authors of such offenses are prepared to admit the facts once they have been identified by the police, but that given the current seriousness of the sentencing guidelines, it is not possible for prosecutors and defendants to negotiate an admission of guilt and avoid trial.
Alternatives proposed by the prosecutor general include fines, a loss of political rights, or community work related to the offense committed, and that would allow for "social reinsertion via getting to know and accepting their victims."
The prosecutor general cited examples such as making authors of anti-semitic remarks visit a Holocaust memorial or work in organizations or collectives that represent victims.
Freedom of speech in Spain
A number of cases related to freedom of speech – although not all involving hate crimes – have hit the Spanish headlines in recent years.
In a high-profile case in 2015, a short-lived Madrid city councilor, Guillermo Zapata, was taken to court over offensive jokes he had published on Twitter four years previously. Zapata was forced to quit his job and the case was eventually shelved by a judge.
Meanwhile, a 21-year-old Spanish student was convicted to a one-year prison sentence for joking about victims of terrorism on Twitter. Spain"s central High Court found Cassandra Vera guilty of victim humiliation on the basis of 13 tweets she posted between 2013 and 2016. The sentence was eventually overturned on appeal.
Spanish rapper Josep Miquel Arenas, known by his artistic name Valtonyc, recently fled Spain to avoid a three-and-a-half-year prison term for glorifying terrorism and insulting the Crown in a series of song lyrics. The artist, who is from Mallorca, was supposed to report to prison authorities on Thursday.
And just last week, Spanish actor and activist Willy Toledo had a warrant issued for his arrest after he failed to appear in court on accusations he offended religious feelings, due to comments he posted on Facebook about God and the Virgin Mary.
English version by Simon Hunter.