Catalan politician Josep Rull on time in prison: "The food was very gassy"
Sacked minister spent month behind bars playing table tennis, reading letters and watching television
The former Catalan minister for territory and sustainability, Josep Rull, has provided details of the "very tough" 32 days he spent in the Estremera prison in the Madrid region.
Rull, who faces possible charges of rebellion and sedition for his part in the Catalan independence drive, spent time at the Madrid facility after being placed in pre-trial custody by Spain's High Court but was released on Monday after the Supreme Court took over the case against him and fellow ministers of the government led by sacked regional premier Carles Puigdemont.
They wanted to humiliate us but we came out with our dignity intact and our belief in our ideals stronger than ever
During this time in prison, the former minister – who is now back on the campaign trail for regional elections, due to be held on December 21 – shared a 10-square-meter cell with former Catalan government spokesperson Jordi Turull.
"Josep was the ping pong king of the cell block," said Turull during an interview with Catalunya Ràdio on Wednesday, during which the two men discussed their days spent taking a fitness course, studying French, and even learning bookbinding. "I now know how to make books and notebooks," Rull joked during the conversation.
The former ministers, who spent up to 17 hours a day together, were full of praise for the professionalism of the prison staff and for their fellow prisoners, who gave them a send-off that involved hugs and applause. "We didn't want to be isolated," said Rull forcefully.
But certain aspects of the experience were "very tough" for Rull – including the lack of access to information. "They gave us newspapers from time to time, but they were newspapers it was better not to read because they made our spirits sink even more," Rull said during the radio interview, adding that they also received copies of pro-independence Catalan papers such as El Punt Avui and Ara, but always several days after they had been published. Instead, the former minister preferred to read letters from family and friends and supporters.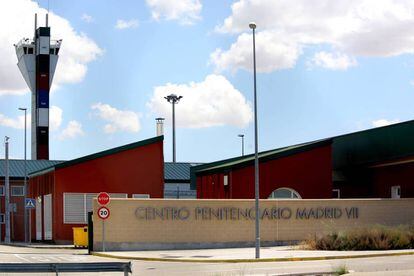 Rull also spoke of the problems he had with prison food. "It made me suffer. I came out with a mouth full of ulcers. The food was very gassy, shall we say. I remember on the first day they gave us hamburgers that were so burnt my fork broke," he explained.
Worst of all though, for Rull, was the transfer from the High Court to prison, an experience he described as "shocking." In court, he was required to take off his glasses and – in what was a first for him – remove his wedding ring. He was then put in a van without windows and driven to Navalcarnero prison in Madrid – a trip during which he felt nauseous the whole time.
There, a prison employee said: "They have put a stop to your foolishness." The guard then handed Rull a copy of the High Court writ and said: "You are going to spend so much time in prison that you'll end up knowing the writ by heart."
This was, Rull admitted, bad luck. By contrast, at Estremera prison, to which he was later moved, "the huge majority of the staff were highly professional," he told Catalunya Ràdio.
They gave us newspapers from time to time, but it was better not to read them because they made our spirits sink even more
On the day Rull and Turull left Estremera, they decided to wear a suit and tie. "Again, when we arrived at the High Court, they took off our glasses and put us in a holding cell and handcuffed us to move us," Rull said. But the image that has stuck with the former minister is that of the fellow members of his government, including sacked deputy premier Oriol Junqueras – who remains in pre-trial custody after the Supreme Court declined to release him – in handcuffs and sitting in a van.
"We will get you out of here," Rull said to Junqueras.
"They wanted to humiliate us but we came out with our dignity intact and our belief in our ideals stronger than ever," Rull added.
English version by George Mills.