Joseph Duo and the scars of child soldiers in Liberia
Many of the more than 40,000 former troops are now living on the margins of society
In a 4x4 they listen to the radio announce the live election results. Joseph Duo and his friends are paying close attention. They are in the car, with the doors open, flanked by a pair of motorcycles that have joined them to hear the broadcast. Duo is disappointed, he has not been elected to be the deputy in his district. He attributes it to the "usual problem, cronyism," but says he will not complain "because I do not want violence."
Joseph Duo became the subject of one of the most notable images from the conflict in Liberia when he was immortalized by Chris Hondros' camera in Monrovia, jumping into the air after unloading his grenade launcher. At that moment in July 2003 the war was about to end – the one Duo had given his youth to.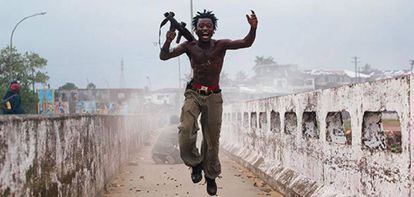 "I was recruited at the age of 14, in 1990, to the [National Patriotic Front of Liberia] NPFL faction, under Mr Charles Ghankay Taylor," Duo recites, as if by rote, from his place under the tree we are using to protect ourselves from the harsh midday sun. Back in 1990, it had only been a year since Taylor – now serving a 50-year sentence for war crimes – had sparked the war by launching his rebellion against the Samuel Doe dictatorship. Duo's family was fleeing Monrovia when they were intercepted. He became one of more than 40,000 child soldiers who participated in the conflict. Although, according to Morris Matadi, another former child soldier who has managed to get out "the figure is much higher. There are more than 100,000 of us."
Duo headed up Taylor's personal security detail, and "was in charge of his protection." When Taylor won the election, he became a soldier. Now, however, he is a graduate, sociologist and politician. He is anxious to participate in healing the social wounds opened by the war and says he does not want to allow "what I saw, what I felt, to be repeated with my children."
Politicians do not want people to change. They want them to stay in the shacks

Joseph Duo, former child soldier
"Those days were consumed with death and fear, life was meaningless," he recalls as he presents himself as the living proof that "transformation is possible." In 2012, Duo graduated with a degree in criminal justice and sociology and ran for office with one priority: education. "I can not change the country, but I can change my district."
From the balcony of a two-story villa worn by time and neglect, Morris Matadi reflects deeply on his memories of the atrocities. He was recruited at the age of 11, after they killed his father and his brothers. He also joined Charles Taylor's group. "Do you know what it is like to have your whole world ripped away from you and to feel like you do not know how to move on?"
A general gave him a weapon. "The only family I had at that time was that AK-47. It was very valuable to me because it was all I had." Matadi is well aware of the consequences of what he had to live through: "After the war they recognized us and beat us. There was only one place for us: the ghetto and there we fought among ourselves for having been in different armed groups." But like Duo, Matadi managed to leave.
Rehabilitation
Matadi created, along with other ex-combatants, the organization Idefocs, which rehabilitates and reintegrates adults traumatized by their shared childhood and punished with social exile after the war. "I invest in their lives through rehabilitation," says Matadi.
The former child soldier believes that disarmament and training are of little use if ex-soldiers are not fully part of society. "The government disarmament, demobilization and reintegration (DDR) program has been a failure," and has resulted in the phenomenon of "zogos," or street criminals, who live in the garbage-strewn neighborhoods on the outskirts of Monrovia and who, increasingly often "come into the city to steal to be able to eat or pay for their drugs," he explains
The only family I had at the time was that AK-47

Morris Matadi, former child soldier
About 4,000 ex-combatants have been helped by Matadi's organization.
Scarred by the war, Matadi and Duo now look at their country with concern. Duo is convinced that the 96% rate of illiteracy in his district represents a genuine powder keg. "I know what it means to destroy your country; I know very well what it means to create violence," he sighs. "If I had not gone to school after the war, my mentality would be very different." Now speaking as Duo the sociologist, he says "people's complaints today are the same as they were decades ago. Politicians do not want people to change. They want them to stay in the shacks, because if they lose power, they can use them to create chaos in this country."
English version by Debora Almeida.