Crisis in catalonia
The future of Catalonia: Article 155, early elections, or outright independence?
Puigdemont has endorsement of PDeCAT, ERC and CUP to declare independence if Article 155 is invoked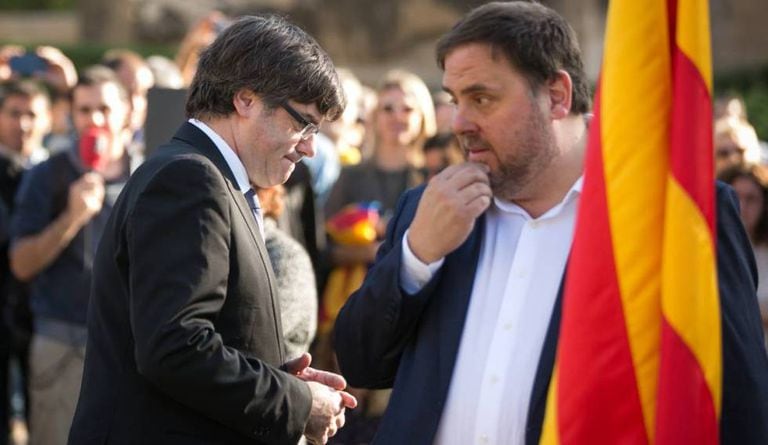 The Catalan premier, Carles Puigdemont, is waiting until the last second to clarify whether he declared independence for the region on October 10, following an ambiguous statement that most observers took to be a symbolic declaration.
The entire country is waiting to see what will happen at 10am on Thursday, when a deadline established by Madrid runs out.
Spanish Prime Minister Mariano Rajoy sent Puigdemont an official request demanding to know what the status of Catalonia is, or face a partial suspension of home rule.
Marta Pascal, the coordinator for PDeCAT, said that a snap election "is not on the table"
If Puigdemont makes a full-blown independence declaration on Thursday morning, or if he skirts the issue again, as he did in his written reply to Rajoy, the government plans to invoke a constitutional provision letting it temporarily take over a region's internal affairs.
If Madrid were to activate Article 155 of the Constitution, Puigdemont already has the backing of his own Democratic Party of Catalonia (PDeCat, the former Convergència), as well as that of Catalan Republican Left (ERC), its partner in the governing coalition Junts pel Si, and of their parliamentary ally, the anti-establishment CUP, to openly declare independence.
The central government on Wednesday expressed a willingness to halt 155 proceedings if Puigdemont agrees to call early elections in the region. But there seems to be little support for that option within pro-independence forces.
Marta Pascal, the coordinator for PDeCAT, said that a snap election "is not on the table." Yet other party heavyweights have expressed support for that option, including former regional premier Artur Mas, under whose administration the secessionist drive got real traction. After championing independence while in office, Mas recently told the Financial Times that Catalonia may not, in fact, be ready for full independence yet.
Secessionist leaders in the region are already preparing street demonstrations for Friday
In the meantime, Rajoy met with Albert Rivera, leader of the reform party Ciudadanos, which supports the activation of Article 155. Pedro Sánchez, head of the main opposition Socialist Party (PSOE), has also pledged to support the Popular Party (PP) administration if it finally invokes this obscure provision that has never been used since the Constitution was ratified in 1978.
But all three leaders know that such a move would meet with significant popular rejection in Catalonia. Already, secessionist leaders in the region are preparing street demonstrations, with "direct action" promised for Friday.
The secessionists' reasoning is that the central government will not recognize the outcome of the referendum held on October 1 – a vote that had been ruled unconstitutional, that did not meet organizational requirements established by international organizations, and where turnout was 43% on a day when most remainers stayed home in protest. Yet separatists claim that the 90% of yes votes cast that day give them a "popular mandate" to secede.
Their views have been helped by widely shared images of police violence on October 1 as riot officers were sent in to prevent the vote from taking place. A decision this week by a High Court judge to take two leading separatist leaders into custody as part of a sedition probe has fueled the theory that there is a coordinated, Madrid-led action against pro-independence Catalans.
In response, messages have started to circulate on social media saying that the time has come to show "the power of the people with peaceful action, so the feeling of the people will be heard."
There were pledges of "direct peaceful actions" aimed at "forcing the Spanish state to react to the cry for freedom of the Catalan people."
It is unclear how many Catalans support independence at this point. An opinion survey carried out by the Catalan Opinion Studies Center (CEO) in July found that 41.1% of people in the region were in favor of independence, and 49.4% were against.
English version by Susana Urra.