Crisis in Catalonia
Imprisonment of Catalan independence leaders gives movement new momentum
Thousands march against decision to jail the heads of ANC and Òmnium as part of a sedition probe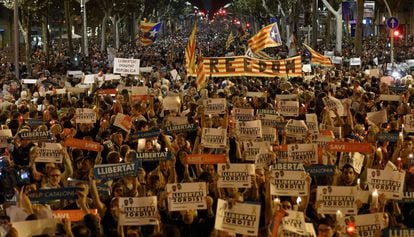 The imprisonment of two prominent separatist leaders has emboldened the Catalan secessionist movement, which was feeling frustrated and divided over the symbolic declaration of independence made last week by regional premier Carles Puigdemont.
Thousands of people across Catalonia came out to protest a judge's decision to send Jordi Sánchez and Jordi Cuixart, the heads of the civic associations ANC and Òmnium Cultural, to prison without bail while investigating sedition charges against them.
The moment has come, the conditions are there to proclaim the republic
CUP deputy Mireia Boya
On Tuesday evening, around 200,000 people, according to the Barcelona municipal police, congregated on Diagonal Avenue and Passeig de Gràcia, holding up candles to demand their release.
Both men have been taken into custody as part of a sedition probe by Spain's High Court, the Audiencia Nacional, which is investigating incidents that took place on September 20 and 21. On those days, the Civil Guard conducted raids against Catalan government agencies in search of voting material that was to be used at the banned independence referendum of October 1.
The heads of ANC and Òmnium Cultural are believed to have orchestrated mass protests outside the Catalan department of economic affairs, hindering the Civil Guard's work – a court official overseeing the operation was forced to exit via the rooftop to avoid the angry crowds – and vandalizing patrol cars. Damage caused by protestors that night was assessed at €135,600.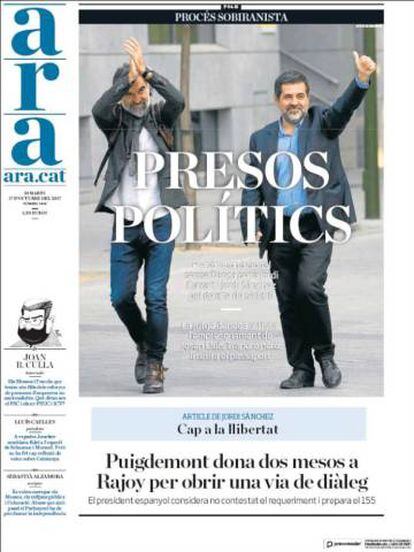 While Spain's central court is treating this as a possible case of sedition (see sidebar), the independence movement is portraying both men – dubbed "the Jordis" – as political prisoners.
The new face of ANC, Agustí Alcoberro, said that despite this move, they will not desist: "Even if they decapitate the presidency and jail our leaders, there will be substitutes and more substitutes. We are groups with tens of thousands of members."
To the demonstrators in Barcelona, Alcoberro said: "The judge alleges that if [Sánchez and Cuixart] were back on the street, they would go back to committing the same crimes. Well, you just need to take one look at this crowd to know that we're the recidivists. They are political prisoners and hostages of the Kingdom of Spain."
ANC and Òmnium said they are planning another large march for Saturday.
The Catalan government spokesman, Jordi Turull, also described the men as "political prisoners," and warned that Catalan authorities will not budge one inch from their position. The leader of Spain's anti-establishment Podemos party, Pablo Iglesias, has taken a similar view: "They didn't send them to jail for stealing but for organizing a peaceful protest."
Members of Junts pel Si, the separatist minority coalition that governs Catalonia, as well as their ally in the Catalan parliament, the CUP party, said that a negotiated way out of the crisis is increasingly difficult following the move against Cuixart and Sánchez.
What is sedition?
Sedition a crime that is practically unheard of in Spanish democratic history, and carries a maximum 15-year prison sentence for those who "publicly and tumultuously rise up to prevent, by force or outside the legal channels, application of the law, or any authority, official corporation or public officer from the lawful exercise of their duties, or implementation of administrative or judicial resolutions."
"We've come here to do what we've come here to do [independence], and we won't change no matter how much repression we have to endure," said Lluís Corominas, the president of Junts pel Sí.
A CUP deputy insisted that there will be a formal declaration of independence "in just a few days." The small anti-capitalist party, whose 10 seats in the regional assembly are essential to Carles Puigdemont's minority government, is pressuring the premier to openly declare an independent republic.
"The moment has come, the conditions are there to proclaim the republic," said CUP deputy Mireia Boya, whose group wants to break away before the central government triggers a constitutional provision allowing it to take control of the region's internal affairs.
Prime Minister Mariano Rajoy last week gave the Catalan government a deadline to confirm whether it has already declared independence or not, and to back down if it has. If Puigdemont drops his secessionist plans, Madrid said it is ready to address constitutional reform to find a better fit for Catalonia within Spain.
But if the answer is no – or no answer is provided, as has been the case so far – Rajoy may invoke Article 155 of the Constitution, allowing the central government to temporarily rescind Catalonia's devolved powers in a bid to restore the law. If this happens, the heads of Catalan security agencies would likely be the first in line for replacement.
Meanwhile, Barcelona City Hall has suspended all its activities for two days as a sign of protest. Mayor Ada Colau has been sending mixed signals regarding the independence drive: she condemned the decision to hold Cuixart and Sánchez in custody, and personally voted in the illegal referendum of October 1, but she has also publicly asked Puigdemont to admit that independence has not been declared, following his own ambiguous statement on Tuesday of last week – when he declared independence, then immediately placed it on hold.
English version by Susana Urra.