The Catalan independence process is an economic disaster
The current political chaos in the region will have serious consequences for growth and confidence in the banks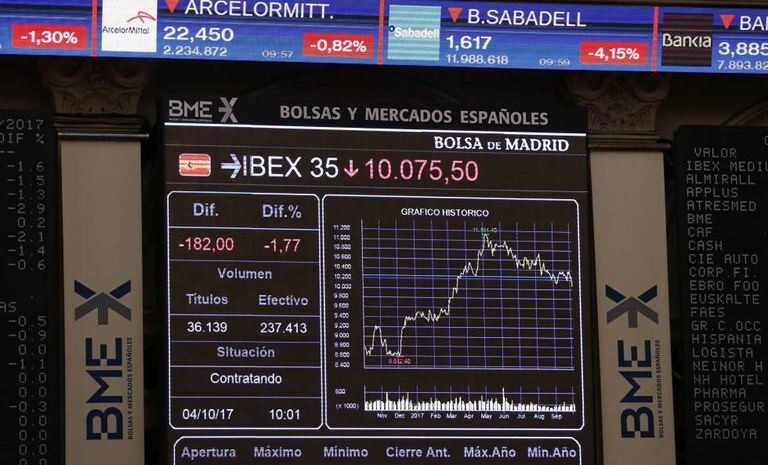 Nobody should kid themselves: the extremely serious constitutional crisis in Catalonia will have a high cost for the Spanish economy – and for the Catalan economy too, of course. The effects are starting to appear against the backdrop of the suicidal irresponsibility of the Catalan government – the beneficiaries of the chaos in the streets, as well as within institutions and businesses – and the reluctance of the Spanish government in Madrid to apply corrective measures.
Credit rating agencies warn that if instability in Catalonia persists, growth will suffer. The Spanish blue-chip Ibex 35 index fell 2.85% on Wednesday, the largest drop since Brexit, and the financial institutions most exposed to risk because of the Catalan crisis (CaixaBank and Banco Sabadell) face a difficult choice in the case of the unilateral declaration of independence in the region.
The risk premium for Spain continues to rise and several companies based in Catalonia have announced they will move their headquarters to Madrid.
These are still early days but the evidence to date is a sign of how the economic outlook could be threatened if the Catalan crisis does not abate. Economic analysts, who act as a source of information and inspiration for investors, have taken the key step of evaluating the likelihood of catastrophic political division, not just based on hypothetical independence – something unlikely at this stage – but also on the possibility of a scenario framed by insurmountable political confrontation. To understand the seriousness of the current situation it is enough to look at the risk faced by banks and depositors. The atmosphere of insecurity could result in a run on the banks with consequences that can't be quantified.
The poverty risk factor inherent in secession cannot be hidden. This risk could increase if a political process of elections without calculable results is embarked upon, if the conflict reaches a point of stalemate, or if the crisis in Catalonia is interpreted as a further sign of the difficulties of the European project.
English version by George Mills.