Judge orders exhumation of Salvador Dalí's body for paternity lawsuit
Magistrate in Madrid requests DNA test to determine whether Spanish artist is father of Pilar Abel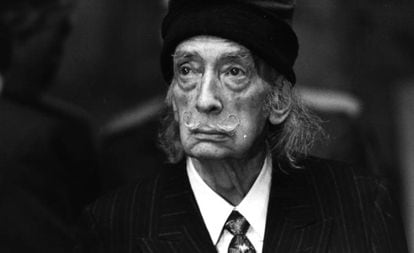 The court needs DNA samples from Dalí, who died on January 23, 1989, because there is no other biological or personal material that can be used to determine whether he is really the father of Pilar Abel Martínez, a woman from Girona (Catalonia) who has been fighting since 2007 to be recognized as the famous painter's kin.
In a written decision, the Madrid judge in charge of the case said that "it is necessary to conduct a biological test" to research Abel Martínez's claim, as "no biological remains or personal objects exist on which to conduct the test at the National Toxicology Institute."
The judge will now ask a court in Figueres, the Catalan town where Dalí is buried – the body rests inside the Dalí Museum – to instruct a forensic scientist to extract samples from Dalí's remains and send them to the National Toxicology and Forensic Science Institute for further investigation.
Pilar Abel Martínez, who was herself born in Figueres in 1956, has been publicly claiming to be the famous painter's daughter since 2007. She says that her mother, a native of Pineda de Mar (Barcelona), told her that she had a secret affair with Dalí in Port-Lligat (Cadaqués), where she was working for a family that spent part of the year there.
In 1955 she left her job and returned to her home town of Castelló d'Empúries, where she got married. A few months later, Pilar was born.
The judge will now ask a court to instruct a forensic scientist to extract samples from Dalí's remains
According to the latter, the first time she heard that she was Dalí's daughter was from her own paternal grandmother, who repeatedly told her: "I know you are not my son's daughter, but the daughter of a great painter, but I love you all the same." Her grandmother always accused her of being "odd, just like your father" – a reference to Salvador Dalí.
"I have hopes that after three DNA tests whose results I have never seen, this time we will get to the bottom of things," Abel told this newspaper in 2015, when her claim was accepted.
If she is finally recognized as the daughter of the Surrealist genius, Abel would be entitled to his surname, to her rightful share of his estate, and to copyright royalties – but all of that would be the subject of a new court case.
This is not the first time that Abel has been involved in lawsuits concerning Spanish celebrities. After working for eight years as a fortune teller on a local television show in Girona, in 2005 she sued the writer Javier Cercas, claiming that she felt insulted after seeing herself portrayed in the character of a fortune teller named Conchi in his acclaimed novel Soldiers of Salamis. She asked for €600,000 in damages.
But the case was dismissed in January 2006 after a judge determined that the character was purely fictional and that the author did not personally know the plaintiff.
English version by Susana Urra.