SPORT
The reward for a Spanish junior league soccer coach's 25-0 win? Getting fired...
Most youth clubs in Spain try to keep goal difference to 10-0 maximum to avoid humiliating young players
On June 3, youth soccer side CD Serranos, based in the city of Valencia, beat local rivals Benicalap C 25-0. But for the winning side's coach the victory meant getting fired. He was told that beating a team of 10- and 11-year-olds by such a margin was humiliating to the losing side. "We encourage respect for the rival, and after the brouhaha over the result, we felt the trainer should step down," says Pablo Alcaide of CD Serrano, adding: "He didn't manage the situation well."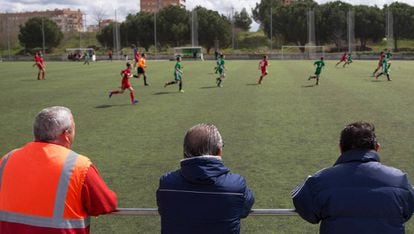 But Daniel Revenga, the coach's lawyer, defends his client: "At no point did he encourage his players to increase the score. On the contrary, he told them to stop pressuring their opponents. But Benicalap C, who had no substitutes, continued attacking and left too many spaces."
Benicalap C, which ended the season with no points and 247 goals against it, may be an exceptional case, but walkovers are not uncommon, prompting clubs and soccer associations to find mechanisms to limit them in the case of teams with very young players. But some parents are not happy with the idea of such sportsmanship, as a source at the Valencia Football Federation points out: "When we make a list of goal-scorers, we get calls from parents saying that their son scored four, not three."
You cannot tell players not to score: that sends out the wrong message Barcelona FC youth team spokesman
Youth sides around the country, like Athletic Bilbao, Barcelona, Betis or Real Sociedad say that once a team has a 10-goal difference, the score should stop there and the winning side pull back and play defensively.
But Jordi Lardín of Espanyol says that respect for an opponent is also measured by playing all out until the end of the match. "It is just as disrespectful to win by 25-0 as it is to just keep control of the ball and then kick it out of play," says the head of Villareal's youth sides.
"Competing is part of training. We shouldn't send out the wrong message. You can't tell players not to score. But we tend to move players to new positions so that the result isn't too mismatched," says a source at Barcelona FC. Other clubs whose players are performing too well will instruct them to play more of a passing game or to try using their weaker leg.
Until June 3, CD Serranos took a similar approach during games against much weaker opponents: "It's hard to explain to a boy, but we take measures in such cases, for example, requiring players to pass the ball 11 or 12 times consecutively before trying to score," says Pablo Alcaide. The failure of the club's coach to follow these rules ended up costing him his job.
With information contributed by: Jordi Quixano, Juan I. Irigoyen, Rafael Pineda, Juan L. Cudeiro y Gorka Pérez.
English version by Nick Lyne.