How the seeds of corruption are sown in Spain's junior soccer leagues
A father and son have met stiff opposition in their fight against a clear case of match-rigging
This is a tale of how corruption thrives. But there are no suitcases filled with €500 notes or tax havens or bribes. There is no political fallout, and nobody, as far as is known, even got rich.
The story takes place in Spain, but it could have happened in any country that theoretically condemns the abuse of power while tolerating it in practice. When politicians and business people cross the line nowadays, it's a scandal. But when ordinary people do so, or look the other way, nobody is surprised.
I became involved in this tale after Mark Freeman, a Canadian human rights lawyer, asked to meet me in a bar in Barcelona, where he lives. Freeman is director of the Institute for Integrated Transitions, which helps countries make the transition from war and dictatorship to peace. I expected him to tell me about places like Syria or Colombia. I was in for a surprise.
The hypocrisy involved in promoting 'fair play' is unbelievable Guillaume de Bode, chairman of Europa
What he had to say wasn't about war and dictatorship. Instead, he wanted to tell me about what he believed to be a grave injustice taking place on the soccer pitch. And not even at the Camp Nou or the Bernabéu, but instead at a match played by 15-year-olds on May 30, 2015, in Manresa, a small provincial town 60 kilometers inland from Barcelona.
The lawyer's indignation eased my initial skepticism, while the date of the match rang a bell, coming three days after the FIFA scandal that unraveled following an FBI tip-off that led Swiss police to arrest 14 officials of international association football's largest governing body on charges of bribery, match-fixing and fraud.
According to Freeman, what happened in Manresa was this: the match had been rigged. It was the last of the season between two teams that were first and second in the league. To make sure they hung onto these positions, they agreed they would play to draw. There would be no goals, not even any attempts to score.
The most incredible aspect of the story, said Freeman, was the insight it offered into how corruption works, starting with adults allowing youngsters to believe it's okay to rig a match and leading up to the general conspiracy of silence in Spain that hides the truth about graft at the highest levels.
"I'm sorry to say this but if something similar had happened in a children's match in Canada, all hell would have broken loose – there would have been demonstrations, investigations, sackings and certainly a lot of press coverage," Freeman told me.
In fact, before he got in contact with me, Freeman had approached The New York Times, which began to look into it, but dropped the story when it was unable to verify Freeman's account. To be fair, The New York Times wasn't able to count on the help of an EL PAÍS intern as I did – but I'm getting ahead of myself.
The two soccer teams are UE Cornellà and Gimnàstic Manresa, which play in the Cadetes Preferente junior division, which falls under the jurisdiction of the Catalan Football Federation (FCF). If Cornellà won or drew it would win the league; if Gimnàstic Manresa drew, it might forfeit the chance of becoming league champion but it would be assured promotion the following season to the División de Honor de Cadetes, a recognized route for young players into professional soccer. But if the league's number three side, CE Europa, won its game (with another team) and Cornellà won too, Europa would dislodge Manresa and move into second place. A draw or a victory for Manresa was the worst outcome for Europa.
According to Freeman, some of the Cornellà players talked to some of the Europa players a few weeks before the match and assured them they would give Manresa a hard game. On May 30, Europa played its match first and won 4-0. Shortly afterwards, Cornellà and Manresa kicked off. But it wasn't long before some of the parents of the Europa players began receiving WhatsApp messages from Manresa and Cornellà parents, confessing that the match was "an embarrassment," that far from competing, the teams were just passing the ball from one side of the pitch to the other with no intention of scoring.
The game ended 0-0, Cornellà was crowned champion, Manresa was promoted and Europa stayed in third place, losing the promotion.
Freeman has a vested interest in all this. His 15-year-old son Malachai was playing that day for Europa. After our encounter in the bar, I returned home to London where I received an email from him containing links to two videos of the allegedly rigged match between Cornellà and Manresa. One shows the players passing the ball midfield as if they were in a training session. The other shows a player with a clear chance to score turning instead and passing the ball to another member of his team in the center, who then passes it to someone behind who passes it to their goalkeeper. In the background, you can hear guffaws, insults and cries of disbelief.
It robbed us of our desire to compete because we didn't have a choice or motive to win Cornellá player
Malachai Freeman, a smart, good looking boy I met later, wrote a letter that was signed by most of his teammates, and encouraged his club to send it to the FCF's Competition Committee, asking for an investigation. The letter, which contained links to the two videos, alleged that Cornellà and Manresa had fixed the outcome of the match and that players who had expressed unease with the arrangement had received threats from their respective clubs; it also said that the day after the match, boys from Cornellà had apologized, some of them in tears, to friends who played for Europa. The letter suggested that there had been a possible violation of article 289e of the FCF's rules that clearly categorizes match rigging as a "very serious" offense.
Malachai told me it was ironic that at every game of the entire season, the FCF had obliged the teams to hold banners that read "el juego limpio" – the clean game. "The Federation was always right there when it came to moral values," Malachai told me.
Two weeks after receiving Europa's letter of complaint, the FCF's Competition Committee replied saying there were no grounds for a formal investigation. The complaint had been filed. Europa could appeal but didn't. However, Mark and Malachai Freeman decided they were not going to be put off so easily.
"I spoke to other parents of the Europa players and they told me to drop it, that you just have to put up and shut up, that rigging matches was nothing new," Mark Freeman told me. Meanwhile, Malachai tried to convince some of his teammates to speak up, but their parents told them to forget it.
"I insisted," said Mark Freeman, "but I could see that a lot of the other parents were getting fed up with me. If I passed them on the street, they would pretend not to see me and in some cases they would cross to the other side so they didn't have to speak to me."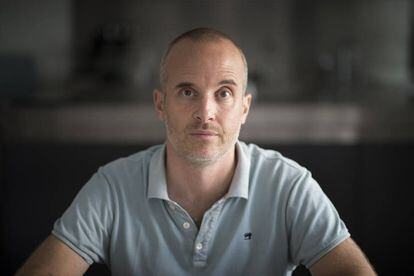 I suggested to Mark and Malachai Freeman that either they were telling the truth or they were both mad. In response, they said they would introduce me to someone who would back their story – the person who filmed the videos.
This person, who works in the soccer world and asked to remain anonymous for fear of repercussions, told me the Freemans were not making their allegations up. "Neither team showed the least bit of interest in winning the game," he said. "It's not just that there was no attempt to score, there was no corner kick. There weren't even any fouls. Nor, of course, any yellow cards. The 50 to 70 people at the game knew exactly what was happening."
I tried to speak to the referee, Ramón Ricard Comella Gil. I sent him three emails but got no reply. I left a phone message, asking if I could call him but, again, got no reply. I called numerous times but he never answered.
Next, I talked to the chairman of Europa, a Dutchman who has lived in Catalonia for 30 years called Guillaume de Bode. Curiously, despite failing to appeal against the FCF's Competition Committee's decision, he didn't hesitate in confirming the Freeman's version of events.
"It was disgraceful – a real outrage," he said. "You could hear the deal being discussed before the game. It was very destructive. There were kids in our team that were destroyed by it because they had worked so hard all year. They had played the best season of their lives."
So why didn't they appeal?
"Because of the subtle form of blackmail used by the FCF's Competition Committee," he said. "It's hard to explain… If you push it too much, they label you the crybaby team and also undermine you in other ways. Soccer is a reflection of society and if you go around being polite and acting in good faith, you don't get far. It's sad, and the saddest thing of all is that they plant the seeds of corruption in the children. The hypocrisy involved in promoting el juego limpio – fair play – and so forth is unbelievable."
Spain is a country that theoretically condemns the abuse of power while tolerating it in practice
The spokesperson for the Competition Committee is Marta Puiggarí. I talked to her on the phone and she asked me to put what I was saying into writing. I did so and she replied that the committee had received a complaint from Europa "but that the reported offense had not been proven," and that the committee "closed the file".
"As you well know," ran her letter, "when it comes to disciplinary action, there is a starting point that is presumed innocence and in this case we could find no proof of the alleged offense."
I replied that the legal concept of presumed innocence was of course admirable but didn't see how it could be a reason to refrain from investigation. Puiggarí replied that she understood my point of view but that the FCF's approach was based on "abiding by the applicable regulations."
In my reply, I suggested that the FCF stuck closer to the letter of the law than its spirit, and that it hid behind the rule book to avoid investigating a case that possibly went against its noble rallying cry of fair play and affected the moral well-being of the kids registered in the federation. My correspondence with Puiggarí ended with a one-line reply from her that said: "You have the last word."
I continued with the investigation. I talked to the chairmen of Cornellá and Manresa, Alejandro Talavera Nos, and Miquel Sebastià, respectively.
Talavera began by saying how surprised he was that first The New York Times and then a journalist "of your stature" should be interested in such an unimportant match. He added that it was "very hard" for him to take on board all the remarks made about all the games his club was involved in but, referring to "the facts," the referee's decisions did not suggest any irregularity; the Competition Committee didn't open an investigation; he didn't know anyone from among the people running Manresa, "and any supposed deal between clubs would have needed communication between the people responsible for them." He also pointed out that he had a great relationship with Guillaume de Bode, Europa's chairman, from whom he had not once received "the slightest mention of the game in question."
When queried about this, De Bode told me that far from having a great relationship with Talavera, the two had not spoken since the game, precisely because he was so angry.
Meanwhile, Sebastià, Manresa's chairman, was far curter in his response. "Our club has been around for nearly 70 years and has never rigged a game or agreed a result," he wrote. "When the matter was taken to the federation, it was dismissed, which makes me think that this has more to do with someone's frustration and desire to ruin the reputation of our club than anything else."
It was then that I thought of enlisting the help of EL PAÍS intern Bernat Coll. I filled him in on what the Freemans had told me and asked him to try to contact some of the boys who had played in the game. After trawling the web, he came across six of them, as well as one of the mothers and a father. All the boys talked about the fact their parents or guardians were aware of what had happened and confirmed what the Freemans said.
Coll's report produced the following edited statements from players whose anonymity is being respected:
Boy A from Gimnàstic Manresa:
"The club told us that we had to draw. Everyone saw it. The chairman and coordinator came after Friday training. They told us they wanted promotion at all costs and we had to draw because that would seal it.
"The trainer followed the club's orders. I respect him. He knew something was wrong – we all did. He said that they were the ones who called the shots and there was nothing he could do.
Boy B from Manresa:
"The chairman and coordinator came and told us. They said it was fixed with Cornellà. Between us we were like, 'What a pile of shit!' Some went with it and others didn't want to play – there were two or three.
"My father said we got what we wanted, but not in the right way."
Boy C from Manresa:
"The coach spoke to us about the game as if it was just another match. He told us we had to play against them but without attacking them. That was the only difference. We all knew that a draw was what we needed and that was that."
"I don't like what was happening but you have to look out for your club and your team. The club looks after you interests. Gimnàstic has never had a team in the honor division. It was a bonus for them."
Father of boy C:
"We knew that both teams were aiming to draw. It happens a lot, especially at the end of the season. It happens at this level, particularly outside the big cities. I imagine they do each other favors in return, though there's no money involved."
Boy D from Cornellà
"The coach told us to go out and play; to play hard, as if it were a big game. But we shouldn't take risks. When he left the locker room, we carried on talking. We said it was strange, not to make passes that might be risky, to control the ball… in the locker room everyone was looking at each other, like, 'They're telling us to hold back when we should be going all out to win.' It was a crap game."
"It was all very odd. You realize that these kinds of things don't just happen on television. I don't know if the coaches talked to each other. I suppose it was decided by the club. They're not the best values in football, but…"
Mother of Boy D
The game was pathetic. I wouldn't be surprised about this happening at an adult game, maybe… But I never I would see it between boys of 14 and 15 years old.
"Some of the parents talked to the parents of the kids from Europa and told them what had happened."
Boy E from Cornellà:
"They gave us a different pep talk than usual. They said we should go out and have fun and play, and that we should relax because there would be a draw because it had been decided and all that.
"I would have liked to have competed properly. But once you're league champion, you don't care anymore how you got there."
Boy F from Cornellà:
"It robbed us of our desire to compete because we didn't have a choice or motive to win, so we didn't play the same. The coach told us before we started.
"I understand why some players didn't want to play. It was very boring. We were happy we won the league but we didn't celebrate it the same."
Bernat Coll talked to the Manresa coach, Adrià Talavera, who dismissed these six players' version of events outright. "Nothing unusual went on," he said. "It was a normal game. Both sides competed. Luckily, the outcome was good for both teams. But it wasn't fixed in advance. We went out to win. There were a lot of people there and no one saw anything odd."
Talavera also denied that the club's chairman had turned up at the training session. "Whoever told you that has been pretty much inventing things," he said.
I flew to Barcelona with the idea of seeing Alejandro Talavera and Miquel Sebastià of Manresa and Cornellà. Talavera said he couldn't meet me and so I went with Bernat Coll to Manresa to see Sebastià.
We sat down with him in the terraces of the small, picturesque stadium, surrounded by the hills of the Montserrat hills in the distance. We gave him a summary of our research and read him extracts of some of his players' statements. He appeared disconcerted, while insisting over and again that he hadn't gone to the training session prior to the game and that never, "under any circumstances" would he have told members of the junior team to play to draw against Cornellà. He suggested that perhaps the players didn't know who he was and were confused. ""I swear it's the first I've heard of this," he said. "I don't know what was said in the locker room. If they've kept me in the dark, I don't know."
Sebastià did admit to seeing "a slice" of the game. When I suggested that something odd went on then, unlike his coach, he didn't deny it. "A lot of people said the same thing. I could see they were making a minimal effort and I wondered what they were playing at. Cornellà were at it too, almost, almost. What you're saying doesn't surprise me."
Why not?
"Because Europa contested the results of the game," he said. "Because of what was said."
So how did the club react when Europa contested the outcome of the game before the Competition Committee?
"The coach told them that they hadn't played to draw, that we'd played not to lose and that was all…" he replied. "It's the first time that something like that has happened in our club – the first time. And I've been here for 20 years, five as chairman."
Alejandro Talavera has been the Cornellà chairman since December 2012. I wrote him a letter including statements from the players. But he didn't see any reason to look further into the matter, instead sending me his previous letter again, referring to "the facts."
If something similar had happened in Canada, all hell would have broken loose  Mark Freeman
But Talavera and Sebastià no longer categorically deny that the match in question was rigged. They can't. Mark and Malachai Freeman aren't mad, they didn't invent this. Once informed of the outcome of our investigations, Freeman remarked that the point was not to single out individuals, but to blame the culture that made it possible. The easy thing would be for a few heads roll; maybe it would prompt clubs to think twice before rigging a game. But they would just be scapegoats who would then allow all those who conspired with their silence to shed their share of responsibility.
As the persistent Mark Freeman told me, the spectators at that match, the players and their parents, the Europa players and their parents, the club authorities, the referee and the FCF's competition committee should have worked together to allow the truth to emerge and justice to be done. But no one took the initiative, and if Mark Freeman had not stuck his neck out, not even Europa would have demanded an investigation.
It will be interesting to see now if there is to be a witch hunt to find the players who dared to speak out about what really happened on May 30, 2015. Or if, as Guillaume de Bode feared, there will be reprisals against the club. Maybe everyone will simply hide once more behind the refuge of silence.
What's really sad about this case is that it will have sown the seeds of moral corruption in 14- and 15-year-old boys, some of whom went as far as to say that it didn't matter because it was just "another game" and that you had to "look out for the club," that the others "would have done the same," that "once you're league champion, you don't care how you got there."
In all likelihood, the parents of these kids will have learned similar lessons at a similar age, lessons that corrode a society, creating the conditions that enable politicians, civil servants, companies or FIFA executives to steal with impunity.
And the moral of this story? To rephrase the famous words of the Irish philosopher Edmund Burke: all that is necessary for corruption to triumph is for good men to do nothing.
With the collaboration of Bernat Coll.
English version by Heather Galloway.