SPANIARD ON DEATH ROW
"Last chance for Pablo": family of US death row inmate starts crowdfunding drive
Pablo Ibar, of Spanish descent, needs over €1 million to pay for his defense at an upcoming re-trial
Nearly €1.1 million: that is how much Pablo Ibar, who has been behind bars in the United States for 23 years, needs to raise in order to retain a good lawyer who might prevent his execution for a triple murder that he denies having committed.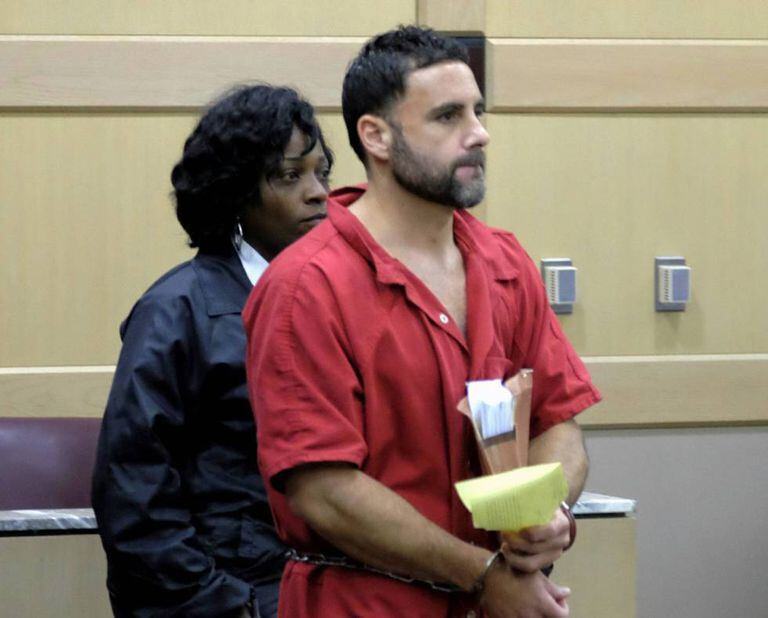 Thanks to financial aid, donations and his family's tireless work, the fundraising drive has already secured over €701,000. Now, the Pablo Ibar Association is launching a crowdfunding campaign to raise the remaining amount.
Ibar, a US resident who is of Basque descent on his father's side, was arrested in 1994 and accused of murdering a bar owner and two models at the former's home in Broward County, Florida.
During the trial, which extended to 2000, Ibar was defended by a court-appointed attorney who suffered from addiction problems and was himself later arrested. As a result of a weak defense, Ibar was sentenced to death.
Pablo Ibar's wife Tanya
A series of endless appeals ensued. In the US, this requires a lot of money. Thanks to financial aid that poured in from Spain, Ibar got a new lawyer, Benjamin Waxman, who last year got the court to order a re-trial and to admit that Pablo's original defense had been inadequate.
"We are not asking him to be released just like that, for no reason. We are asking for a fair trial, since he never got one," says his father, Cándido Ibar, who was born in Spain's northern Basque region but emigrated to Florida in the 1960s to play pelota.
Cándido was in Spain on Monday to support the crowdfunding campaign that will let his son retain the same lawyer and hopefully bring Pablo home after 23 years in prison – 16 of them on death row.
Cándido offered a press conference in Madrid together with Andrés Krakenberger, president of the Pablo Ibar Association.
"This pending trial is the last chance for Pablo. He is desperate, and so are we," said Krakenberger. "If Pablo is sentenced to death again, another years-long process would begin to try to prevent his execution. That's something we cannot afford."
The association chief insisted that all they want is a fair trial.
"It was the Florida court itself that admitted that Pablo was sentenced to death due to an inefficient defense."
Story of a storm
There are specific dates in Pablo Ibar's life that explain the storm he has been navigating for over two decades.
The first one is July 14, 1994. Pablo was 20 years old and his parents were separated: his mother, a native of Cuba, lived in Broward County, Florida and would later die of cancer. His father, a Basque pelota player, had set up residence in Connecticut.
Pablo lived near his mother, where he "shared an apartment with bad company." He and some of these individuals were arrested that afternoon and charged with petty drug dealing. Since then, Ibar has not been a free man.
His court-appointed attorney was hooked on prescription drugs, assaulted his own wife, and was finally arrested on drug-related charges
While that case was under investigation, police detectives received blurry video footage of an individual accused of a triple homicide. Days earlier, a resident of Miramar, located in the same county, had been killed inside his home along with two women who were there with him at the time. The face in the surveillance video looked similar to Pablo Ibar's. He was accused of murder, and taken to prison.
Another key date is May 5, 1997. After three years in jail, the trial finally began. Ibar, 23, was assigned a court-appointed counsel. From the beginning, Kayo Morgan showed himself to be incapable of putting together a proper defense. He was hooked on prescription drugs, had assaulted his own wife, and was finally arrested on drug-related charges.
Years later, Morgan signed a letter admitting that, at the time of the Pablo Ibar case, he had been in no condition to defend a murder suspect. His inadequate defense strategy failed to debunk the prosecution's key piece of evidence: a blurry black-and-white surveillance video showing an individual committing the murders.
Even though the fingerprints, blood and hair found at the scene of the crime did not match Ibar's, a jury still found him guilty.
Pablo's defense will also ask for the video footage to be left out, due to its extremely low quality
The third red-letter day in his life is June 14, 2000, when Ibar was sentenced to death. "My life is over," he thought when he heard the verdict. But his family managed to put together enough money for an appeal. On September 7, 2006, a judge turned down the request for a re-trial. Ibar had been behind bars for 12 years at this point.
On February 13, 2011 a second appeal was rejected. All this time, Ibar has maintained his innocence and underscored that there is no physical evidence linking him to the scene of the crime.
Then, on February 5 of last year, a third appeal prospered. The judge ordered a re-trial. Pablo's wife, Tanya, got the news over the phone. She had to walk outside to get some fresh air and try to stop crying. It was the first patch of clear sky in a 22-year-long storm.
At this point, Ibar was taken out of death row at Raiford penitentiary, in northern Florida, and transferred to a prison in Broward County. But he is not allowed visits here, and can only communicate with his family through a monitor – one hour on weekends and another hour sometime during the rest of the week.
His wife Tanya is there in front of the screen every week, just like she was there in person at Raiford every Saturday between the years 2000 and 2016. It was a four-hour drive there and again four hours back. She never gave up. She still won't.
But life in solitary confinement, with a trial date that never materializes, means that time is practically at a standstill for Ibar. "He is desperate. There are days when he can't take it any more. Thank goodness he is very tough mentally, because this is very, very hard," says his father.
The process is currently at a stage known as status conferences, a series of pre-trial hearings to determine the validity of some of the evidence and witness testimony.
In the best of cases, Ibar still has to wait over a year to know whether he finally gets to go home
Pablo's defense will also ask for the video footage to be left out, due to its extremely low quality and testimony from several experts who said that the individual who appears in it is not Ibar.
When these issues are resolved, the judge may set a trial date. According to the Pablo Ibar Association, the earliest possible date would be late this year or in early 2018. The trial itself will last at least five or six months.
In the best of cases, Ibar still has to wait over a year to know whether he finally gets to go home.
"At this point, Pablo is going to keep fighting," says his wife. "He has been fighting for 22 years, and he is not going to give up now. What he's going through is very tough, but he is very strong. And he knows that he is innocent. That is why he has so much strength and faith."
English version by Susana Urra.