10 dazzling Mediterranean beaches that are perfect for Easter in Spain
As holiday season starts, EL PAÍS visits the best on the coast – culinary ideas included
Easter comes late this year, which is good for business for the coast. Urban resorts offer a wide range facilities and wonderful cuisine that will make a short trip to the Mediterranean worthwhile. So why not take the plunge and splash out?
1. Patacona beach (Alboraya, Valencia)
Patacona beach is largely defined by the Balearic cool of La Más Bonita eatery. Sitting in its garden under a palm, you can linger over a long lunch while gazing out to sea or enjoy a leisurely breakfast of homemade muesli. The kitchen is open from 8.30am to 1.30am and chefs make a mean seitan sandwich and quinoa salad. Desserts are homemade and include the to-die-for Chocorgasmo. To be sure of a table, book in advance.
2. Playa Grande (Tossa de Mar, Girona)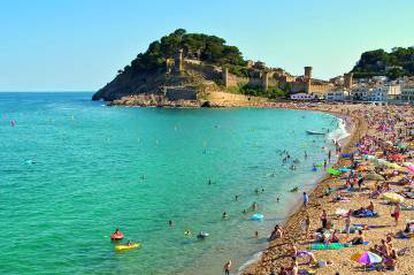 The medieval castle and walled old town make this busy resort in Catalonia well worth a visit. The fort offers splendid views of the Med while the beach below has the kind of coarse sand that doesn't stick to your skin. With its historical backdrop, this is a great place to relax before heading to the Can Pini restaurant where at this time of year there's a wonderful array of bacalao (cod) dishes on the menu. A warning: this is a popular spot, so you may need to park on the outskirts of town. Accommodation-wise, try Casa Granados if you're staying the night.
3. Playa Real de Zaragoza (Marbella, Malaga)
If you are hoping to wind down a little, the Bono Beach Club is a better option than its frenetic neighbor, Nikki Beach, and it boasts the sandiest shoreline in Marbella. Chill out in Bali-style loungers amidst Mykonos-inspired décor and sample its Malaga and Asian fusion cuisine while being serenaded by live bands. The sea remains shallow for 100 meters so it's safe for kids and there's plenty of parking.
4. Agua Amarga (Nijar, Almeria)
Set in Almeria province's Cabo de Gata desert, Agua Amarga is an oasis of beach, restaurants and hotels. La Villa (Tel: 950 13 80 90) is great for food while the best hotels include the airy Mikasa and the glamorous Real Agua Amarga. There's plenty to do here besides eating and drinking, with snorkeling and kayaking on offer. Or you can rent a hammock and simply hang. For walkers, head for the nearby caves that once served as homes for the locals and traveling gypsies.
5. Calahonda (Motril, Granada)
The hotel Embarcadero de Calahonda is the best-kept secret on the Costa Tropical, where the crystalline water is perfect for snorkeling. Just 40 minutes from Granada is the Sangacho gastro-bar, while delicious rice and fish dishes can be found at El Conjuro (Tel: 958 62 31 04) where a food-and-wine tasting session costs €75.
6. Getares (Algeciras, Cadiz)
This is more or less where the Med meets the Atlantic so the water can be a degree or two cooler here but the expanse of beach (1.5 kilometers long and 40 meters wide) rivals Tarifa along the coast. Highlights include the wonderful sand formations created by deposits from the River Pícaro and the sight of the sun rising over the rock of Gibraltar at this time of year. The old Roman fish-salting factory down in the Caetaria area is also worth a visit and the Cepas restaurant is a must.
7. Pinar beach (Castellón de la Plana)
Pinar Beach is to the city of Castellón what El Saler beach is to Valencia. While being extremely accessible, it gives priority to beach-goers rather than to cars. Located to the north of Grao, it is characterized by its one-story dwellings and palm trees as well as its limitless range of facilities, including a beach planetarium. Try the delicious traditional 'senyoret' paella at Pension La Ola.
8. Castellar beach (Puerto de Mazarrón, Murcia)
This is a long beach with coarse sand and a certain amount of urban development. Its main attractions are its Blue Flag status – a sign that the beach meets strict environmental standards – and the Q it has earned for quality from Spanish tourism industry body Aenor. The Playa Grande Hotel serves up wonderful local cuisine with the added bonus of being close to a children's playground. Climb to the top of the islet to watch the sun go down.
9. Burriana (Nerja, Malaga)
With its Parador and choice eateries, such as the Ayo Rice restaurant, this beautiful expansive beach with its coarse sand has been a favorite for years. And there is no shortage of activities. Four children's playgrounds, a water park, parachuting and a motorbike circuit will keep you and your family on the go. Paddle boarding and kayaking excursions run by Educare Aventura allow you to explore the Maro cliffs.
10. El Portet (Teulada-Moraira, Alicante)
More swimming pool than sea, this is a perfect spot for toddlers. Set yourself up by the promenade and forget the urban sprawl behind you by gazing at the turquoise water. A walk to the massive cave at Las Cenizas will work up an appetite for paella at El Portet restaurant (Tel: 965 74 42 93).
English version by Heather Galloway.