Rain, wind and waves: Spain braces for wild fall weather
Rainfall to lash much of Spanish mainland with localized heavy seas and strong winds forecast
Fall will make its presence well and truly felt across much of Spain on Monday, with 36 provinces on alert because of possible strong wind gusts, high seas or heavy rainfall. Most of the alerts put in place by Spanish meteorological agency Aemet are mid-level 'yellow' warnings, meaning there is no risk to the general population, but parts of Galicia and Catalonia are on alert level orange (significant risk).
The northwestern region of Galicia has been put on orange alert because of heavy seas, while very strong winds are forecast for the northeastern area of Catalonia's Aran valley.
The worst of the rain will fall in the southern half of the Spanish mainland and in the Pyrenees. Parts of Andalusia and the western region of Extremadura, as well as the south of Castilla-La Mancha and the north of Aragon and Catalonia could experience heavy or persistent downpours, while rainfall will be lighter in the Balearic Islands.
With plenty of rain also expected in Madrid, the Spanish capital will be boosting road traffic controls and making more tow trucks available in case of breakdowns or accidents on major arterial roads.
A calmer day can be expected on the Canary Islands. Cloud cover is forecast, and there could be some light rain in the west of the Atlantic archipelago.
The level at which snow will fall will drop during the day to between 1,000 and 1,200 meters above sea level in the Cantabrian Mountains and northeastern Spain, and to somewhere between 1,400 and 1,600 meters in the Central and Iberian systems. In the Pyrenees, snow is expected above 1,800 meters.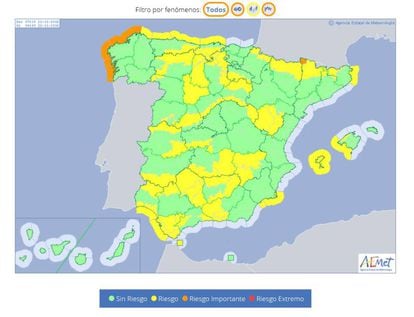 Temperatures will rise slightly in the southwest of the peninsula and in the Balearic Islands, while northeastern Spain will experience a slight dip.
Strong winds can be expected in the south and southwest of mainland Spain, with very strong gusts possible at high altitudes and in the Balearic Islands. In the Canary Islands, the winds will be westerly.
English version by George Mills.