Mexico prepares contingency plan in case Trump wins
The Republican magnate's threat of imposing tariffs would derail the country's fragile economy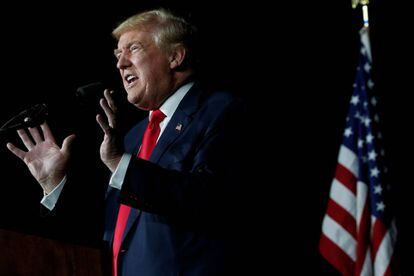 Mexican officials are preparing to defend themselves from a potential Donald Trump victory at the US presidential election next week.
Although a Republican win remains a remote possibility – polls give Hillary Clinton a comfortable lead – Trump's economic plans, if he wins, would deal such a severe blow to the Mexican economy that the Peña Nieto administration has decided to prepare shock absorbers.
Thanks to the North American Free Trade Agreement (NAFTA), the United States has become the Latin American nation's largest trade partner and foreign investor. Trump's protectionist threat is a ticking time bomb that would derail the country's already fragile economy.
A Republican president in the White House could trigger a 3% drop in Mexico's GDP
The exchange rate is the best indicator of Trump's impact on Mexico. Every presidential debate, inappropriate remark or blunder has caused the Mexican peso to tumble against the dollar.
In mid-September, when Hillary Clinton briefly suspended her campaign because of a bout of pneumonia, the Mexican currency – which has lost 40% of its value in two years – sank to its lowest level yet, trading at more than 20 pesos per US dollar.
The Bank of Mexico reacted immediately by raising interest rates for the fourth time this year. Analysts say a Republican victory could drop the peso to 24 units per US dollar and lead to high inflation, incentives for capital flight and more foreign debt.
On Thursday, Central Bank Governor Agustin Carstens warned: "If the adverse scenario manifests itself, Mexican authorities will respond. It's a contingency plan that we're discussing with the finance minister. We hope we don't have to use it."
The Peña Nieto administration has been on alert for months. The president's technical team has reviewed trade agreements, submitted banks to stress tests and scrutinized corporate balance sheets and family fortunes to evaluate the country's ability to withstand the economic bombshell.
One of Trump's star initiatives, abandoning or renegotiating NAFTA, would provoke an economic tsunami. Mexico's overdependence on the United States – nearly 80 percent of exports and more than half of its foreign investment rely on its northern neighbor – is the country's main engine for growth. Key sectors like automobile and manufacturing industries literally live off American demand.
"In order to renegotiate NAFTA, the future president would need the support of Congress, which would make it difficult and delay the measure," says Gabriella Siller, director of economic analysis at Banco Base. "But what he could do is introduce an emergency measure like imposing a 30% tariff on Mexican exports."
Given the Mexican economy's sluggishness – projections say it will grow by 2% this year – because of falling oil prices and constant fluctuations in the exchange rate, a Republican president in the White House could trigger a 3% drop in GDP next year.
If the adverse scenario manifests itself, Mexican authorities will respond
Central Bank Governor Agustín Carstens
Even if Trump does not act on his threat, the markets – always susceptible to political changes – would provoke massive capital flight during his first few months in office. "That would push the deficit and debt up to compensate for capital flight and the fall of exports, which would erode agency ratings," Siller says.
Moody's Analytics and Standard and Poor's are already examining the unraveling of Mexico's macroeconomic structure. The national debt, which stands at 48% of GDP, nearly doubled in a decade and the deficit is hovering around 3%.
Next week's presidential elections will also influence the fate of America's neighbor to the south.
English version by Dyane Jean François.