Bosch exhibition shatters visitor records at Spain's Prado Museum
Some 600,000 have seen largest collected body of work by creator of 'The Garden of Earthly Delights'
An exhibition of work by Hieronymus Bosch has shattered all visitor records at the Prado Museum in Spain.
Nearly 600,000 people have already seen Bosch. The 5th Centenary Exhibition since it opened on May 30 at the landmark Madrid museum. The closing date was extended a month to September 25 to accommodate the surge in visitors, with tickets selling out immediately.
This figure breaks the previous record at the Prado, held by Treasures of the Hermitage, which attracted 583,206 visitors. It also easily overtakes the 1990 show about Velázquez, which drew half-a-million people and became a watershed in the history of the gallery.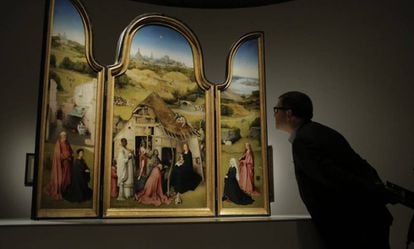 Strong online sales have helped boost sales significantly. Demand was so strong that museum officials and the show's sponsor, the BBVA Foundation, decided to extend opening hours to as late as midnight on some weekends, including this past and final one.
The show represents the largest body of work by the Early Netherlandish artist ever collected in one place. Curated by Pilar Silva, it brought together around 30 paintings by Bosch as well as 20 works by his followers.
Known as El Bosco in Spanish, Bosch has long been a favorite with the public because of the fantastical universe he created, which appears to be a precursor to the Surrealist movement despite dating back to the late 15th and early 16th centuries.
Picasso and Dalí, the winners
Massive as it may have been, the Bosch exhibition does not hold the Spanish record for museum visits. In 2006, a Picasso show organized jointly by the Prado and the Reina Sofía museums drew 785,189 visitors.
And in 2013, the Reina Sofía put together a Salvador Dalí exhibition that brought 730,000 people to its doors.
"The Bosch exhibition is a once-in-a-lifetime affair; it cannot be reproduced again for another 100 years," said Prado director Miguel Zugaza, noting the tremendous difficulties of borrowing and shipping so many works of this caliber from museums around the world.
For nearly four months, snaking lines were a common sight outside the museum building, while inside, up to four rows of people at a time gathered in front of the most famous paintings.
The Prado already holds several of the painter's best-known works in its permanent collection, including the 15th-century triptych, The Garden of Earthly Delights.
English version by Susana Urra.