WEATHER ALERT
Hot weather alert in place as Spain braces for soaring temperatures
Parts of the country could see the mercury rise to nearly 42ºC on Tuesday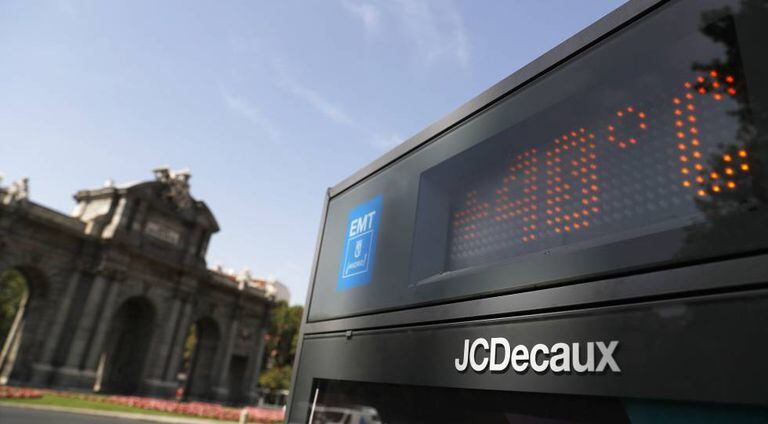 The unrelenting Spanish heat is not letting up in September. A hot weather alert was in place on Tuesday in 38 provinces, according to the national weather service AEMET.
Temperatures could reach 42ºC in some parts of the country.
Sign up for our newsletter
EL PAÍS English Edition has launched a weekly newsletter. Sign up today to receive a selection of our best stories in your inbox every Saturday morning. For full details about how to subscribe, click here.
Córdoba, Granada, Jaén, Sevilla, Albacete, Ciudad Real, Toledo, Ávila, Salamanca, Madrid, Badajoz, A Coruña, Lugo, Ourense and Pontevedra have issued orange alerts, representing an "important risk," while Cádiz, Huelva, Málaga, Huesca, Teruel, Zaragoza, Cantabria, Cuenca, Guadalajara, Burgos, León, Palencia, Segovia, Soria, Valladolid, Zamora, Lleida, Tarragona, Valencia, La Rioja and Asturias are on the slightly lower yellow alert.
Temperatures are expected to rise throughout Tuesday in the western portion of the Iberian peninsula, and to drop along the coast of Andalusia, Murcia and Valencia.
A record on Monday
The heatwave that has been affecting Spain since the beginning of the month reached its apex on Monday with temperatures in excess of 45ºC in parts of Andalusia and Murcia.
The 45.4ºC logged in Las Cabezas de San Juan (Sevilla) at 5pm on Monday shattered historical highs for September. Ten minutes later, a weather station at Córdoba airport showed 45.1ºC.
Nine weather stations in Andalusia and one in Murcia recorded temperatures of over 44ºC between 3.30pm and 6.30pm.
The highest temperature on record last month was 41.7º in Málaga on August 4, with Badajoz equaling that figure three days later. In July of this year the municipality of Montoro, in Córdoba province, took top position with 15 straight days above 40ºC.
English version by Susana Urra.