Madrid's Lavapiés goes upmarket
The last bastion of the bohemians is attracting growing numbers of middle-class incomers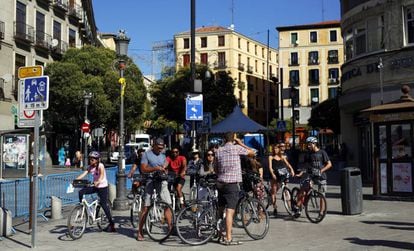 The streets of Lavapiés still smell of cheap red wine the morning after workers begin dismantling the food stalls set up to celebrate this emblematic working-class Madrid neighborhood's annual summer fiesta.
A group of tourists on a bike tour pause on the corner of the triangular plaza that sits at the center of Lavapiés, facing the Valle Inclán theater and Argumosa street, which is lined with bars and restaurants.
The guide tells them that this is still the capital's most multi-cultural area, with incomers from more than 80 countries (the area is also very popular with bohemian Americans, British and Irish) living alongside long-time locals, many of them in old age who have lived here all their lives.
But although the tourists may not be able to see it, Lavapiés is moving upmarket.
Lavapiés was simply the logical next candidate for moving upmarket after Malasaña and Chueca
To start with, the number of immigrants is falling: over the last decade they have gone from making up around a third of the population to a little under a quarter, similar to the levels in other parts of the capital, according to Madrid City Hall.
Similarly, the number of elderly people has dropped from 17% to 14% over the same time. Meanwhile, middle-class Spaniards are moving in, attracted partly by its central location, easy-going, old-fashioned charm and presumably by its lower rents.
Francisco Iñarreta of property site Idealista.com says that apartments in Lavapiés are snapped up quickly, pointing out that last year the average price per square meter went up by 11%, compared to the 8.9% increase in the rest of the city.
"The neighborhood is a textbook example of gentrification, as has happened in Malasaña and Chueca," he says, referring to two formerly run-down areas behind the northern side of the capital's main Gran Vía thoroughfare.
Long-standing residents of Lavapiés say that in recent years they have seen their neighborhood undergo the same processes and trends as took place in Chueca and Malasaña a decade or so ago, with bookshop cafes, galleries and vintage clothes shops starting to open.
The opening ceremony of this summer's fiestas, held in La Quimera, a former tenement that has been taken over by squatters and turned into a neighborhood center, rejected the gentrification process.
But Sergio García, a sociology lecturer at Madrid's Complutense University, says that there is no point in trying to resist gentrification: "It's unstoppable, and that symbolic prestige will end up as an empty façade."
For the moment, like much of Madrid, Lavapiés is in the midst of a transition, with the vintage shops and trendy bars frequented by hipsters rubbing shoulders with the traditional corner shops, wholesalers set up by African, Chinese and Bangladeshi immigrants, and old-timers' restaurants. This getting along is well illustrated by the San Fernando market on Embajadores street, which reopened in 2013, where fruit and veg stalls, fishmongers and butchers sit alongside coworking spaces, arts and crafts, and fashionable bars and restaurants.
Sign up for our newsletter
EL PAÍS English Edition has launched a weekly newsletter. Sign up today to receive a selection of our best stories in your inbox every Saturday morning. For full details about how to subscribe, click here
"Just like lots of other markets, food and drink has been introduced. And it has worked well; this place is packed on Saturdays," says Javier Vázquez, president of the district shopkeepers' association. "But I think that for the traditional fruit and veg stall or butcher, things haven't improved that much," he adds.
"There's no point in being in favor of gentrification or against it: it's just something that happens in every big city and cannot be stopped," says architect and anthropologist Fernando Caballero Baruque. He believes that Lavapiés was simply the logical next candidate for moving upmarket after Malasaña and Chueca, and that other working-class neighborhoods such as Tetuán, in the northwest of the city, will follow suit eventually.
"What we have to remember is that the people who leave do so, or will do so because they can no longer afford the rents here," he adds. Madrid City Hall's job is to make sure that there are proper facilities and amenities for them in the areas they move to, he concludes.
English version by Nick Lyne.