Spanish PM yields next to nothing in bid to secure reinstatement
His only likely backers, the Socialists and Ciudadanos, say he refuses to make concessions they consider key to a more democratic, streamlined government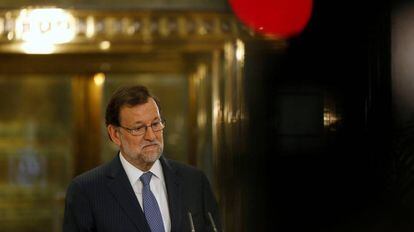 Nearly six weeks after Spain held a repeat election to pull out of a protracted deadlock, acting prime minister Mariano Rajoy of the Popular Party (PP) is multiplying his calls for political agreement, yet refusing to yield on any significant issue that might secure him some support from other parties.
The conservative candidate claims that is he open to a negotiation "without limits" with Socialist Party (PSOE) leader Pedro Sánchez and Ciudadanos president Albert Rivera, and has highlighted the urgency of getting budgetary issues passed in time to meet European Union fiscal policy deadlines.
Rajoy would like the cabinet to greenlight the budget in late August, in time to send it to Brussels by mid-October.
There's no need to go into political matters, you'll see how it goes
King Felipe VI
Yet so far, his overtures to these parties have failed to include reforms that the PSOE and Ciudadanos consider crucial to a more streamlined, democratic and socially responsible form of government, such as eliminating provincial agencies (Diputaciones), forcing parties to hold primaries, or scaling back the controversial Citizen Safety Law.
Rajoy, whose PP obtained 137 seats at the repeat election of June 26, needs 176 for a congressional majority. If he bids for reinstatement and fails to obtain this figure, there would be a run-off in which the PP would only need more yes votes than no votes. In this event, an abstention from other parties would be sufficient.
However, the conservative candidate is not even contemplating the possibility of courting Podemos, the anti-austerity party that it views as unconstitutional because it supports a Catalan independence referendum. For the same reasons, a deal with regional separatist parties is out of the equation.
Will he, won't he?
Sign up for our newsletter
EL PAÍS English Edition has launched a weekly newsletter. Sign up today to receive a selection of our best stories in your inbox every Saturday morning. For full details about how to subscribe, click here.
It is unclear whether Rajoy will even run for the post at all, even though King Felipe VI has officially asked him to in acknowledgement of the fact that he was the most voted candidate at the election.
Speaking to the press on Thursday on occasion of the royal family's annual summer photo op, Felipe VI refused to disclose the content of his recent meeting with Rajoy, or whether he thinks the caretaker PM will run for office.
"There's no need to go into political matters, you'll see how it goes," he told the assembled reporters.
If, mirroring the situation after the original election of December 20, no new prime minister is found, Spain would be facing a record third election.
English version by Susana Urra.