Spanish PM accepts King's request to form a government (maybe)
After a week of consultations between head of state and party leaders, acting PM says he still lacks enough support for a succesful reinstatement bid in Congress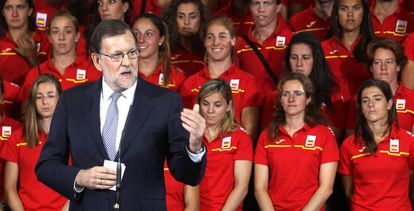 Acting Prime Minister Mariano Rajoy on Thursday accepted the Spanish king's request to try to form a government, on the basis that his Popular Party (PP) won the most votes at the repeat election of June 26.
But he fell short of promising that he will actually bid for reinstatement, leaving the door open to the possibility of a third election later this year if no nominee steps up – or if one does but fails to gain sufficient backing at an investiture vote in Congress.
"The King has asked me to submit to an investiture vote, and I explained to him that for now I don't have enough support, but that I accept his request," he said after the one-hour meeting.
It is not wise, in any aspect of life, to get ahead of oneself
Acting PM Mariano Rajoy
According to Spain's Constitution, once a candidate submits to a congressional vote to become the next prime minister, a countdown begins. If no nominee is successful, parliament is dissolved and new elections called.
This is precisely what happened after the election of December 20, 2015, when Rajoy refused to stand for reinstatement on the basis that he lacked support from other parties and that his bid was doomed to fail. The Socialist Party (PSOE) leader, Pedro Sánchez, made a bid of his own but did not secure enough backing to form an alternative majority.
To stand or not to stand
Speaking after his one-on-one meeting with Felipe VI on Thursday, Rajoy was deliberately vague regarding his plans for the near future.
Sign up for our newsletter
EL PAÍS English Edition has launched a weekly newsletter. Sign up today to receive a selection of our best stories in your inbox every Saturday morning. For full details about how to subscribe, click here
"It is not wise, in any aspect of life, to get ahead of oneself," he stated.
The conservative leader admitted that for now, the only support he has is from his own 137 deputies in Congress. Rajoy needs 176 seats for a majority, and is only willing to seek them among what he describes as the "constitutionalist parties." This means the Socialists and the reform party Ciudadanos, both of which reject the kind of independence referendums championed by Catalan and Basque separatists, and accepted by the anti-austerity Podemos.
Rajoy said that he will keep trying to negotiate a governing program with these parties in order to have some guarantee of success at the investiture vote.
"I will seek support to form a moderate government and a calendar for it," he said. If this avenue reaches a dead end, he will "explore a minority government."
However, the acting PM would not say how long he is giving himself to reach these deals.
"It must be reasonable; a long time is not necessary," he said. "I will not give out any specific date."
But Rajoy is in a hurry to get a government in motion because he wants to honor EU fiscal policy deadlines, which require getting the spending ceiling and the 2017 budget passed between late August and late September.
A wall of rejection
Rajoy said on Thursday that he will call the "constitutionalist" parties once again to discuss a proposed program that he has sent them. He said this document could serve as "a working script to negotiate a moderate and stable government" with these forces.
But so far, the PSOE and Ciudadanos are rejecting this document, calling it little more than the PP's election platform. Ciudadanos would be willing to sit down with the PP if Rajoy stepped aside in favor of another candidate, but there are no indications that this is going to happen. The PSOE rejects any contact with the PP flat out.
If the deadlock is not broken, it is unclear how Rajoy will even form a minority government. All he said on Thursday is that, if reinstated, he would ask other parties for "a minimum degree of loyalty" to be able to pass key legislation on issues such as the budget, counter-terrorism and foreign policy.
While vague about his own plans to kickstart political talks, Rajoy warned other leaders that the time for electioneering is over.
"The time has come to build, to overcome our differences and to provide the solution that Spaniards are waiting for," he said. "The time has come to talk, to pool our efforts and to work together."
English version by Susana Urra.