Prince's former Marbella mansion on sale for €5.25 million
Singer bought residence as a wedding gift for his first wife Mayte García
Prince discovered the charms of Marbella in the summer of 1990, during a tour of Spain. Six years later, when he married his first wife, Puerto Rican dancer and singer Mayte García, he bought her a 900-square-meter villa set amid 6,000 square meters of grounds, nestling in the hills overlooking the Mediterranean resort.
It's a very special house, with a type of construction that isn't to everybody's taste
Real estate company Engel & Völkers
Prince and García lived in the house for the next six months, but after the death of their one-week-old child, Boy Gregory, in October 1996, the singer vowed never to set foot in the home again. Within two years he had separated from Garcia, but he held on to the house until 2006, when he sold it to its current proprietor. The property is currently on the market for €5.25 million.
"It's a very special house, with a type of construction that isn't to everybody's taste," says a source at Engel & Völkers, the real estate company that has had the house on is books since 2014. "The owner is in no hurry to sell it and isn't prepared to lower the price," adds the same source.
The house is located in the exclusive El Paraíso area to the west of Marbella, and is described by Engel & Völkers as a "palatial villa" set amid lush gardens planted with tropical trees. The property is accessed via a large, colonial-style staircase with white marble balustrades, one of the many "opulent" features of the house, according to the real estate company's website. The lower floor is lined with huge windows, and has two master bedrooms. There are three suites on the first floor, along with a private terrace with views down to the sea.
There is also a heated outdoor swimming pool, Jacuzzi and tennis courts, marble floors, as well as a security room. And all this, of course, with the added appeal of knowing that this was where Prince and his first wife lived during the high point of the singer's career.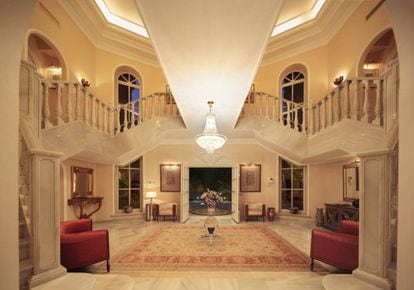 English version by Nick Lyne.
Sign up for our newsletter!
EL PAÍS English Edition is launching a weekly newsletter. Sign up today to receive a selection of our best stories in your inbox every Saturday morning. For full details about how to subscribe, click here.