Socialists, Podemos and Ciudadanos to hold talks on Thursday
Meeting of unlikely partners evidences urgency of reaching deals to avert a fresh election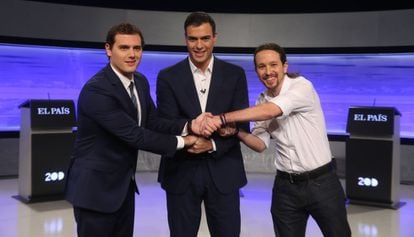 The Socialist Party, Podemos and Ciudadanos will meet on Thursday in a bid to break the political stalemate that could force Spain into calling fresh elections.
The fact that all three parties have agreed to sit down at all evidences the growing urgency of finding a governing deal that will avert a repeat vote on June 26.
A new survey shows that a second election in less than six months would most likely benefit the Popular Party (PP), whose voters are more motivated to go back to the polls.
Podemos prefers an alternative leftist coalition that would comprise themselves, the Socialists, United Left and Compromís
Until now, emerging groups Podemos (left-wing, anti-austerity) and Ciudadanos (center-right, anti-Catalan referendum) had refused to deal with one another, citing insurmountable differences in their programs.
The latter has developed a governing deal with the Socialists – the only existing post-election pact to date – that requires additional congressional support to achieve a sufficient majority to form a government.
Ciudadanos would like to add the PP to this alliance, but so far the conservatives have refused to negotiate. Meanwhile, the Socialists have rejected a coalition with the party in power. Instead, Socialist leader Pedro Sánchez insists on bringing both emerging parties onto his team.
And Podemos prefers an alternative leftist coalition that would comprise themselves, the Socialists, the small United Left party (IU) and Compromís, a regional group from Valencia.
Talk, yes. Deal, not likely
The talks between the Socialists and the two emerging forces are scheduled for 4.30pm on Thursday in Congress.
But their differences make it unlikely that a firm deal will emerge from the get-together.
Ciudadanos leader Albert Rivera wants Podemos to support his joint governing program with the Socialists. The latter is looking for enticing offers to make to the anti-austerity party, but recent news about Spain's significant miss on the 2015 deficit target means that increased spending on social policies is not an option.
And Podemos still appears to defend a referendum on self-rule in Catalonia, a scenario that both the Socialists and Ciudadanos vehemently reject.
While Podemos leader Pablo Iglesias is expected to head his party's negotiating team on Thursday, neither Socialist leader Pedro Sánchez nor Ciudadanos chief Albert Rivera will be joining him, but will send representatives instead.
English version by Susana Urra.